This post may contain affiliate links. Meaning I receive a commission for purchases made through those links, at no cost to you. As an Amazon Associate I earn from qualifying purchases. Please read full disclosure here.
There is so many toddler must haves that make life way easier! You deserve to know them all. These are the toddler must haves that we absolutely love.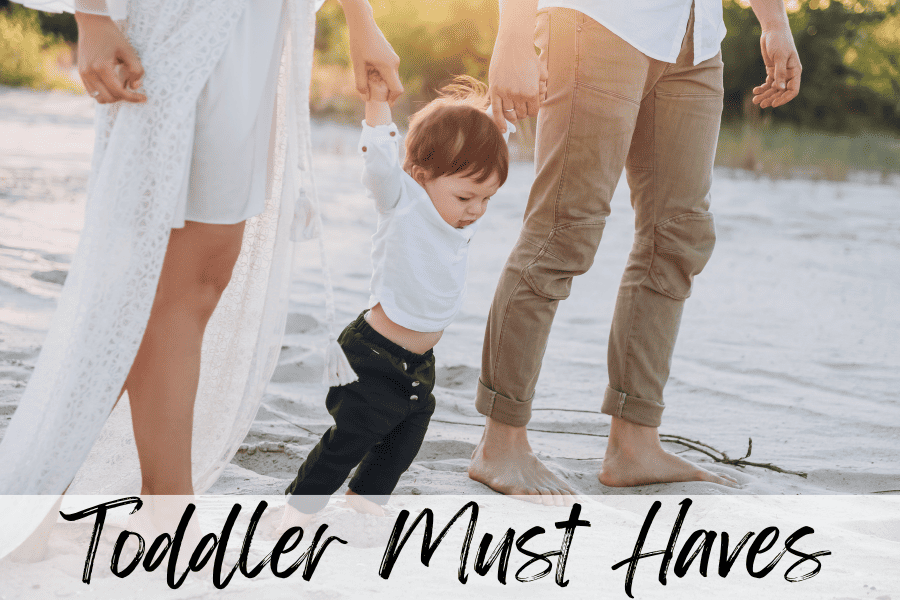 Toddler must haves simplify life for everyone in your house. When your toddler is happy, you are happy. There is a huge learning curve once your baby enters those toddler years. There are many products that you absolutely need. Some products help with hygiene, comfort, fun, and others help keep your toddler safe.
You are getting the best toddler must haves, must haves for 2 year old, 3 year old must haves, must haves for 1 2 years old, must haves for 2 year old boy, and toddler mom must haves. If you are anything like me, you want to know all the essentials! I got you mama.
After reading this post you are going to know all the toddler must haves that will keep your baby happy, calm, and safe.
This post is all about toddler must haves.
Best Toddler Must Haves 
Toddlers
If you have visited my blog before, you know that I am a first-time mom dedicated to raising my darling daughter. As a former educator, I love to learn new information. I especially love reading about the developmental milestones as my daughter is growing. If you also have a thirst for information, you will appreciate What To Expect's page sharing toddler tools and resources.
Toddler Safety Must Haves
1. Baby Gate
Baby gates are an absolute toddler must have! Toddlers are constantly on the move. This is the baby gate we use and love! When you want your little one to roam free, but want to block them from traveling to another room or even the stairs, you NEED a baby gate.
This gate is easy to install and use. I recommend this baby gate!
2. Outlet Covers
Outlet covers are another toddler must have. These are the outlet covers we bought. The best part is that it comes in a 50-pack. You shouldn't have to buy another set. You can't beat that!
3. Waterproof Toddler Mattress
I strongly recommend buying a waterproof mattress. Babies and toddlers make lots of messes. You will want a mattress that is easy to clean. This is the mattress we have. One side is firm for infants and the other side is medium-firm for when your baby enters toddlerhood.
With mattress protectors and sheets, I have still had to wipe clean the mattress! This mattress is so easy to clean. I have no complaints. My baby girl sleeps so comfortably on this mattress.
(RELATED POST: 20 Nursery Must Haves To Consider For Your Little One's Room)
4. Toddler Bed & Rails
The crib we bought transitions to a toddler bed and came with rails. If your crib does not transition, you will need to buy a toddler bed and rails!
5. Cabinet Locks
Another toddler must have are cabinet locks. These will come in handy when your babe tries opening all the cabinets in your house!
6. Bath Spout Cover
With your toddler becoming more active, a bath spout cover is a toddler must have!
This cute little bath spout cover will protect your babe's head during all the splishing and splashing during bathtime.
7. Child Proofing Kit
When my baby girl became more active I remember feeling overwhelmed with what I needed exactly to baby proof the house.
This child-proofing kit is both convenient and easy! It reminds you of all the child-proofing essentials you will need.
Toddler Hygiene Must Haves
8. Toothbrush
With all those teeth sprouting, a toothbrush is a toddler must have!
9. Toothpaste
A toothbrush does not work without toothpaste!
This is the toothbrush and toothpaste I use.
Toddler Comfort Must Haves
10. Stuffed Animal
My daughter was gifted this super soft and snuggly bear and she is obsessed with him. His name is Mr. Bear. She snuggles him, kisses him, and he has to travel with her around the house.
The bear also comes with a special bookmark with a really sweet message. Her grandparents gifted her this bear and it is just so precious. Mr. Bear is her favorite stuffed animal.
11. Humidifier
A humidifier is great for combatting cold and flu symptoms.
This humidifier is the best because it is also a sound machine and a color-changing nightlight.
Toddler Fun Must Haves
12. Car
This was a Christmas gift from her awesome uncle. It is such a great gift! This is a fun way to go for a walk in your neighborhood.
This car plays music, has lights, different speeds, and you can control the car with a remote. My baby girl is obsessed with this toy. In our book, it is a toddler must have!
13. Radio
This radio is another favorite. It plays active songs, relaxing songs, lullabies, and classical music. You can also record your voice. My daughter loves this radio. She plays with it every day.
14. Lovevery Play Kit
These play kits are the BEST! My favorite part about them is that they promote cognitive growth for your little one's age. As a former educator, I am a big believer in Montessori. I also love that these toys are Montessori inspired.
15. Waterproof Books
I am a huge book lover. I am always looking to buy great books for my little darling. I love these waterproof books! Reading in the bathtub is excellent. I like switching up where we read stories together. My daughter loves reading, especially in the tubby.
Toddler Feeding Must Haves
16. Sectioned Plates
Toddlers should have a well-balanced meal. Their meals should consist of fruit, vegetables, and protein. A three-sectioned plate makes serving a well-balanced meal easy!
17. Utensils
Utensils are another feeding necessity.
18. Snack Catcher
We love our snack catchers. These snack catchers are super easy to use. Your toddler will be able to easily fit their hands in and out without spilling. It is also top-rack dishwasher safe. YES PLEASE!
19. Drinking Cups
I love these cups! It comes as a set of two and they are super easy to clean. These cups are spill-proof. The spout is also dentist-approved.
20. Once Upon A Farm Pouches
These pouches are amazing! My daughter is a picky eater so this is a great way to ensure she gets her veggies. My favorite part about this brand is that they were awarded the Clean Label Purity Award. I make all of my daughter's food because it is scary to know that heavy metals are found in baby food. With this brand, I trust that my baby girl is getting quality, healthy, and safe food. My daughter loves all of the flavors.
21. Bib With Sleeves
A bib with sleeves is where it's at! We want to encourage our babies to feed themselves but boy do they make a mess. This is for you! You will be thankful for this bib.
22. Splat Mat
My toddler loves to throw her food on the floor and feed the dogs. This drives me loco! This splat mat is a savior. Simply place this under your babe's highchair and relax knowing that your floor is protected.
(RELATED POST: 7 Healthy Toddler Snack Ideas Your Babe Will Eat Up)
Toddler Mom Must Haves
23. Toddler Carrier
Give your arms and back a break by buying a toddler carrier. This toddler carrier is comfortable and supportive. It will grow with your child up until they are 4 years old and it has 4 carry modes.
Clothes
24. Underwear
These underwear are the best! They are made up of organic cotton fabric. Therefore, they are so comfortable. That matters most to me when I shop for clothes for my daughter. Especially underwear! They are also tag-free, which I am a HUGE fan of. They come in a pack of 7 and also come in a variety of colors!
25. Bodysuits
There are so many bodysuits out there. There aren't a lot of quality comfortably made bodysuits. A lot of them left my daughter scratching herself because they irritated her sensitive skin. These bodysuits are so soft and made of quality material. My daughter is so comfortable in these bodysuits. I plan to buy more of these! You should buy them for your toddler.
26. Leggings
I wear leggings all the time. So it is only right that I buy some for my daughter. Like the underwear and bodysuits, these leggings are also of great quality. They are also so incredibly cute. I love the lace at the bottom. My daughter looks so adorable in these leggings.
27. Sleep Sacks
Sleep sacks are amazing. This is the sleep sack my daughter loves. It is light and breathable. It is perfect for our southern weather! I am sure your toddler will love this one too!
This post was all about toddler must haves.
Other Posts You May Like:
7 Healthy Toddler Snack Ideas Your Babe Will Eat Up
7 Most Effective Natural Teething Remedies 
5 Unique Items No One Tells You About | What To Put On Baby Registry