This post may contain affiliate links. Meaning I receive a commission for purchases made through those links, at no cost to you. As an Amazon Associate I earn from qualifying purchases. Please read full disclosure here.
If you are getting ready to welcome a new baby, hear me when I say you want to prepare postpartum meals before you go into labor. Or do what I did and have your family make you some meals that you can easily pop into the oven when you are ready!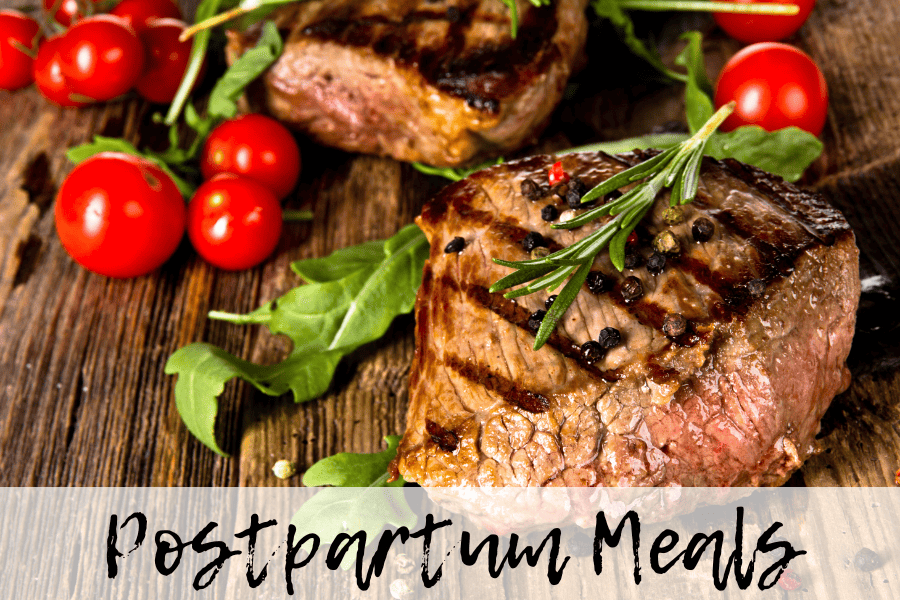 Take my advice and prepare postpartum meals before your due date. You can either make sure you have ingredients on hand for quick and easy meals or make dinners in advance and keep them in the freezer. Or you can do both. My mom prepared some freezer meals for us. The easier the better! Even if you love to cook, the last thing you are going to want to worry about with a newborn is whipping up meals in the kitchen.
As a mama who experienced the benefits of preparing dinners in advance, this made postpartum life so much easier. Bringing home a new baby is a huge adjustment. It doesn't matter if it is your first, second, third, etc. It is still a huge adjustment. Postpartum meals can make life a bit more simple. Plus, there is something great about eating real food! I love a home-cooked meal and don't enjoy delivery services too often.
You are getting postpartum meals, postpartum meals freezer, best meals for postpartum moms, postpartum recovery meals, best meals for postpartum moms, and postpartum meal prep. Enjoy these healthy and delicious recipes!
This post is all about postpartum meals. 
Best Postpartum Meals 
Instant Pot
Making meals in the instant pot is the best! I really love setting it and forgetting it. I use my Instant Pot all the time. If you do not have one, you need to buy one! I am obsessed.
Here are some of my Instant Pot favorite meals. These are perfect postpartum meals because they are so easy.
Meatballs & Sausage Subs
For this recipe, you will need sausages, meatballs, sauce, and sub rolls. Personally, I like to buy a mix of mild sausages and hot sausages.
I love this sauce. If you like yours a little spicy, you will love this sauce too.
Throw all ingredients (except the sub rolls of course) into your Instant Pot and press slow cook. I like to slow-cook it for as long as possible. It tastes better that way. I usually will throw it in the pot around 9 or 10 in the morning and will eat dinner around 5. Top your meatball and sausage sub with cheese!
Turkey Breast Sandwiches
For this recipe, you will need turkey breast, bone broth, American cheese, and bread.
I use a 3 pound turkey breast and this lasts our family 3 days! During postpartum, you will appreciate having leftovers.
Place the turkey breast and 32 ounces of bone broth in the instant pot and select slow cook.
(RELATED POST: 17 Best Postpartum Must Haves That Got Me Through)
Quick & Easy
Grilled Ham & Cheese
This has always been a favorite quick and easy dinner of mine. For this recipe, you'll need butter, bread, chipped ham (ham that is shredded into tiny bits), and American cheese.
Grease a pan with butter and turn it on medium heat. While you're waiting for the pan to heat up, make your ham and cheese sandwich. Sometimes I like to add some mustard. Just depends on my mood.
Put the sandwich on the skillet. Flip the sandwich once the bottom is nice and crispy. Once both sides are to your liking, you are ready to eat!
Homemade Chicken Noodle Soup
Cans of soup are ridiculously overpriced. Also, homemade soup is WAY better.
For this recipe, you'll need egg noodles, rotisserie chicken, carrots, an onion, celery, and 2 cartons of chicken broth.
Cut the rotisserie chicken into tiny bits.
Chop the white onion and celery and saute it in the skillet.
Shred the carrots.
Cook egg noodles according to package directions.
Throw the noodles, chicken, carrots, onion, celery, and 2 cartons of broth into one pot. Put a lid on the pot and let it heat up.
(RELATED POST: 10 Proven Ways To Rock Motherhood As A Busy Mom | We Asked The Experts)
Freezer
Chicken Pesto Pasta
For this pot chicken recipe, you will need chicken breasts, pesto sauce, parmesan cheese, and pasta. Bowtie pasta is my favorite.
I like my chicken best grilled. This yummy protein pairs so well with pesto sauce.
Cook the pasta according to the directions on the package.
While the pasta is cooking, heat up the pesto sauce in a pot. Add as much parmesan cheese to the pot as you want. I love cheese, so I always add a lot. You do you.
When everything is done cooking, cut the chicken into cubes and mix everything together.
You can top your dish with more parmesan cheese if you wish.
Spinach Raviolis
For this recipe, you'll need ravioli, a jar of sauce, shredded parmesan cheese, and baby spinach.
Make the ravioli according to the directions on the package.
Drizzle olive oil on a skillet and saute spinach. Use as much spinach as you want.
Preheat the oven to 400 degrees.
Once the ravioli are finished, lay them evenly on a baking dish. Add the wilted spinach, sauce, and top with parmesan cheese.
Bake in the oven until the cheese is melted.
Steak & Chicken Over Rice
For this recipe, you will need steak, chicken breasts, rice, white onion, zucchini, and Japanese white sauce.
I am obsessed with this rice. It is the best rice ever.
Cut the chicken, steak, onion, and zucchini into cubes.
Grill the chicken, steak, onion, and zucchini.
Make the rice according to the directions on the package.
Once all ingredients are finished cooking, throw it all in a bowl and top with Japanese white sauce!
Meal delivery service is also an option! Some friends gifted me with a door dash gift card and this was so helpful during this time!
This post was all about postpartum meals. I hope this meal plan helps make postpartum easier for you and your family!
Other Posts You May Like:
13 Must-Have Items That Are Perfect For Your Little One
11 Incredible Baby Care Products That All Moms Need To Know About
7 Essential Baby Dresser Organization Tips That Are Life-Changing