This post may contain affiliate links. Meaning I receive a commission for purchases made through those links, at no cost to you. As an Amazon Associate I earn from qualifying purchases. Please read full disclosure here.
Are you looking for new toddler snack ideas? Here are the healthy toddler snack ideas that my daughter LOVES!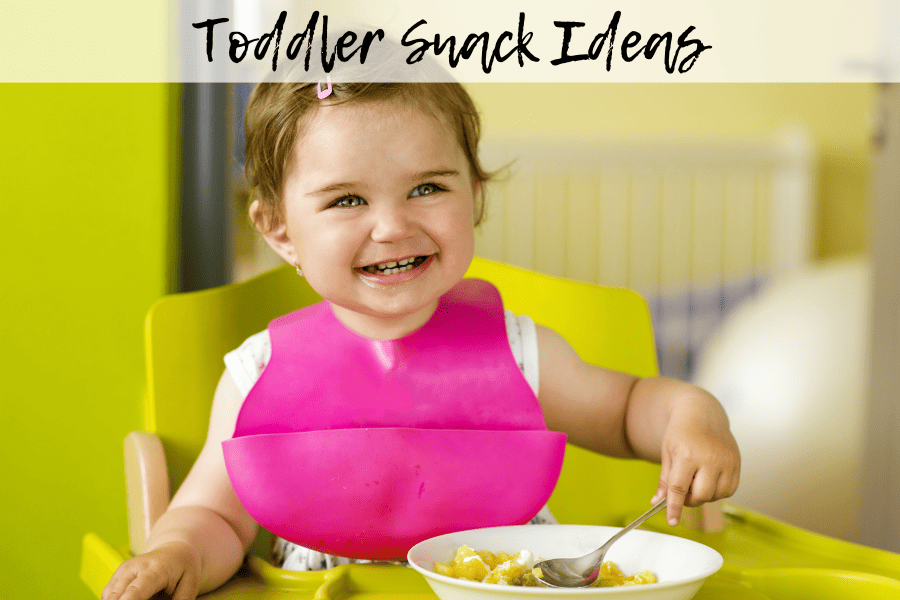 Once my daughter turned one, I began searching for toddler meal and toddler snack ideas. Hearing the pediatrician say your baby should have three meals and two snacks a day is both exciting and overwhelming. I love making nutritious food for my baby girl and watching her reaction. I am making planning and preparing snacks for your toddler easier by sharing all the toddler snack ideas that my daughter eats up. She is quite the picky eater.
You are getting the best toddler snack ideas, healthy toddler snacks on the go, toddler snack ideas for daycare, healthy toddler snack ideas, toddler snack ideas 1 year old, and toddler snack ideas 2 years old!
After reading this post you are going have plenty of toddler snack ideas to introduce to your little one.
This post is all about toddler snack ideas. 
Healthy and Yummy Toddler Snack Ideas
I love making my daughter's meals and snacks in bulk. I store three days worth of food in the fridge and freeze the rest in baby jars. These jars are the holy grail! You can easily label the lid with an expo marker. They do a great job sealing food and they wash very easily. I used these when I introduced purees and STILL use them. I bought two sets of these because I am a meal prepping fool! I highly recommend these baby jars.
1. Fruit
We always keep fruit in the house. Fruit is such an easy snack.
Bananas are my baby girl's favorite snack.
Some other great fruit options are: kiwi, mandarin oranges, and berries.
PRO TIP: Make sure to serve food to your toddler safely. Solid starts is a great app that shows you how to safely serve food to your baby. It shows you the recommendation based on your babe's age. I highly recommend this app! 
2. Spinach and Cheese Quesadilla With A Side Of Greek Yogurt For Dipping
This is a family favorite. For this recipe you will need tortillas, baby spinach, shredded cheddar cheese, plain Greek yogurt, and avocado oil. I love these taco shells for this recipe. They are the perfect size for baby quesadillas.
Lightly spray a large pan with avocado oil.
While the pan is heating, take a small handful of baby spinach and blend it in the food processor. You could also chop the baby spinach if you prefer. I like my food processor to do the work for me.
Lay the tortilla shells flat on the pan and sprinkle the chopped baby spinach on one half of each shell.
Sprinkle shredded cheddar cheese on top of the spinach of each tortilla shell.
Fold the tortilla shells over to make a quesadilla.
Flip and let it cook for another minute.
Remove the quesadillas from pan and slice the quesadilla into strips making it easy for your toddler to eat.
Serve with a dollop of plain greek yogurt for dipping. This is a healthy alternative to sour cream.
PRO TIP: Don't let the quesadillas get crispy. I just warm them for my babe. 
(RELATED POST: 11 Healthy Baby Food Subscription Options That Are Totally Worth It)
3. Sweet Potato Crinkle Fries
These are one of the best toddler snack ideas. My daughter is OBSESSED with these. She is teething right now and she especially loves to munch on these cold.
For this recipe, you will need a sweet potato, olive oil, and a crinkle cutter. This is the crinkle cutter I use and I love it. If you do not have a crinkle cutter, you need to buy this one. A crinkle cutter makes food so much more fun. It also makes the food look prettier.
Preheat the oven to 350. While you are waiting for it to heat up, wash the sweet potato.
Peel the skin off the sweet potato.
Use the crinkle cutter to make 1 inch fries.
Line a baking sheet with aluminum foil and place the fries on top.
Give the fries a light drizzle of olive oil.
Bake the fries in the oven for 20-25 minutes.
Use the fork test to check if the fries are done baking. If the fork enters the fry easily, you are good to go.
4. Apple Cinnamon Oatmeal
Oatmeal is a staple in our house. I love that you can add so many different things to oatmeal to spice things up and keep it interesting for your baby.
For this recipe, you will need steel cut oats and 5 apples.
To Make The Apples:
Peel the skin off of the apples and dice them into pieces. Discard the core.
In a large saucepan line the bottom with filtered water.
Mix in the apple and lightly sprinkle cinnamon.
Cook on medium heat for 30 minutes or until the apple slices are nice and soft.
Once they are done, remove them from the heat and let them cool.
To Make The Oatmeal:
Boil three cups of filtered water.
When the water reaches a boil, add one cup of steel cut oats.
Keep it covered for 20 minutes.
To Finish:
Throw the cooled apple slices and oatmeal in the food processor. This is the food processor I use and I love it. I use it all the time. It does a great job of blending everything. I have a Vitamix too and this Food Processor does a better job.
(RELATED POST: 5 Nutritious Baby Food Recipes 6-8 Months That Every Mama Needs)
5. Banana Berry Smoothie
Who doesn't love a smoothie?!
For this recipe, you will need oat milk, 1 frozen banana, mixed berries, and chia seeds.
Add 1 cup of oat milk, 1 frozen banana, 1/4 cup of frozen mixed berries, and 1 tablespoon of chia seeds to the food processor.
Pour and enjoy!
6. Banana Cinnamon Pudding
For this recipe, you will need a cup of oat milk, an egg, a banana, and a 1/4 teaspoon of cinnamon.
Add all ingredients to the food processor and blend together.
Pour mixture into a saucepan over medium heat.
Stir over heat until the mixture thickens.
Place pudding in the fridge before serving so that it is nice and cold.
7. Hard Boiled Eggs and Cheese
This is an easy and yummy snack. I like to keep hard boiled eggs in the fridge for an easy snack throughout the week.
I slice up the hard boiled egg and sprinkle some shredded cheddar cheese over top.
My daughter is obsessed with this snack!
This post was all about toddler snack ideas.
Other Posts You May Like:
5 Nutritious Baby Food Recipes 6-8 Months That Every Mama Needs
Beginner's Guide: Baby Food Chart By Age | This Will Help You Plan Mealtime
A Complete Guide On How To Make Your Own Baby Food