This post may contain affiliate links. Meaning I receive a commission for purchases made through those links, at no cost to you. As an Amazon Associate I earn from qualifying purchases. Please read full disclosure here.
Are you in search of the best baby dresser organization tips? These are the top tips that you need to know about. 
Having a baby brings a lot of joy and excitement. Us mamas want to feel as prepared as possible. I am sure you have been searching for tips and tricks to help you get ready for your little one's big debut. As a mama myself, I am giving you the best baby dresser organization tips that made my life way easier.
You are going to learn about baby dresser organization tips from organizing baby dresser changing table, dresser organization ideas, to how to organize baby clothes by size, how to organize baby dresser, and more.
After digesting these baby dresser organization tips, you are going to be ready to prepare for your baby's arrival.
This post is all about baby dresser organization tips that every mama needs.
Best Baby Dresser Organization Tips
1. Organizing Baby Dresser Changing Table
Baby dresser organization is essential. Organizing the baby dresser changing table requires strategic thinking. The baby goodies you use most frequently should be placed on top of the changing table. I will start by sharing what I keep on the top of my baby dresser changing table and exactly where I place them.
On the back left-hand side, I store my daughter's antihistamines that she needs to take daily, Little Remedies (for when she has gas), her Eczema medication, her lotions, and Vaseline. In the front, I keep her boogie sucker and a jar with baby Q-tips and an ear dropper. We use the Q-tips to apply her Eczema medication. I keep these items on this side because they are easily accessible for her dad and I, but more difficult for her to reach.
On the back right-hand side, I keep materials needed for diaper changes. You can see her diaper wipes, diaper cream, a baby bum brush (my friend recommended this and it is the best thing ever!), and hand wipes. In the front, we store her diapers and mittens. My daughter has Eczema and we use these mittens during changes when she has a flare-up. These keep her from scratching herself and they also help protect her skin.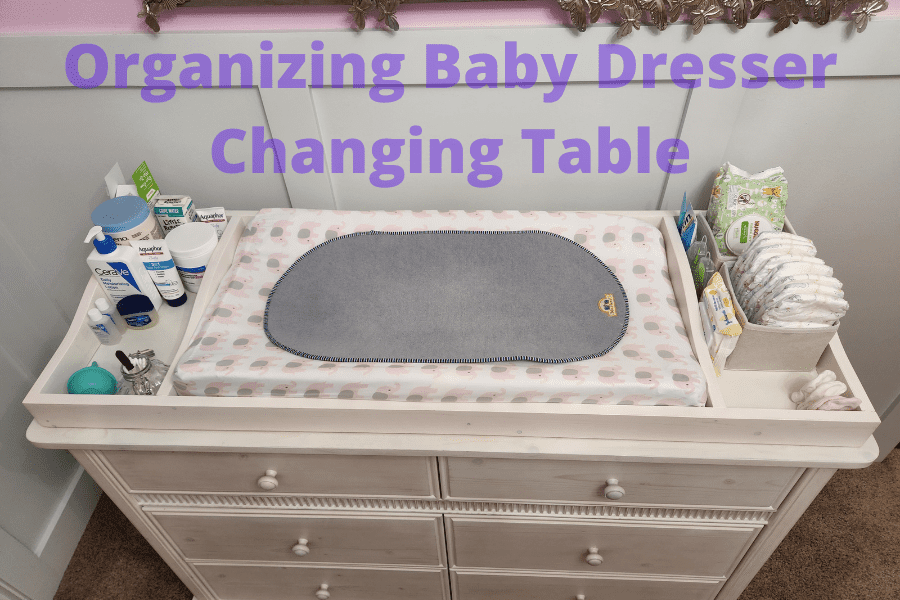 The organizers holding the wipes and diapers are included in the dresser organizer set I bought for her drawers. I will link that in the next section. This is the first step to nursery dresser organization.
PRO TIP: You will want a great changing pad to sit on top!
Read on for more dresser organization ideas.
(RELATED POST: Secrets To Baby Room Organization)
2. Dresser Organizer
Drawer organizers make a HUGE difference when it comes to baby dresser organization! They help keep baby clothes, burp cloths, and other items contained and let's be honest… They make the drawer look so much more aesthetically pleasing. I bought two sets of mDesign dresser organizers. I chose neutral colors but you have options! This is the first drawer organizer I bought. The one I originally purchased is out of stock. However, this one is really similar. You can always mix and match other style organizers. There are so many color and style options for mdesign drawer organizers! Have fun shopping! I know I did.
Pick as many drawer dividers as you think you will need. I bought one organizer set to start out with. I began folding items inside of the organizers while deciding which drawers I wanted to designate them to before ordering more. This way I was ordering exactly what I needed.
Top Two Drawers: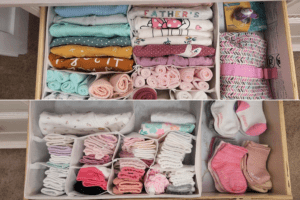 Middle Two Drawers:
Bottom Two Drawers: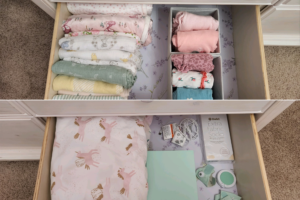 3. How to Organize Baby Clothes by Size
I store the clothes my daughter currently fits into inside of the dresser.
More dressy outfits in her current size, as well as larger sizes, are hung inside her closet with baby closet dividers. I bought these closet dividers from Etsy and I LOVE them. They help give you easy access to sizes. Yes, I am a bit obsessed with organizing.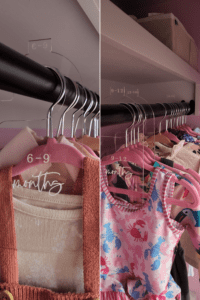 4. How To Organize Baby Dresser
Before I started any drawer organizing, I categorized EVERYTHING and inserted a drawer liner. I love to lay down a scented drawer liner. It makes the drawers smell nice and look prettier. I loved them so much I even bought them for my drawers. You want to organize items in a way to maximize your space.
This is how I organized my daughter's drawers:
The top left drawer contains short sleeve onesies, washcloths, a safety first kit (inside of pink bag), and pacifiers.
The top right drawer contains long sleeve onesies, shorts, and socks that fit her currently in the organizer. On the right side of the drawer, outside of the organizer, are the socks that she will eventually grow into. 
The middle left drawer contains pants.
The middle right drawer contains burp cloths, robes, and bibs.
The bottom left drawer contains blankets and pajamas.
The bottom right drawer contains crib sheets, a mattress protector, changing table covers, chargers for baby electronics, baby electronics, and a label maker.
5. Marie Kondo Folding Method
The show Tidying Up with Marie Kondo on Netflix is a life changer! This show inspired me to tidy up my whole house. This includes every. single. drawer. in my entire house!
I used the Marie Kondo folding method. No worries if you can't remember this folding method. Pinterest has step-by-step instructions on how to fold each type of clothing. Simply type in "Marie Kondo (the type of clothing you would like to fold)". I love this folding method because you can see everything inside of the drawer. This makes it so easy to locate baby belongings for you and anyone else taking care of your baby like your husband, parents, or in-laws. This tip will dramatically enhance your baby dresser organization.
6. Dedicate Top Drawers to What is Used Most Frequently
You want the top drawers to contain items you reach for regularly. Especially when your baby grows and starts rolling around and grabbing everything. You want to be able to grab what you need quickly. Items you need less often should go on the bottom.
7. Storage
Babies grow so quickly. When my daughter outgrows her clothes I fold it just like Marie Kondo would and store it inside of a storage container. I bought the Iris storage container. I label the container with the clothing size. For example, my first storage container is labeled 0-3 months. These bins are great because they are so easy to stack and store. If you have another baby of the same gender, you are already organized to reuse the clothes!
That's the baby dresser organization I use and how you can easily apply this to your child's nursery. 
Other Posts You May Like:
Secrets To Baby Room Organization
14 Ideas For A Baby Care Package I Wish I Was Gifted
17 Insane Baby Essentials First 3 Months That Will Simplify Mom Life