This post may contain affiliate links. Meaning I receive a commission for purchases made through those links, at no cost to you. As an Amazon Associate I earn from qualifying purchases. Please read full disclosure here.
Do you want to know simple and effective baby clothes organization ideas? Stick around. I am sharing it all!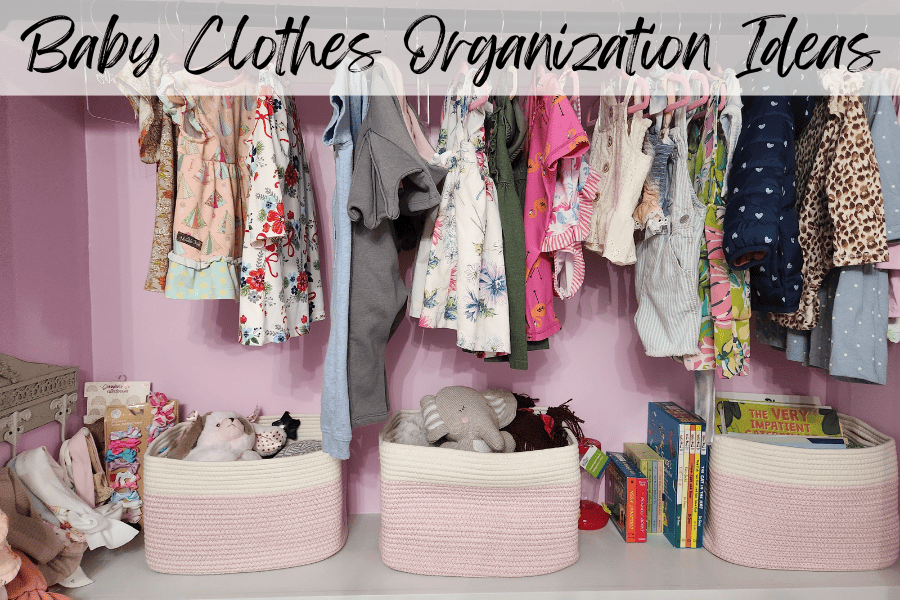 The closet can be a beast, so it is important to know all the helpful baby clothes organization ideas before beginning. Decorating the nursery is so much fun. If you are anything like me, you want to set it up so it is aesthetically pleasing, but also so that it is super functional. When organizing, it is so important to decide on a system that will WORK for your entire family. As an obsessive organizer, I am giving you all baby clothes organization ideas that made my life simple! Here are the baby clothes organization ideas that will make your life simple too!
You are going to learn about baby clothes organization ideas, baby clothes storage ideas for small spaces, how to organize baby clothes without a closet, organizing baby clothes in dresser, organizing baby clothes by size, and so much more! I even threw in tips and tricks for organizing baby clothes in dresser!
After taking in all these baby clothes organization ideas, you are going to channel your inner Marie Kondo and rock organizing your babe's closet!
This post is all about baby clothes organization ideas.
The Best Baby Clothes Organization Ideas
Baby Clothes Storage For Small Spaces
There are so many baby closet organization ideas out there. My nursery is a small space and my husband and I did a great job of organizing and making this space work really well. The key to organization is to maximize your space. With a little thought and preparation, this is easy to do.
My husband customized my daughter's closet and it looks beautiful! Most importantly, I have great storage.
My daughter's closet has two shelves. The top shelf is used to store items in bulk. These items include diapers, wipes, and Diaper Genie bags. The second shelf contains three baskets. One basket is for traveling accessories, the second basket is for stuffed animals, and the third basket contains books. These baskets are AH-MAZ-ING! I have two sets of these and I would buy a third if I had a need for more.
My husband designed a double-hanging closet. One rod on the top and one on the bottom. The top rod contains shirts, jumpers, dresses, and jackets. The bottom rod holds shorts, skirts, and pants.
I also use closet dividers that label the size of her clothes. This makes it really easy to see how many clothes I have for each age. It also shows me which clothes my daughter has outgrown.
To see her closet in action, visit the super detailed post below. I also included pictures.
(RELATED POST: Secrets To Baby Room Organization)
How To Organize Baby Clothes Without A Closet
If you do not have a closet, you can still be organized! The baby clothes organization ideas are endless.
Be sure to have a roomy dresser to store all of your baby's current clothes! I will detail how I organize my daughter's dresser in the post.
You could use a wardrobe to keep all of your larger sizes in. This is a beautiful and efficient way to make it work without a closet.
Baby Clothes Organizer Ikea
Ikea shares many baby clothes organization ideas. They sell hangers, clothes boxes, hanging clothes organizers, and other closet organization accessories.
They will assist you in finding the storage solution that works best for your space and your family.
If you are not able to build a custom closet, you may be interested in purchasing closet accessories that will help you organize your closet. I swear by using baskets to categorize and organize items.
How To Organize Baby Clothes In Closet
Here are a few additional baby clothes organization ideas and tips that will help you get started.
Store extra items at the top of the closet. If you have more space on the top of the closet, also store items that you reach for less often.
If possible, customize your closet. Install deep shelves so you can maximize your space. To see an example of my deep shelves, visit the blog post below.
Keep your clothes organized by size. Closet dividers are your friend! I splurged on this organization accessory and bought mine from Etsy.
Double-hanging closets are EVERYTHING! This is a huge help.
Buy baskets! Containing like items in baskets.
(RELATED POST: 9 Out Of This World Organization Ideas That Will Enhance Your Life)
Organizing Baby Clothes By Size
Closet dividers are a must! This is another one of the baby clothes organization ideas that make my closet work extremely well. Who wants to constantly check clothing tags to be reminded of the size? Not me!
There are so many cute options that will enhance your closet. I am obsessed with my dividers.
Best Storage Containers For Baby Clothes
Another one of my favorite baby clothes organization ideas is investing in great storage containers for the clothes your child outgrows.
I love and use these storage containers for my daughter's clothes. Once I fill the container, I label it with the size. For example, my first storage container holds 0-6 months clothes. My second container holds 9-12 months clothes. I buy them as I need them. They stack on top of one another and are clear. I highly recommend these containers. In my opinion, these are the best storage containers for baby clothes.
Organizing Baby Clothes In Dresser
My favorite of all baby clothes storage ideas is to keep current baby clothes inside of the dresser. I store larger clothes inside of my daughter's closet.
For an extremely detailed guide on organizing baby clothes in a dresser, see the post below. It will help you tremendously.
(RELATED POST: 7 Essential Baby Dresser Organization Tips That Are Life-Changing)
What Is The Best Way To Organize Baby Clothes
With all the baby clothes organization ideas, you want to know the best way to organize your little one's clothes. Choose the systems that work best for you! Here are the tips that work best for me. Let's review all of my favorite tips.
1. Customize your closet to hold all of your items. Deep shelves are amazing! A double-hanging closet is the way to go.
2. Use closet dividers. Organizing baby clothes by size is so important.
3. Use baskets to group like items.
4. Use a laundry basket. This basket matches the baskets beautifully.
5. Use a baby dresser to keep all current sizes in. I highly recommend file folding all clothes so you can see everything in the drawer.
6. Invest in drawer organizers. These are a huge help!
7. Use clear storage containers to store clothes that your baby has outgrown. Label the container with the clothing sizes.
This post was all about baby clothes organization ideas.
Other Posts You May Like:
Quick Guide: When To Start Setting Up Baby Stuff
9 Out Of This World Organization Ideas That Will Enhance Your Life