This post may contain affiliate links. Meaning I receive a commission for purchases made through those links, at no cost to you. As an Amazon Associate I earn from qualifying purchases. Please read full disclosure here.
It can be difficult to entertain a toddler without the use of technology, but it is not impossible. In fact, there are many fun and creative ways to keep a toddler occupied without relying on gadgets or screens. Here are a few tips to get you started.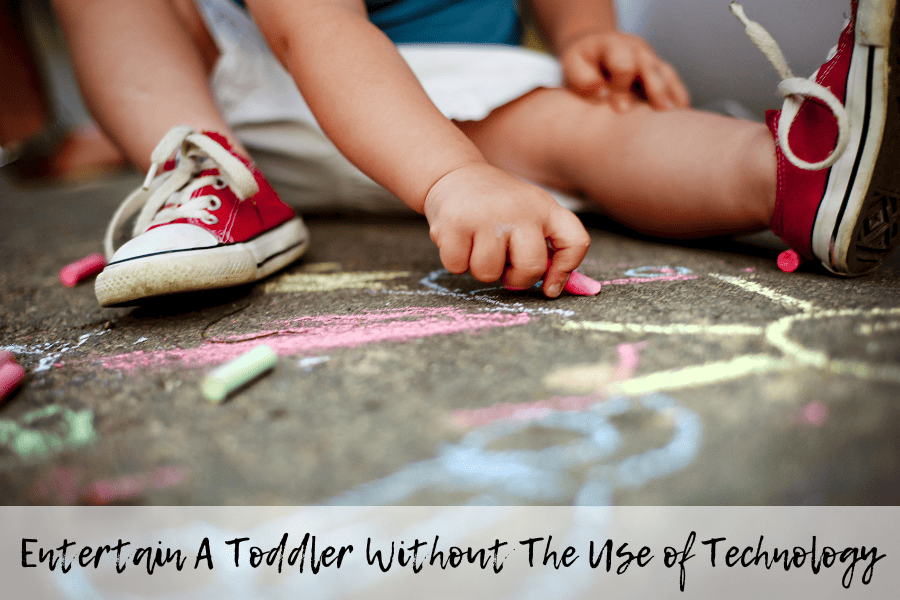 Have a Treasure Hunt
One of the best ways to entertain a toddler without technology is by hosting a treasure hunt. This can easily be done indoors or outdoors and typically requires only minimal preparation. Start by hiding tokens such as small toys, candy or token prizes around the house in slightly obvious places (make sure they are age appropriate and not a choking hazard). Then provide your youngster with a paper bag to collect their treasure.
If you have multiple kids, feel free to make it a competition to see who can find the most items! Lastly, don't forget to create a reward for the winner(s)!
If you keep your toddler in a playpen, this is also a great way to entertain them for a limited amount of time while they are in the playpen.
Play With Bubbles
Playing with bubbles is a great way to entertain your toddler without having to resort to technology. Bubble games can help entertain and engage a toddler, while also helping them improve their physical skills like eye-hand coordination, agility, and concentration. 
There are many fun ways to play with bubbles too: blowing large ones, popping multi-coloured soap bubbles with hands or simply chasing them around. Plus, it's easy to entertain kids with this activity because it doesn't require any major supplies. All you need to do is find some bubble solution from the store or make your own at home!
Make Homemade Pizzas
Making homemade pizzas is a fantastic way to entertain your toddler while teaching them practical life skills without relying on technology. It's a great activity that lets them get creative while also learning how their favorite meal is made. Gather some basic ingredients like pizza dough, simple tomato sauce, and cheese, and then let your toddler pick out any other toppings they like! Just remember: the simpler the better for little ones. A few slices of fresh bell peppers or mushrooms can add a lot of flavor without overwhelming them with too many flavors. 
Paint With Washable Paint
If you're looking for a way to entertain your toddler without resorting to technology, then grab some washable paint! Not only is painting a great artistic outlet that can help stimulate creativity, but it's also incredibly easy to clean up. Even if your child makes more of a mess than you expected, with washable paint, all you have to do is wet the area and scrub any remnants away with a sponge. Plus, toddlers are enthralled by the brilliance of color – they will be sure to have fun while they experiment and make unique creations!
Draw On the Sidewalk With Chalk
Drawing on the sidewalk with chalk is a great way to entertain your toddler without having to rely on technology. It encourages them to explore their creative side and helps keep young minds active. Chalk drawings also give children their own space—allowing them to illustrate their favorite dream, draw special characters, or create whatever their imagination can come up with. You can even join in on the fun by encouraging your toddler with ideas, or creating something together. 
Make Homemade Ice Popsicles
Making homemade ice popsicles is another easy practical life activity that is both an easy and fun way to entertain a toddler without reaching for technology. All you need is some juice, yogurt, or other flavored liquid of your choice, an ice pop mold. Not only is this a great activity to do, but it will also be a delicious treat once the popsicles are ready to eat!
Go For A Nature Walk and Find Bugs and Flowers
Going for a nature walk is an excellent way to entertain your toddler without relying on technology. It's also a great opportunity to teach them about the world around us. On your next stroll, let your little one take their time and appreciate every little discovery they make. 
Encourage them to look for bugs and flowers – they'll love getting up close with nature and seeing new things. Plus, this activity is educational without feeling like school, so it's perfect for kids that may otherwise shy away from learning. Make sure you go prepared with supplies like a magnifying glass or bug container so that they can collect any interesting findings along the way.
Build Towers Out of Blocks or Legos
Building towers out of blocks or legos is a great way to entertain your toddler without needing any technology. It encourages them to use their creativity, practice their stacking skills and have fun in the process. Your little one can also be encouraged to describe what they're building and why – they will inevitably surprise you with their imaginations! Just make sure that you provide plenty of blocks or legos so that they won't get frustrated if the tower collapses during construction.
Play Catch or Frisbee In the Backyard
If you're looking for an easy way to entertain your toddler without relying on screens and technology, try playing catch or frisbee in the backyard. Both activities don't require much more than a simple toy, plus some patience and enthusiasm from mom or dad! If you have a smaller space to work with, you can always play "flying piggy" instead of frisbee – just use a soft stuffed animal that your toddler can throw back and forth. We guarantee it will be a fun time for everyone involved, plus it's sure to tire out little legs for later naps!
Author bio:
Arnie is a first-time mom to her darling daughter and runs a blog aimed towards answering questions first-time moms might have about pregnancy and motherhood. When she is not working on her blog, she can be found running after her very active toddler.
Pinterest: https://www.pinterest.ca/arnienicola_/
Instagram: https://www.instagram.com/arnienicola/