This post may contain affiliate links. Meaning I receive a commission for purchases made through those links, at no cost to you. As an Amazon Associate I earn from qualifying purchases. Please read full disclosure here.
Is your little one in need of natural teething remedies? I am giving you the best recommendations that made teething easier for my little darling!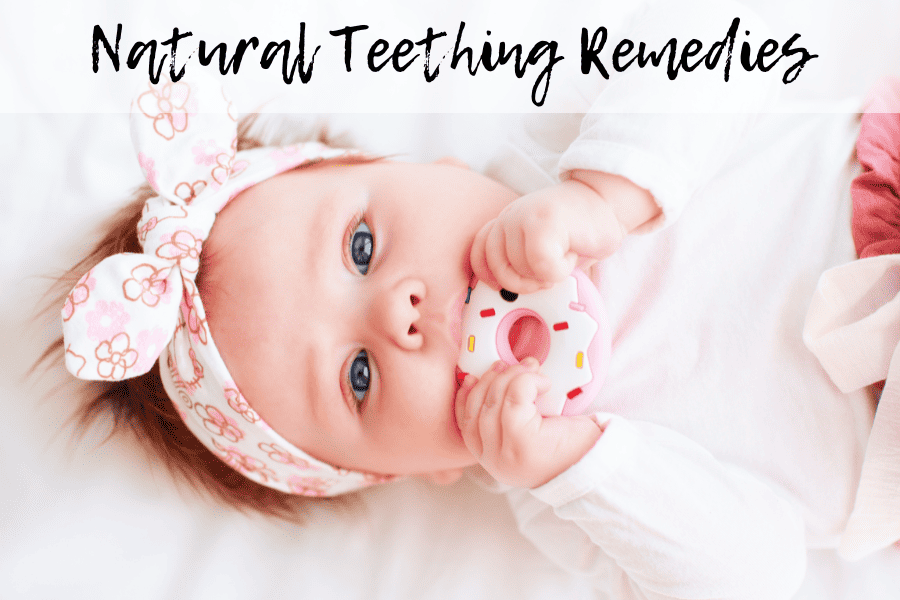 Are you eager to discover natural teething remedies? If your baby is going through teething, you have probably noticed that your baby is more cranky than usual. When your baby is teething, you want to give them instant relief. As a mama of a teething toddler, I am giving you all the natural teething remedies that work for my baby girl. I am also sharing remedies to avoid.
You are going to learn natural baby teething remedies, teething remedies for 3 month old, natural teething remedies for 4 month old, teething remedies for 1 year old, and more!
After reading this post, you are going to have plenty of ideas and resources to give your baby some relief during this teething process that feels like it is never going to end!
This post is all about natural teething remedies. 
The Best Natural Teething Remedies
When Do Babies Start Teething?
Teething can begin around the 6 month mark. However, your child could begin teething early. My daughter started teething around 5 months.
Teething could continue until your baby turns 3.
Every child is different. Some begin teething early and some others begin teething later.
According to Healthline, if your child does not have any teeth by 18 months, you should schedule an appointment with a pediatric dentist.
Signs of Teething
There are many signs that your little one is teething. Some signs of teething include:
More drooling than usual
A rash on their face
Rosy cheek
Pulling or rubbing their ear
Chewing on ALL.THE.THINGS!
Extra irritability
Changes in sleep
Irritated gums
Runny nose
Fever
Natural Teething Remedies #1- Teething Toys
Teething toys are my daughter's best friends these days. We have plenty of teething toys. I have them at the house, carry them in the diaper bag, and store them at her grandparents house. You never want to be without teething toys! Take my word for it.
When shopping for teething toys, you want to make sure you buy something that is non-toxic.
A few great options include silicone and wooden teething rings.
If you prefer silicone, here is a great teething toy.
If wooden teething toys are more of your baby's style, here is a great option.
Interested in trying a combo of silicone and wooden? Check out this teething toy.
Natural Teething Remedies #2- Nursing
Teething causes babies to feel very uncomfortable. Therefore, they fuss a lot more than usual. Some days you may be wondering who is this baby? We aren't ourselves when we don't feel good! It only makes sense that teeth breaking through the gums makes our babies turn into little monsters.
If you are a breastfeeding mama, nursing your baby provides a lot of comfort to your baby.
I have noticed that while teething, my daughter has more runny noses than ever before. In addition to providing comfort, nursing also boosts your little one's immune system.
In my experience, my baby wants to nurse more frequently while teething. I know this is because it gives her comfort.
To read more about breastfeeding, read the post below.
(RELATED POST: 23 Breastfeeding Must Haves Every Mama Should Own)
Natural Teething Remedies #3- Massage
Who doesn't love a massage? Giving your baby a gentle face massage is one of my daughter's favorite natural teething remedies.
You may have noticed your little one tugging on their ears. They can experience discomfort up their jawline and into their ears.
I begin gently massaging my daughter's chin and upper lip area. Then I continue massaging her cheeks. I end the massage by stroking her eyebrows with my thumbs.
My baby girl loves this. I would too! You can't beat facials. Especially free ones.
Natural Teething Remedies #4- Mesh Feeders
Mesh feeders are one of the best natural teething remedies. You are going to want to have these on hand!
Breastmilk has so many amazing benefits. It is a great idea to freeze breastmilk in an ice cube tray. When you are ready to use the mesh feeder, simply break the cube into smaller pieces and place them inside of the mesh feeder.
You could also put frozen fruits and veggies in a mesh feeder to help soothe your babe.
(RELATED POST: 20 Baby Must Haves To Consider For Your Little One's Room)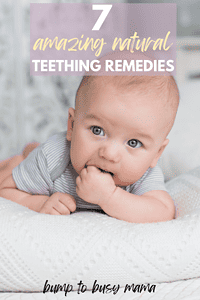 Natural Teething Remedies #5- Washcloth
This one is an oldie by goodie. Dip a washcloth in water, ring it out, and store it in the freezer for a few minutes. This natural teething remedy will soothe your little one's gums instantly as well as help reduce inflammation.
Natural Teething Remedies #6- Clean Finger
Before you try this remedy, make sure you wash your hands really well.
Offer your clean finger to your baby to chew on and rub your finger along their gums.
You can give him or her a little gum massage.
This paired with the facial massage will have your baby feeling like they are spending a day at the spa!
Natural Teething Remedies #6- Chamomile Tea
This one is for you to drink mama! If you are a breastfeeding mama, this is a great natural remedy.
Chamomile tea helps your baby feel more relaxed and less stressed. As a result, they will be less fussy!
Natural Teething Remedies #7- Pudding
My daughter loves to start her day off with homemade pudding for breakfast. I make this in bulk and store three days worth of jars in the fridge and freeze the rest of the batch.
She eats it up! The cold pudding soothes her teeth and as a result makes her feel much happier. I always have pudding prepared and ready to serve.
(RELATED POST: Beginner's Guide: Baby Food Chart By Age | This Will Help You Plan Mealtime)
Remedies To Avoid
Homeopathic Teething Tablets and Gels
The FDA reported that there have been deaths and serious illnesses linked to homeopathic teething tablets and gels.
Over the Counter Gels and Liquids
The FDA warned using these products because they can cause a severe decrease in the amount of oxygen in the bloodstream.
Teething Necklaces
Jewelry is not encouraged for babies. Necklaces especially can cause strangulation as well as choking. No thank you!
Frozen
Cold does help a child who is teething. However, avoid freezing items like washcloths and teething toys. Frozen items are too hard for babies. They can actually irritate and bruise the gums.
Certain Food
Acid, spicy food, and salt do not make a teething mouth feel great. For this reason, stay away from citrus, spicy, and salty food.
This post was all about natural teething remedies. 
Other Posts You May Like:
5 Unique Items No One Tells You About | What To Put On Baby Registry
23 Breastfeeding Must Haves Every Mama Should Own
11 Baby Eczema Natural Remedies To Try