This post may contain affiliate links. Meaning I receive a commission for purchases made through those links, at no cost to you. As an Amazon Associate I earn from qualifying purchases. Please read full disclosure here.
Are you looking for baby eczema natural remedies?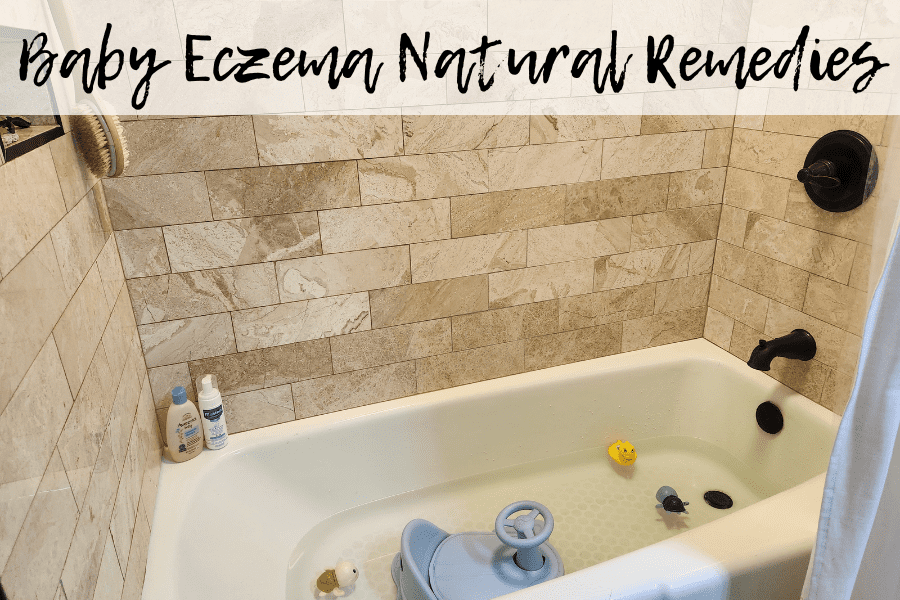 When you find out your little one has baby eczema, you instantly start brainstorming baby eczema natural remedies. You start searching the internet for all the natural solutions. That is exactly what I did when I found out my baby girl had eczema. I was desperate to give her some relief. As a mama who has experience with baby eczema, I am giving you baby eczema natural remedies that helped give my daughter some relief.
You are going to learn natural remedies for eczema in baby, natural way to clear baby eczema, what soothes baby eczema, and more!
After reading about baby eczema natural remedies, you are going to have more ideas about how to ease your child's eczema.
This post is all about baby eczema natural remedies. 
Best Baby Eczema Natural Remedies
It is important to note that these baby eczema natural remedies may or may not work for your little one. As a mama of a baby with moderate eczema, I know how frustrating it is when people say that. It can be incredibly frustrating having to try ALL THE THINGS to see what works for your little one and what doesn't. Everyone is different. In my honest opinion, despite the frustration, these natural remedies are all worth a try to see if they positively impact your baby.
Pay attention to what triggers your little one's eczema. For my baby girl, heat and fragrances are big triggers. Knowing what triggers eczema makes all the difference in the world.
1. Baby Eczema Treatment Coconut Oil
We have all heard that Coconut Oil is great for the skin. What you may not be aware of is that virgin coconut oil improves skin hydration in babies with eczema.
This study details the positive effect virgin coconut oil had on 117 children.
The National Eczema Association has great resources. I always go to their website to find helpful information. This blog post is really helpful. It details the benefit of Coconut Oil.
How To Apply Coconut Oil
Be sure that the virgin coconut oil you are using does not contain any additives. Sky Organics Extra Virgin Coconut Oil is a great option for your little one.
Give your baby a lukewarm bath for 10 minutes or less.
Pat your baby with a towel. Do not rub or completely dry your baby off.
Take a small amount of coconut oil and let it sit in a bowl on your counter to warm. You can also place it in the microwave for 10 seconds.
Test the coconut oil on yourself and make sure that it is not too hard and not too warm.
Scoop out the coconut oil with your clean hands and begin gently massaging your baby with it.
2. Calendula Cream
Calendula Cream is known to be gentle and soothing on the skin. It is a natural remedy for eczema, inflammation, diaper rash, and other skin ailments.
Calendula soothes skin irritation, is full of antioxidants, and could help add hydration to the skin.
Simply slather this over the irritated area.
This brand is great because it uses chemical-free ingredients and is made in the US.
(RELATED POST: Here's Exactly How To Manage Eczema This Week)
3. Shea Butter
Shea butter is another great alternative to soothing skin. It contains vitamins A and E. The combination of vitamins and fatty acids helps make the skin soft and very moisturized.
The beautiful thing about shea butter is that it does not contain sulfates, parabens, or preservatives. These ingredients are notorious for irritating skin.
This shea butter is great because it is USDA-certified organic.
Use shea butter the same way you would use coconut oil.
4. Moisturize Frequently
Moisturizing frequently is crucial! My daughter's pediatric dermatologist has us moisturizing her 4 times a day. He says 4 times is optimal but if you can moisturize twice daily that is good too.
We have tried so many lotions and the best one for our daughter's skin is CeraVe. Once we began using this lotion, we saw dramatic results in her skin. The way it makes her skin look and feel is honestly amazing.
This CeraVe tub gets the job done WAY better than any other CeraVe product. The lotion in the tub is thicker and makes her skin feel so much more hydrated.
I can happily say that my baby girl's skin feels so soft. So much softer than it has EVER been.
(RELATED POST: 11 Incredible Baby Care Products That All Moms Need To Know About)
5. Oatmeal Baths
Oatmeal baths are a great natural remedy for inflamed skin. It is also really easy to do.
If you are interested in drawing an oatmeal bath for your baby, Parents has a great post about how to do this.
Pro tip: You want to make sure you have the right type of oatmeal. Colloidal oatmeal is what you should use for oatmeal baths. 
6. Baths
Remember when I mentioned that heat can be a trigger for eczema? Heat is a trigger for my daughter's eczema. This is important to remember when drawing a bath for your little one. The bath water should be lukewarm.
You also want to remember not to bathe your child too frequently or for too long. This can dry out their skin.
We keep our bathtime 10 minutes or less. We bathe her twice a week.
This duck thermometer has been amazing during bathtime. It reports the temperature of the bath so you can easily read if the bath water is too hot or cold. It also times bathtime. This duck has been so helpful!
We also pat her skin dry after the bath. DO NOT RUB! Rubbing can irritate the skin. Moisturize quickly! This is so so important.
Pro tip: Do not use a washcloth. Our pediatric dermatologist instructed me to use my hands instead of a washcloth. This makes a big difference. We also use a gentle brush for her head. This made the biggest difference. Her head was the biggest problem area. I swear by this brush. After using this soft brush to shampoo my daughter's head, she no longer scratches her head vigorously. Hallelujah! 
7. Vitamin D Supplements
You may want to talk to your child's pediatrician about Vitamin D. Your pediatrician will want you to give your child Vitamin D drops daily until he or she is one year old. These are the drops we give my daughter.
In a study consisting of 11 participants with eczema, ages ranging from 2-13, 80% who were digesting 1,000 IU daily showed improvement after just one month.
You definitely do not want to play doctor and make these decisions on your own. It is interesting information and worth inquiring about at your next pediatrician visit.
8. Probiotics
Probiotics have many benefits. They help with digestion, the immune system, mood, weight, and skin. With all the health benefits, it is certainly worth bringing up introducing probiotics to your baby with your child's pediatrician.
You can choose between powdered or liquid probiotics.
Mama Natural wrote a great post detailing probiotics.
9. Baby Eczema Breastfeeding Diet
I breastfeed my baby and met with my daughter's pediatrician and dermatologist to inquire about whether I should eliminate certain foods from my diet.
They suggested starting by eliminating dairy to see if that made a difference. I believe it made a small difference, but did not completely clear up eczema.
Both doctors said to not go crazy eliminating all the food that could trigger eczema. They asked me to take note if a particular food is impacting my daughter's skin in a negative way. If a particular food triggers her eczema, they said to cut it out of my diet.
10. Clothing
It is best to avoid buying clothes that are made from synthetic fabrics. Instead, reach for organic cotton and bamboo.
Sweat can trigger eczema, so it is so important to buy clothes that are compatible with eczema.
In my experience, bamboo is so comfortable for my daughter. In fact, we only buy KicKee Pants pajamas for our baby girl. These are 95% viscose from bamboo and 5% spandex. They are also tag-free. Often times the tags of clothing irritate the skin. So it is really nice that these pajamas do not even have tags. These pajamas are cool and breathable. I can go on and on about how much I love KicKee Pants.
(RELATED POST: 15 Best Baby Care Brands You May Or May Not Know About)
11. Detergents
Detergents make a tremendous difference!
When shopping for detergents be sure to avoid products with fragrances. Fragrances are the enemy of eczema!
We made the mistake of using Dreft for months! All to find out that the detergent was triggering my daughter's eczema. I switched her detergent to Tide Free & Gentle. This simple change improved her skin so much. Goodbye itchies! Love, love, love this detergent!
This post was all about baby eczema natural remedies. 
Other Posts You May Like:
Here's Exactly How To Manage Baby Eczema This Week 
11 Incredible Baby Care Products That All Moms Need To Know About
5 Helpful Bits About Owlet Baby Care From A Mama With Experience