This post may contain affiliate links. Meaning I receive a commission for purchases made through those links, at no cost to you. As an Amazon Associate I earn from qualifying purchases. Please read full disclosure here.
Are you curious about Owlet baby care products? Here is what Owlet has to offer.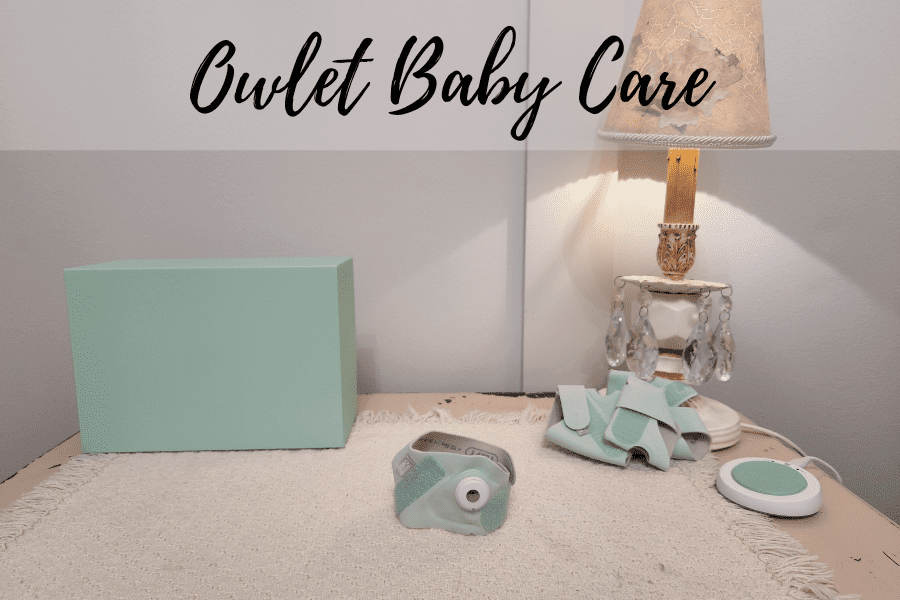 Owlet Baby Care gives many parents peace of mind. Deciding what products to purchase for your little one can be challenging. The options are endless. As a parent, naturally, you want to give your baby everything they need and more. As a mommy myself, I am sharing with you some helpful tidbits about Owlet Baby Care.
You are going to learn more about what Owlet brings to the table. Some products may be familiar and others might be new.
After reading about Owlet, you are going to gain more insight into this brand and decide if it is right for you.
This post is all about Owlet baby care.
Helpful Owlet Baby Care Bits
1. Dream Duo
The Dream Duo is the Dream Sock and Cam. These products pair with one another.
If you are interested in purchasing this combo, you can either buy the Dream Duo with Camera 2, which is a newer edition. Or you can buy the Owlet Dream Duo, which includes the first-generation camera. If you go with the first-generation camera, it is the cheaper route.
The difference between the two options is that the Dream Duo does not include: cry notifications, video clips, and new color options.
2. Cam
Again, you have the option of purchasing the Owlet Cam 2 or the Owlet Cam. The Owlet Cam is your cheaper option. The differences are noted above in the previous section.
Both cameras have HD video and night vision, 2-way talk, sound and motion notifications, background audio, a 130-degree camera lens, humidity readings, and predictive sleep technology.
The Camera comes with access to the app, a magnetic base, a wall mounting kit that matches the color you choose, cable as well as cable guards.
3. Dream Sock
The Dream Sock is a really popular baby must-have. I am obsessed with my Dream Sock. I rave about this product in my last blog post. You can click the link below to read more information about this baby essential.
This comes with a Dream Sock sensor, four fabric socks for babies 0-18 months and 5-30 pounds, a wireless charging base station, and access to the app.
This sock comes in a variety of colors: mint, dusty rose, deep sea green, and bedtime blue. I went with the mint sock.
I am a huge fan of this product because it gives me comfort that my child is sleeping safely. That was a huge worry for me in the very beginning and I can honestly say this sock eased my anxiety tremendously. I plan to use this on my second child as well.
(RELATED POST: 15 Best Baby Brands You May Or May Not Know About)
4. Things We Loved About Owlet Baby Care
We absolutely love the Owlet App! It was so easy to set up and provides a lot of great information.
The app tells you about your baby's sleep quality. It tells you your baby's heart rate, oxygen level, movement, wakings, noise level, and movement.
The app uses information about your baby's sleep quality to provide you with your baby's sleep baseline. If it detects that your child displays any difference from their usual sleep pattern it will alert you with a sleep assist notification. This lets you know if your child is uncomfortable or needs support falling asleep.
The app collects your child's sleep pattern history and logs data, graphs, as well as notifications.
It also has a guide section where it gives you helpful tips. For example, it reminded me not to wait until my baby begins crawling before starting to baby-proof the house. As a first-time mom, these helpful reminders are much appreciated.
5. Things To Know About Owlet Baby Care
Remember the socks come in different sizes and should be alternated between feet so that your child is not wearing the sock on the same foot.
You should hand wash your sock to protect your child's skin from irritation.
Owlet allows customers to buy refurbished products if they are looking to save money. Currently, their website says that you can save $120 for a limited time.
The sock does not serve as a medical tool. However, it is a great reassurance that all is well.
Those are the 5 helpful bits about Owlet baby care I have learned along the way. 
Other Post You May Like:
13 Baby Must-Have Items That Are Perfect For Your Little One
17 Insane Baby Essentials First 3 Months That Will Simplify Mom Life
11 Incredible Baby Care Products That All Moms Need To Know About