This post may contain affiliate links. Meaning I receive a commission for purchases made through those links, at no cost to you. As an Amazon Associate I earn from qualifying purchases. Please read full disclosure here.
Have you been searching for baby essentials first 3 months? Below you will find the essentials that all moms adore.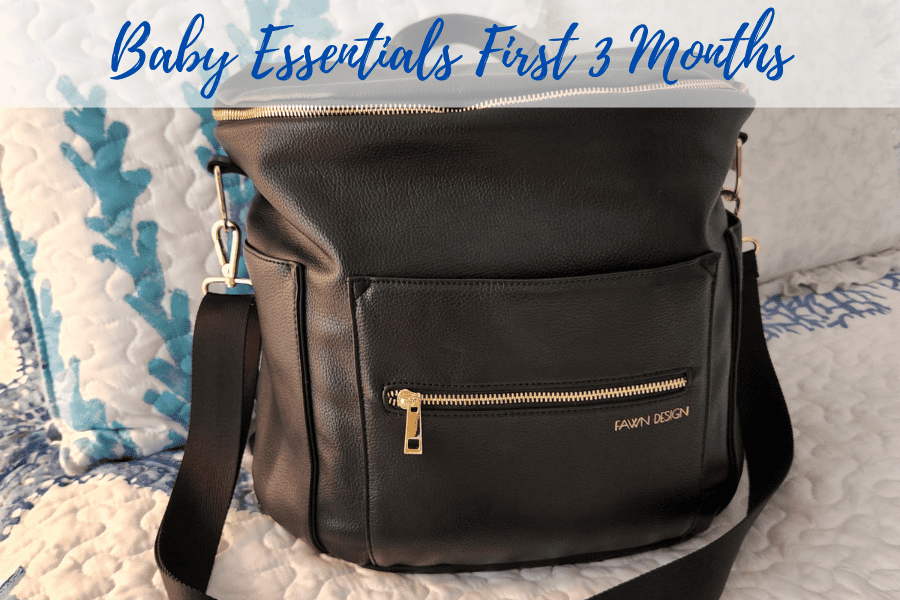 All moms experience nesting, which requires us to know ALL the baby essentials first 3 months. No mama wants to worry about buying x, y, and z after your precious one's big debut. I know exactly how it feels to research all of the must-have items and ask other moms their recommendations to simplify mom life. I am sharing insane products that you will want to make sure you have before your little one's arrival.
You are going to learn about baby essentials first 3 months from the best breast pump, diaper bag, to the ultimate pajamas and much more!
After learning about baby essentials first 3 months, you are going to feel WAY more prepared while eagerly awaiting the arrival of your little one. So what are baby essentials first 3 months?
Baby Essentials First 3 Months
Every Day 
Pacifier
If you ask me, pacifiers are an absolute must. I started out with just a few and I was sorry I didn't have more. Mainly because babies are always dropping things on the floor. As a first-time mom, I am a total freak about making sure everything is sanitized for my darling. My baby girl is not a Simpson baby who has to have the pacifier at all times, but she does like it when she is fussy. She also started teething around three months so I ended up buying more and started storing them in the freezer for her to use as teethers. She likes teething rings too, but we like to switch it up from day to day.
What To Expect The First Year
My mom bought me the book What To Expect The First Year while I was pregnant. I enjoyed reading it before my daughter came so I knew what I was getting into. If you have not already gathered, I am an obsessive planner. Honestly, this book is such a great reference. Whether you need to look something up really quick or are in hopes of learning more about babies to better prepare, this book is for you. This book has everything you need to know about your baby. My favorite part is that it is sectioned by months. I read about each month as my daughter was growing. It was fun learning about the baby basics, schedules, from bassinet to crib, and any other information new moms need to know about during the third month. It was exciting for me to see her milestones mentioned in each chapter in action.
Lestoil AND A Spray Bottle
Before being a mom I knew that babies have blowouts. What I did not realize was how difficult it is to get poop stains out of baby clothes and just how frequently I would be doing laundry. Seriously, the amount of laundry that needs to be cleaned with a newborn is exhausting. When you are rewashing the same stained clothing using various spot treatments and nothing is working, this chore is even MORE exhausting.
My mom recommended Lestoil for stained clothes and that was a game changer. Now when I need to remove stains, I can count on Lestoil to remove it after just one wash. I keep my Lestoil in a little spray bottle. This makes spot treatment so neat. Well, less messy!
Let's get to some more baby essentials first 3 months.
Changing Baby Essentials First 3 Months
Diaper Genie
Words can't describe how much I love my Diaper Genie! I remember friends and family recommended this product before I bought it. One of my friends loves it so much she has one in her nursery and another in the living room. It really does not smell like dirty diapers. It was really important to me to find a trash can that contained the stink. I promise you will not regret purchasing this baby essential first 3 months!
Diaper Rash Cream
Babies get diaper rash from time to time. It is always good to have diaper rash cream handy. I have it at home and I also keep it inside of my diaper bag. I use Desitin and that gets rid of the rash within a few applications. Luckily, my baby doesn't get diaper rashes often. This cream works for us.
One of my friends swears by Pinxav diaper cream. She says it takes care of the rash on the day of application.
Abundance of Bodysuits
I am all about comfortable living. You will want to have an abundance of bodysuits. I don't recommend buying too many newborn sizes since babies grow so quickly. I prefer to buy clothes in a range. I buy a bodysuit that is 0-3 months before I buy a newborn bodysuit. I get more use out of it. Unless it is super adorable, then I am a sucker and buy it anyway. I swear shopping for a little girl is dangerous for the bank account!
I love buying multipacks. Who doesn't appreciate cute cozy pants to match the bodysuit? Carter's has a lot of cute multipack options for good prices.
Keep reading for more baby essentials first 3 months.
(RELATED POST: 7 Essential Baby Dresser Organization Tips That Are Life-Changing)
Feeding 
Boppy Pillow
I use my Boppy Pillow ALL the time! It makes breastfeeding my baby girl so comfortable. She loves laying on her pillow. What I love about the Boppy Pillow is that you get so much use out of it. It can also be used for tummy time and prop your baby up. When your baby masters sitting unassisted, this can wrap around them and help them sit in place.
When I am breastfeeding away from home without my Boppy pillow I am wishing I had it with me. It is that helpful. Do yourself AND your baby a favor and buy one. There are so many cute designs to choose from.
Whether or not you are breastfeeding your baby, it is still nice to use. It gives your arms and back a little break.
My only regret was not buying two boppy pillows. This way you can leave one in the nursery and another in the living room (or another room you hang out a lot with your little darling during the day). This is one of my favorite baby essentials first 3 months. Enjoy!
Dr. Brown's Bottles
Looking at all of the bottles out there can be very overwhelming. I remember standing in the aisle just looking at all of my choices wondering which one is best. I hoped that my daughter would like and take to the bottle I chose.
My daughter was born with a tongue tie and a lip tie. This made breastfeeding painful and very difficult. I used to alternate between feeding her from the breast and bottle just to get some relief. The first bottles we initially bought were not helpful. They weren't awful, they just were not the best choice for a child who has more difficulty feeding.
After some research, we bought Dr. Brown's bottles. They are excellent. We love them because they are breastfeeding bottles. Meaning they make latching easy for babies. These bottles were so easy for her to drink from. These bottles were a Godsend.
(RELATED POST: 5 Nutritious Baby Food Recipes 6-8 Months That Every Mama Needs)
Breastfeeding Cover
I was gifted a breastfeeding cover and loved it during those first three months. I was nervous about breastfeeding in public (which I quickly got over). Having a breastfeeding cover gives you and your baby some privacy during feedings. The cover can also be used to cover the car seat and can serve as a shield while in the stroller. I always keep mine in my diaper bag.
Elvie Breast Pump
The Elvie Breast Pump SAVED me! I am not even being dramatic. I was a teacher and was given maternity leave. However, when I returned to work I knew no one would give me a break to pump. I had a Medela, which is a great pump. I just knew being a teacher and being given breaks to go pump while plugged into a wall somewhere in the building was not going to happen.
My administration told me they would send people to my room to relieve me, but I knew it was never going to happen. I was right. Nobody ever came. Not even once. How sad is that!
Continuing to breastfeed my baby was very important to me. My hairdresser told me about the convenience of the Elvie and I decided to invest in it. It is pricey, but it is SO worth it.
I was able to pop them in, control it from my phone, and pop them out when I was done. It will turn off automatically if it senses that the bottle is full. I loved this feature because I needed to continue teaching while pumping. I also needed to be able to pump discretely. Elvie is super quiet. If you are a working breastfeeding mama, invest in the Elvie!
Now to more baby essentials first 3 months.
Sleeping Baby Essentials First 3 Months
Sound Machine
I know so many moms say that sound machines are a must! My baby girl never had too much of an issue with sleeping so we didn't buy a sound machine. We used the sound machines that were built into her bassinet and her Graco Swing.
Aside from the 4-month sleep regression, we thankfully didn't suffer from sleep issues. We did not have the need to invest in a sound machine. Do what is best for your baby.
KicKee Pants
KicKee Pants pajamas are our FAVORITE PAJAMAS EVER. My daughter has eczema and there were so many nights where she would wake up because she was uncomfortable and start scratching herself. With eczema, I learned that materials in clothing make a tremendous difference. These pajamas are made with viscose from bamboo and 5% spandex. They are stretchy, breathable, cool, and tag-free.
Since putting these on my daughter, she no longer wakes up to scratch or due to discomfort. Needless to say, these are the only pajamas she wears. They have cuffs and footie pajamas if they are your style. I choose those ones because they are cozy and I get peace of mind knowing that if she scratches, with the cuffs on she won't make her skin bleed.
My only complaint about these pajamas is that they don't make them for adults. They are so comfy and cozy. I would love to sleep in these!
I swear these are one of the most amazing baby essentials first 3 months.
Swaddles
Babies can't have too many swaddles. In those early months, your baby loves to be swaddled. My recommendation is to buy enough to fill an entire drawer! That is what I did and I would do it again for baby number 2.
Travel 
Traveling System
I recommend a traveling system! At first, when people recommended that I buy a traveling system I thought okay great but what does that mean? A traveling system is a car seat and a stroller. We went with the Graco Verb Click Connect. This is both great and affordable. The Car Seat recommended weight is 4-30 pounds. So eventually you will need a new car seat, but we were so happy with this in the early days.
Looking for more travel baby essentials first 3 months?
Diaper Bag (super chic baby essential)
I will admit that I splurged a bit on my diaper bag. My mentality was if I am going to have this bag attached to me everywhere I go I really need to love it. After a bit of research, I decided to buy the Fawn Design diaper bag. The link directs you to their diaper bags. There are so many beautiful choices! As you notice in the picture on this blog post, I went with the black original diaper bag. I am obsessed with mine. Besides the fact that it looks stylish, it is so roomy and has plenty of pockets. I have no complaints about this bag. The pockets make it so easy to stay organized. It is so worth the investment!
Sentimental Baby Essentials First 3 Months
Baby Book
My Grandma bought me a baby book and I had so much fun adding pictures for each month, her handprints and footprints when she was first born, her hospital bracelet, and so much more! I know you hear people say kids grow up so fast, and that rings true. Just looking at pictures of my baby girl taken during each month you can visibly see how quickly she has grown so far! I recommend having a baby book ready so you will always be able to reminisce when you feel like it. This is one of the most beautiful and sentimental baby essentials first 3 months. I love mine!
That's the baby essentials first 3 months that I recommend you gather as you prepare to become a new mommy! 
Other Posts You May Like:
13 Baby Must Have Items That Are Perfect For Your Little One
11 Incredible Baby Care Products That All Moms Need To Know About
14 Ideas For A Baby Care Package I Wish I Was Gifted