This post may contain affiliate links. Meaning I receive a commission for purchases made through those links, at no cost to you. As an Amazon Associate I earn from qualifying purchases. Please read full disclosure here.
Do you want to put together a baby care package? These are the mom-approved best items to include.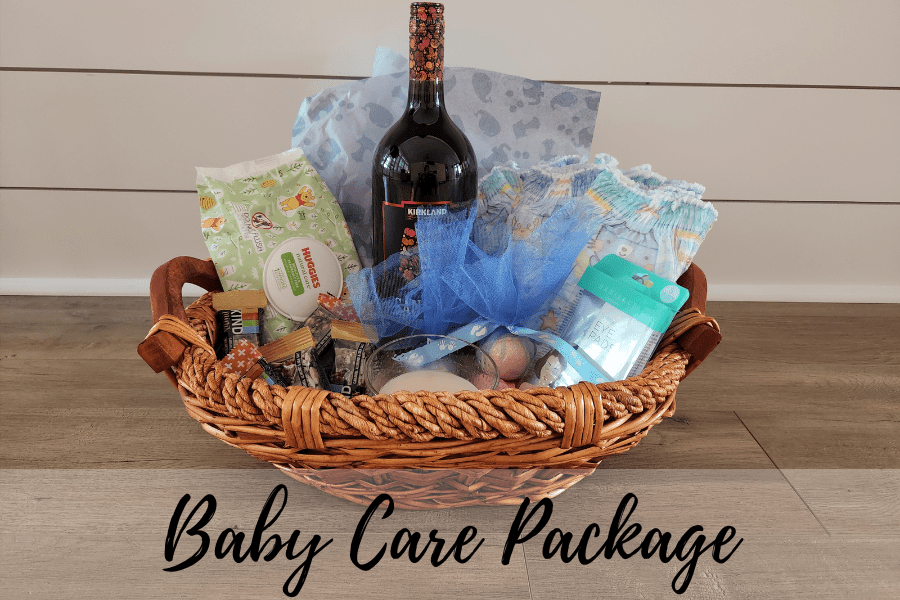 New moms appreciate a baby care package. It is always so exciting when shopping for a baby. I know just how hard it is to refrain from buying everything in the store! I am sure you can relate. So you are probably wondering which items to include in the baby care package. I am sharing the top products that all mamas will appreciate.
You are going to learn about all the baby care package essentials from gift cards, and diapers, to wipes, and more.
After learning about the best mom-approved items, you are going to assemble the best baby care package EVER!
This post is all about the best baby care package that everyone needs to remember.
Best Baby Care Package Ideas
When mama is taken care of, so is baby! Some of these items are targeted for mama to enjoy and others are for baby. You will be able to easily choose ideas from this list that will be perfect for your baby care package.
1. Giant Water Bottle (My Favorite Baby Care Package Item!)
One of the best items to include in a baby care package is a cute and giant water bottle. The first lesson I learned after bringing my newborn home from the hospital was that I wasn't going to get much free time to take care of myself. Babies require a lot of attention. So much attention that it can be a challenge to complete basic tasks, like filling up your own water bottle, taking a shower, and remembering to feed yourself. These are just a few examples.
The first thing I do when I wake up in the morning is fill up my water bottle. Especially in the early days. It would have been so nice to have a giant water bottle that held my daily recommended water intake. This would have saved me from having to refill my water bottle numerous times throughout the day while tending to a crying baby.
As a breastfeeding mama, I quickly learned how much of an impact water intake has on milk supply. I quickly noticed when I was not drinking enough water and I remember being so mad at myself for not remembering to hydrate.
When we make sure we are hydrated we are taking great care of our baby! Do your loved one a favor and buy a cute giant water bottle for your baby care package.
2. Uber Eats/Door Dash Gift Card
As I mentioned before, it is so hard for new parents to complete simple tasks. When we first came home from the hospital, my parents made us many freezer meals. This was so AMAZING! We just popped what we wanted into the oven and dinner was ready to eat in the snap of a finger.
Another amazing gift I received after coming home from the hospital was a Door Dash gift card. This was so great because of course we hardly cooked during this time. We had no time. So naturally we wanted fast and we wanted easy! I also enjoy eating healthy so we tried to pick from healthier restaurants. The beauty about a Uber Eats or Door Dash gift card is that you can pick where you want to order from. The options are endless.
3. Snacks, Snacks, And More Snacks!
Breastfeeding women need to take in extra calories. In fact, many breastfeeding women report feeling more hungry. Although that was not the case for me. If your loved one is breastfeeding, you can pick a snack with oats. Oats are great for milk supply.
Even if the loved one you are preparing the baby care package for is not breastfeeding, I am sure they will appreciate a yummy snack. Who doesn't enjoy snacks? Regardless of how a mom is feeding her baby, all new parents love quick and easy.
Speaking from experience, being able to reach for a snack and eat it real quick is the absolute best. It is the little things! Am I right?
4. Wine
You can pick up a nice bottle of wine for mama to unwind and relax with. I know how truly rare those moments are. Especially in the beginning. Even if she doesn't get to it right away, you can count on it being enjoyed at some point in the near future!
Once my baby started sleeping through the night I enjoyed crawling into bed with a glass of wine and catching up on my shows. I looked forward to this bit of me time.
5. Muslins
A baby can't have too many muslins! We had a whole drawer full of them and YES they were absolutely necessary. A muslin blanket is the perfect item for a baby care package. New mamas swaddle their babies regularly.
(RELATED POST: 13 Baby Must-Have Items That Are Perfect For Your Little One)
6. A Comfortable Pillow
Pregnancy, birth, and tending to a new baby takes a major toll on our backs. I never had back pain until after having my daughter. I swear by using a nice comfortable pillow to place behind my back while feeding my little one.
7. Diapers (Must-Have Baby Care Package Item!)
Giving a new mom a pack of diapers is like giving her gold. I appreciated getting diapers IMMENSELY! We all know babies go through millions of diapers. Any time my parents brought over diapers it was a major help. In the beginning, it feels like you are constantly running to the store for diapers. So if someone saved us a trip to the store I was a happy camper. You can never go wrong with a pack of diapers.
8. Wipes (Another Must-Have Baby Care Package Goodie!)
Wipes go hand in hand with diapers. My favorite part of buying Huggies newborn diapers in bulk is that they include packs of diaper wipes. I am not sure if other brands include diaper wipes in newborn boxes. We were always happy with Huggies so we never bought any other brand. New parents go through as many packs of wipes as they do diapers. Throw in a pack or two of diaper wipes.
9. Baby Shampoo
If you have read any of my previous blog posts, you know that my daughter has eczema. I was gifted so many baby shampoos that I was unable to use. I ended up giving them to a co-worker who was expecting. My skin is not as sensitive as my daughter's, but I also have very sensitive skin. For this reason, I would personally choose a baby shampoo that is fragrance-free. There are so many fragrance-free options. Mustela, CeraVe, and Aveeno are just a few ideas. I swear by Mustela.
(RELATED POST: 11 Incredible Baby Care Products That All Moms Need To Know About)
10. Body Wash
I would also recommend a fragrance-free body wash for your baby. Our family uses this bundle for bathtime and we LOVE it.
11. Lotion
In my opinion, it is also safe to buy a fragrance-free lotion. The National Eczema Association has a website and you are able to search any product to see if it has the Eczema Seal of Approval. It also tells what ages the product is recommended for. Some are safe for kids and others are just recommended for adults. So I always check that website before using something on my baby girl. Lotions we love are Aveeno Baby Eczema Therapy, CeraVe Daily Moisturizing Lotion, and Aquaphor Baby Healing Ointment.
EDIT: After trying ALL the lotions…the best and most hydrating lotion has proved to be CeraVe Moisturizing Cream (the one in the tub). I am obsessed with the pump!
12. Bath Bombs For Mom
New moms need easy ways to take care of themselves at home since it is hard for them to leave the house. What better way to relax at home than with bath bombs? These bombs are so easy. Simply fill up the tub and throw in the bath bomb. These can be inexpensive and make for a great item in a baby care package.
13. Mask
A nice facial mask is another great way for mama to relax in the comfort of her own home. This is another great way for mama to get a little pampering. I always feel so fresh and rejuvenated after a good face mask. These can also be inexpensive.
14. Eye Pads
Another great way to relax at home is with Eye Pads. I know some ladies like the eye pads that go on top of the eyes. Others like the ones that go under the eyes. Personally, I like the ones that go over the eyes because it makes me feel like I have cool cucumbers over my eyes and that I am sitting at the spa. Even when I am not. I can dream!
This post was all about baby care package ideas to bring a smile to any new mama's face. 
Other Posts You May Like:
11 Incredible Baby Care Products That All Moms Need To Know About
13 Baby Must-Have Items That Are Perfect For Your Little One
7 Essential Baby Dresser Organization Tips That Are Life-Changing