This post may contain affiliate links. Meaning I receive a commission for purchases made through those links, at no cost to you. As an Amazon Associate I earn from qualifying purchases. Please read full disclosure here.
Are you looking for baby organization ideas and inspiration? You have come to the right place.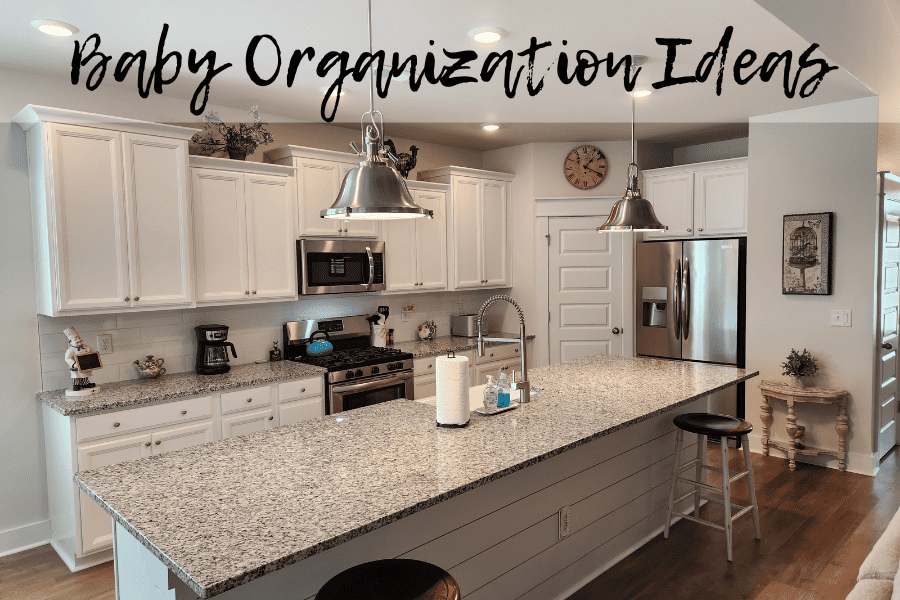 Once I found out I was having a baby girl, I instantly started brainstorming baby organization ideas and decor of course! You are probably searching Pinterest for all kinds of tips, tricks, and inspiration. Look no further, I am giving you out-of-this-world ideas that will enhance your family's life. Yes, your whole family. When we are organized, it is easy for everyone in the house.
You are going to get the baby organization ideas that I live by. If you do not already know… I am an obsessive organizer. Trust me, these super tips will help you easily prepare for life with a new baby. You are going to get everything from how to organize baby stuff in kitchen, baby food organization ideas, baby toy organization ideas, and beyond.
After learning about all of the best baby organization ideas, you are going to have the house ready for your little one in no time.
This post is all about baby organization ideas.
Amazing Baby Organization Ideas
1. How To Organize Baby Stuff In Kitchen
Thinking about how to organize all things in the kitchen can be really challenging. Do not overthink it. Just categorize everything. What zones do your baby items belong in? Read on to see what I am talking about.
Babies have so many items that need to be stored in the kitchen. Some of these items include: bottles, a bottle brush, utensils, bowls, and the list goes on and on. In my entire house, including the kitchen, I like to organize by category.
Drinking Glasses Cabinet
For example, I have a big cabinet that stores drinking glasses. This cabinet holds wine glasses, cups, sippy cups, and bottles. Each drinking item is simply stored in its own zone. Any items that are reached for less often go toward the top. In this example, wine glasses go at the top. Here is a picture of the drinking glasses cabinet. You can see the section that is dedicated to the baby.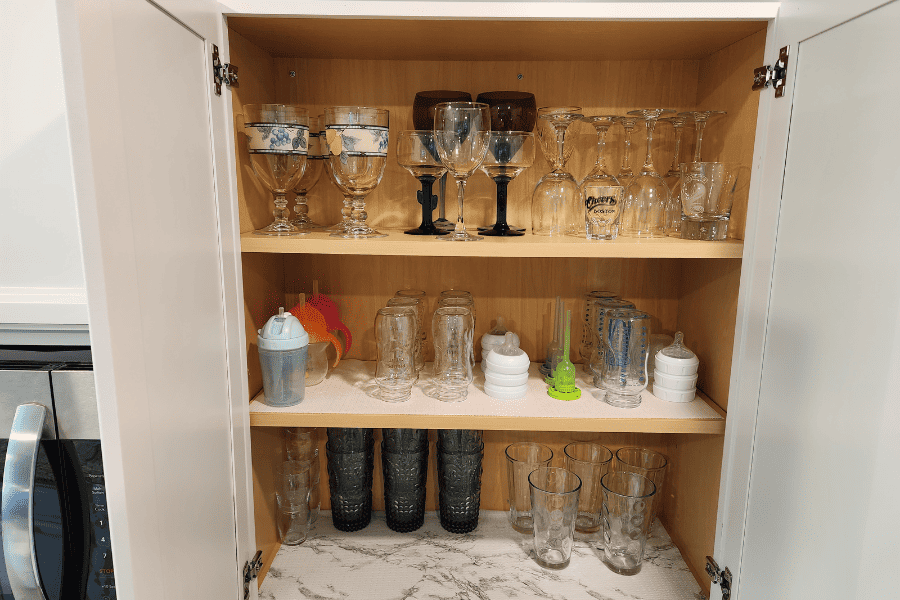 Over The Sink
The bottle brush is stored standing upright on top of my sink. I also have a dish drying mat and dish rack to the left of the sink that holds only baby items.
Preparation Cabinet
My bottle warmer is stored in the preparation cabinet. This cabinet stores anything that I use to prepare food. These items include the Instant Pot, the food processor, the Vitamix, mixing bowls, the Crock-Pot, and of course the bottle warmer.
Plates and Bowls Cabinet
Can you guess where the baby bowls and plates are stored? Inside of the cabinet that holds our family plates and bowls. I carved out a small section dedicated to baby bowls and plates. Here is what it looks like.
Utensils Drawer
Baby utensils are stored inside of a drawer organizer that holds the rest of the silverware. Baby girl has her own section.
Storage Cabinet
My baby food jars are stored inside of a cabinet with other storage containers. My insulated bottle tote bag and breastmilk storage bags are also stored with my storage containers.
Freezer
Inside my freezer, I keep a freezer-safe bag that holds her teething rings and pacifiers. These get us through teething!
Pro tip: always make sure the freezer bag is full. 
Eating Accessories
I store the bibs inside her baby dresser. I pull a bib when it is feeding time. You can see how they are stored in the link below.
(RELATED POST: 7 Essential Baby Dresser Organization Tips That Are Life-Changing)
2. Baby Bottle Organization Ideas
As I mentioned above, I store baby bottles in the same cabinet as the rest of the drinking glasses.
I section my bottles by type. My Avent bottles are in one row and my Dr. Brown's are in another row.
Personally, I like the baby bottles to dry on a drying rack. Baby items are all that I dry on this rack. This works for me because it offers a lot of space. I am always hand-washing baby jars, utensils, pacifiers, and any baby item you name it.
Some moms use a bottle drying rack.
Use whatever system works best for you! When I organize I always like to make sure the space is functional for my family and me. You should do the same.
3. Baby Food Organization Ideas
Baby food organization is so simple! If you don't already know, I make all of my own baby food.
Once I puree my daughter's food, I store them in KeaBabies glass food containers. These glass jars are the best! I love them so much I bought two sets of them.
I use an expo marker to label the type of food on the lid. Inside of my freezer, I have a pull out drawer where I set all of her baby food jars.
(RELATED POST: 5 Nutritious Baby Food Recipes 6-8 Months That Every Mama Needs)
4. Nursery Organization Baskets
Nursery Organization Baskets are my favorite way to keep the nursery looking super organized. I bought two sets of the OrganiHaus storage bins. These nursery organization baskets make my little girl's room look beautiful. I use these baskets to store books, toys, shoes, and more. Click the post below to see how these beautiful baskets look in action.
(RELATED POST: Secrets To Baby Room Organization)
5. Nursery Organization Labels
Some mamas I know like to use nursery organization labels in dresser drawers or on baskets. They like to ensure that other adults like their husbands or grandparents know where to find or return items. While I was pregnant I gave this a thought and decided not to use nursery organization labels. I love my dresser and did not want to ruin it by putting sticky labels on it. If you have not already noticed, I am a little particular. Do what works for you.
6. Baby Toy Organization Ideas
I am a huge fan of these baskets because they are so soft and stay in great shape. This basket is perfect for organizing baby toys that are frequently played with. I like to leave this basket on the floor of the living room so my daughter can easily crawl to it and grab whatever she feels like playing with.
Now that my daughter is getting older and collecting more and more toys I like to keep the majority of her toys in a larger basket like this one. This basket works for my space because it matches the other baskets in the nursery. It is a good idea to switch out the toys once and a while so your little one doesn't get tired of the same toys.
That is how I organize baby little girl's toys. Other toy organization options include:
This is great if you have a playroom in your house. I love the sections this product provides. You can easily store all kinds of play items in one place.
This is another great option because it offers more space for book storage on the top. The toys can be organized at the perfect level for your little one to easily reach for.
I love the idea of having a bench in the nursery. I used to have one in my room and it made the perfect reading spot. This bench serves more than one purpose, which is what makes it a great option. There are three drawers to store toys.
In addition, I have also seen parents use wall shelves to organize toys. I prefer to contain items as opposed to seeing them out in the open. Choose whatever works best for you and your little one! There are so many options.
7. Baby Storage Ideas For Small Spaces
My baby's nursery is a small space. Check out my posts below detailing exactly how we decorated and organized our daughter's bedroom.
(RELATED POST: Secrets To Baby Room Organization | 7 Essential Baby Dresser Organization Tips That Are Life-Changing)
These tips helped us organize:
Plan set up of furniture in the most open way possible
Invest in drawer organizers!
Put current sizes in the baby dresser
Categorize like items
Maximize closet space
Put bulk items on the top shelf of the closet (diapers, wipes, etc.)
Buy closet dividers
Decide on an organizing system (baskets, labels, shelves, etc.)
Color code clothes and books!
8. Stay Consistent
Make sure you and your significant other have a good grasp on what items go where. Make sure you always put items back in their home.
9. Contain and Label
Use organizers or baskets to contain items. If labeling is your thing, you can do that too.
Are You Looking For Organizational Help With…
Nursery drawer organizer, baby changing table organization ideas, baby clothes organization ideas, baby dresser organization ideas, baby drawer organization ideas? The post 7 Essential Baby Dresser Organizational Tips That Are Life-Changing will help answer your questions about those topics.
Are you also looking for help with nursery organization baskets, baby room organization ideas, baby nursery organization ideas, and new baby organization ideas? The post Secrets To Baby Room Organization will help you with everything.
This post was all about baby organization ideas.
Other Posts You May Like:
A Complete Guide On How To Make Your Own Baby Food
21 Necessities To Add To Your Baby Must Haves List That Will Make Moming Easy
15 Best Baby Care Brands That You May Or May Not Know About