This post may contain affiliate links. Meaning I receive a commission for purchases made through those links, at no cost to you. As an Amazon Associate I earn from qualifying purchases. Please read full disclosure here.
Are you striving to have a minimalist diaper bag? 
What does it even mean to have a minimalist diaper bag? A minimalist diaper bag only contains the absolute baby essentials! Nothing extra. No third outfit option, no need to pack multiple jackets, and no need to pack nail trimmers for a quick trip. The bare minimum!
As a new mom, I made the rookie mistake of overpacking. I had a fear of leaving the house and forgetting something important at home. This fear caused me to stress, to bring way too much, and have an aching back. Your growing baby gets heavier and heavier. You do not want to make outings more difficult with a heavy diaper bag.
As an experienced mama, I am sharing a minimalist diaper bag checklist for both newborns and toddlers, the best diaper bag options, and small diaper bag ideas. The checklists included are something I wish I had had when I first began motherhood. So I am giving you a couple of checklists to help you pack your diaper bag. You can download it below. Hopefully, this helps you pack a minimalist diaper bag!
This post is all about how to pack a minimalist diaper bag. 
The Key To Packing A Minimalist Diaper Bag
Best Diaper Bag Recommendations
What are the best qualities of diaper bags? This is a question I researched the answer to a lot before buying my own diaper bag. It was important to me to buy a diaper bag that was durable, made of quality material, easy to view the essentials and one that makes traveling easier.
There are so many diaper bags out there. Let's take a closer look at what makes a great minimalist diaper bag.
When deciding which diaper bag you should buy, it will come down to what style appeals to you and if it checks all the boxes that matter to you. Some mamas prefer small diaper bags, while others prefer backpacks. Whatever style you decide, having a minimalist diaper bag makes life easier! It also makes public diaper changes so much smoother.
Small Diaper Bag Options
This diaper bag is a great small diaper bag option. You can wear it as a backpack or a crossbody. It also has 2 insulated bottle pockets, which I love. It is very versatile. This is a great modern minimalist diaper bag option.
If you want to take a minimalist diaper bag a step further, Freshly Picked Diaper Bag makes a park pack that makes for a small diaper bag perfect for a stroll at the park. When I am going somewhere for a quick trip, doing something outdoorsy, or going for a walk at a nearby park I love a fanny pack. I grew up in the 90's so it only makes sense! This fanny pack is a great minimalist diaper bag.
Backpack Diaper Bag Options
Can you just use a regular backpack as a diaper bag? You can if you want to. Personally, I like all of the intentional pockets within a diaper backpack. For that reason, I prefer a diaper bag backpack.
Do you really need a diaper backpack? You know what works for you and your family. Choose a diaper bag that works for your lifestyle. I love my backpack diaper bag and enjoy being able to wear it on my back since my daughter is normally in my arms. You do not need a diaper backpack if that is not your jam. Maybe the fanny pack is more your style! The fanny pack gives you more of a free feeling.
Freshly Picked Diaper Bag is another great option if you want something small. There are 10 pockets, which makes it the perfect minimalist diaper bag. A small diaper bag forces you to only pack the essentials. It makes it very hard to stuff it full. This is why I like a small diaper bag.
This is the diaper bag I use and love. It is stylish and I love that when I open the bag I can see everything easily. The pockets make it really simple to pack everything you will need for your little one. This bag is made of vegan leather. I have been using this bag for over a year now and have no complaints. I plan to use this to store items for baby number 2 as well. It can easily store items for two kids. In my opinion, this is the best minimalist diaper bag.
Ultimately, you decide what the best minimal diaper bag is for you!
(RELATED POST: 17 Insane Baby Essentials First 3 Months That Will Simplify Mom Life)
Minimalist Diaper Bag Checklist For Newborns
What are diaper bag essentials? Your diaper bag essentials will be different for a newborn than a toddler. For a newborn, your diaper bag contents should be diapers, wipes, a change of clothes, a changing pad, a pacifier, a blanket,  burp cloths, a nursing cover, and a bottle of breast milk or formula. When you keep a minimalist diaper bag, it will save you time. You won't have to rummage around looking for something. Everything will be easy to locate.
If you are a breastfeeding mama and are leaving the house for an extended period of time, you may decide to add your breastfeeding cover to your minimalist diaper bag.
Grab your newborn minimalist diaper bag checklist printable here.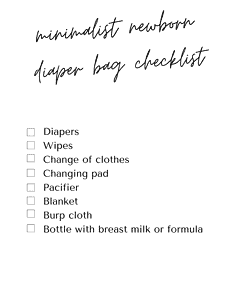 These are my favorite bottles. They were so great and easy to use while feeding at home and feeding on the go. We have been through many bottles. I love that these are anti-colic and that they make it easy for your baby to drink at their own pace. My daughter has a tongue tie and lip tie and these bottles are amazing. They also come with a cap making traveling a breeze.
Minimalist Diaper Bag Checklist For Toddlers
For a toddler, you will need diapers, wipes, a change of clothes, a changing pad, snacks, water, a favorite toy, and a boogie sucker.
As a first-time mama, I learned that teething comes with lots of runny noses and boogies!
Grab your toddler minimalist diaper bag checklist here. 
Here are great toddler snack cups you can use at home and on the go. These cups are spill-proof and make it very easy for your toddler's little hands to reach inside and grab their snack. It is also really easy for your baby to hold onto. This is a travel must! You should never leave the house without a snack. A screaming hungry toddler in public is a situation you always want to avoid at all costs!
Here is a great drinking cup to pack inside your diaper bag. It comes in a variety of colors! In addition to snacks, you never want to leave the house without a drinking cup.
You may have to add or remove some items. For example, when my babe has a diaper rash I travel with diaper rash cream. If she does not have a rash, I leave it at the house.
You may decide to add hand sanitizer or a first aid kit to your diaper bag.
How do you pack less in a diaper bag?
When packing your minimalist diaper bag, only pack the items on the diaper bag checklist! Remember this list will change slightly depending on the age of your baby.
When packing, ask yourself what items you will absolutely need. Never forget to pack diapers and wipes. Things like hair bows and nail trimmers can stay at home.
Your minimalist diaper bag necessities may also change depending on where you are going.
If you are going to the beach, you'll want to pack diapers, wipes, sunscreen, a hooded towel, a beach toy, and a hat. You may even want to use a tote bag for the beach instead of your usual diaper bag. Personally, I do not like to get sand on my chic diaper bag.
If you are going to the park or for a stroll in the neighborhood, keep it light! You may decide not to bring the backpack and bring the fanny pack instead.
Packing less in your diaper bag makes your baby's essentials easy to access.
Do you really need a diaper bag?
When you pack too many items in your diaper bag it can feel heavy and be annoying to tote around. However, if you keep a minimalist diaper bag, it won't be as challenging to carry around with you.
You should always do what works best for you. In my honest opinion, a diaper bag makes storing all the baby's essentials easy. I know that I need a diaper bag.
PRO TIP: I always restock the diaper bag before every outing. I get in the habit of double-checking that I have the right amount of diapers and all the things I will need depending on where we are going. 
(RELATED POST: 13 Baby Must-Have Items That Are Perfect For Your Little One)
As a new mom did you find a diaper bag necessary or did you just use a large bag?
I found a diaper bag necessary. I couldn't imagine leaving the house without mine.
I love the intentional diaper bag pockets.
I have left the house and forgotten about a change of clothes. Of course, I realized it after we just arrived at the restaurant and realized baby girl had a big stinky! Mom fail! I never made that mistake again.
What can I bring in my diaper bag on a plane?
When traveling on a plane you will most likely need your usual diaper bag contents.
You may add more items than usual since you are going on vacation. When I traveled on a plane with my baby I packed a suitcase full of both of our necessities.
Smaller items that I would need at some point during the trip I added to the diaper bag. In this case, I added items like nail clippers, washcloths, socks, medicine, lotion, and the boogie sucker. Of course, this also depends on the length of your trip. If you are going away for a long weekend you may not need the nail clippers.
I suggest making a list of everything that your baby will need on your trip. Add smaller additional items into your minimalist diaper bag.
Are diaper bags necessary?
I believe they are! When you leave the house with your son or daughter, you always want to make sure you have everything you need. What better way to do that than with a diaper bag?
This post was all about what makes a minimalist diaper bag. What's in your diaper bag?
Other Posts You May Like:
10 Proven Ways To Rock Motherhood As A Busy Mom | We Asked The Experts
5 Positive Birth Stories For First Time Moms That Will Have You Feeling Excited For Labor
7 Essential Baby Dresser Tips That Are Life-Changing