This post may contain affiliate links. Meaning I receive a commission for purchases made through those links, at no cost to you. As an Amazon Associate I earn from qualifying purchases. Please read full disclosure here.
Are you looking for a baby food chart by age?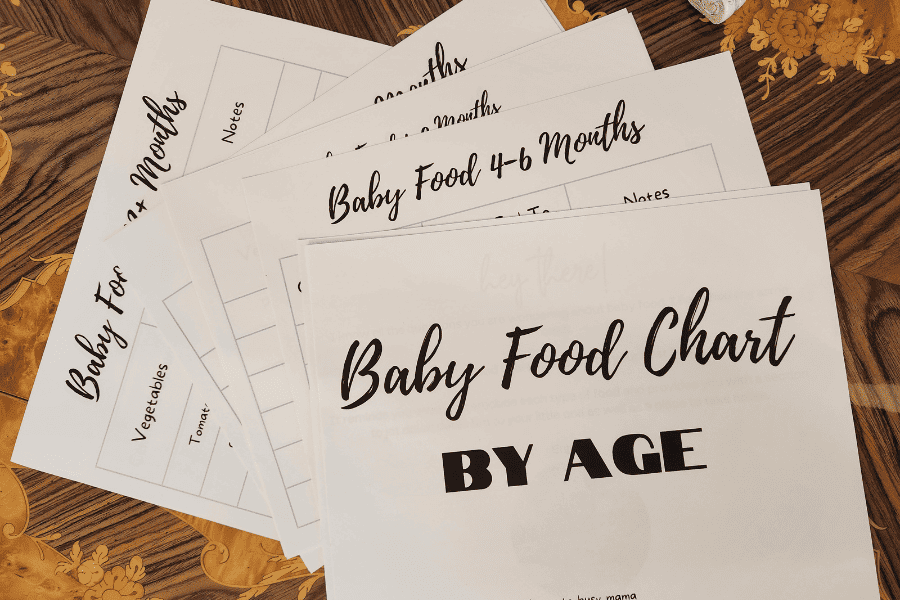 When the time comes for your baby to begin eating solids, you are going to want a baby food chart by age resource to guide you. This freebie details what foods to introduce first and when exactly to introduce them. I know I was wondering things like what food can my daughter eat at 7 months old. How exactly should she eat certain foods? What food should be introduced in the beginning?  What food should she have later? Curious by nature, I had lots of other burning questions. I am sharing the baby food chart by age that will help you introduce food to your little one. This freebie will be your best friend!
You are going to get the baby food chart by age free download that will guide you through this food journey. This post will detail baby first foods 4 6 months, baby food 6 to 9 months, and what to feed babies by age. Plus, you will get other beneficial information like when do babies start eating pureed food, and more. As a bonus, I have also included two yummy recipes that my babe loves.
After learning about the baby food chart by age, you are going to be so ready to begin feeding your growing baby.
This post is all about baby food chart by age. 
Disclaimer: I am not a pediatrician or baby expert by any means. I am simply a mama who is sharing my personal experience with feeding my baby. The information is merely information that I learned along the way. The freebie included helped me master feeding my little one.
The Most Helpful Baby Food Chart By Age
Eating Pureed Food
Pureed food is a great way to introduce food to your little one. I chose to go the puree route with my daughter and enjoyed playing around with different puree recipes. Especially when I began combining different foods. Some foods paired together tasted better than I could have ever imagined.
I always taste the food. If I like it I know that she will too.
As a new mama, purees made me feel more comfortable. It was comforting to start with a thin consistency and thicken the puree as she became more confident and skilled at eating.
When Do Babies Start Eating Pureed Food
The American Academy of Pediatrics recommends breastfeeding for the first 6 months of life. Of course, some mamas feed their baby formula. Fed is best! Do what works.
Typically babies begin eating food at 6 months. Our pediatrician gave us the green light around 5 months because she was showing signs of readiness. She was able to hold her head up and showed a lot of interest in food. She would frequently plot ways to take our food from us.
The pediatrician also reminded us that breast milk or formula should be the main source of nutrition for the first year of life.
(RELATED POST: 5 Nutritious Baby Food Recipes 6-8 Months That Every Mama Needs)
Baby First Foods 4 6 Months
My pediatrician gave me a baby feeding chart for first foods. This was insanely helpful. As a new mom, I had so many questions. This chart helped me prepare my daughter's purees in the recommended order.
When I started feeding my daughter different purees I wished there was a section for the dates fed. I remember thinking this would have been nice because the doctor told us to wait 3 days before introducing a new food. Just to make sure that there were no issues with the food or allergic reactions. I think it would have been helpful to jot down what dates we fed her each type of food. I am one of those people who has to write everything down to remember. Can you relate?
I also wished there was a section for notes so I could jot down things like "Loved it" or "Hated it! Try again!"
So I decided to create my own baby food chart by age. Enjoy this freebie! This was so helpful to me and I know that it will be just as helpful to you!
(RELATED POST: 6 Yummy Baby Food Recipes Stage 1 To Whip Up Right Now | Plus Helpful Information)
What To Feed Babies By Age
This baby food chart by age will detail what to feed babies by age. For example, the first recommended fruits include apples, avocados, bananas, peaches, and pears.
The chart is sectioned by fruits, vegetables, cereals and grains, and meats and dairy.
Pro tip: Do not start with fruit! That is all your baby will want. 
Baby Food Feeding Chart By Age
Whether you are choosing to introduce purees or prefer baby-led-weaning, this baby food feeding chart by age will help you plan meals for your baby.
This baby food chart by age will also help ensure that you are always introducing new food to your little one.
The best part about it is that you can write on it.
Click here for the baby food chart by age freebie!
Baby Food Stages
When beginning to introduce food to your little one it is good to have a thorough understanding of baby food stages. Your baby should begin eating purees with a thin consistency and eventually work their way to a thicker consistency.
In time, they will also be able to eat purees with more than one ingredient.
See the post below for some more information about baby food stages.
(RELATED POST: 9 Important Tidbits About Baby Food Stages That Will Help You Tremendously)
Just A Few Delicious Baby Puree Recipes
Mango Avocado & Banana Puree
This recipe is super easy and delicious!
You will need organic frozen mangoes, an avocado, and two bananas. When I buy organic mangoes I buy the diced ones.
For this recipe, I thaw a plate full of mangoes. To thaw the mangoes, I let them sit on the plate at room temperature for 40 minutes or until they are completely soft.
Once the mangoes are ready, I throw them in the Food Processor. You can view the food processor through the link or the picture below.
While the mangoes are blending I cut an avocado into slices and discard the pit and exocarp.
Place avocado slices in the food processor and puree.
Lastly, I peel two bananas and throw them in the food processor. Bananas make everything more amazing.
I use this food processor for literally everything. It purees food beautifully and serves many other purposes. You won't regret buying this food processor. I swear by it.
Pumpkin Oatmeal Puree
Oatmeal is a food staple! To perfect this recipe you will need oatmeal and pumpkin.
For this recipe, buy the pumpkin that is labeled pie pumpkin.
Set the oven to 400 degrees. While you are waiting for the oven to heat up, cut the stem off of the pumpkin.
Next, slice the pumpkin in half.
Scoop out all the seeds.
Cut both halves into pieces. I cut both halves into thirds.
Place pumpkin pieces on a baking sheet and bake for 50 minutes or until the pumpkin is soft.
Boil three cups of water.
Throw one cup of oats in the blender or food processor.
Once the water reaches a boil, put the oatmeal in the pot and cover it for 30 minutes.
Once 30 minutes is up, let it cool for a bit.
Once pumpkin is done, scoop it out and put it in the food processor with the oatmeal. Puree and enjoy!
This post was about baby food chart by age. 
Other Posts You May Like:
A Complete Guide On How To Make Your Own Baby Food
Where To Find A Great Baby Food Jar | Researched By One Curious Mama
11 Healthy Baby Food Subscriptions Options That Are Totally Worth it