This post may contain affiliate links. Meaning I receive a commission for purchases made through those links, at no cost to you. As an Amazon Associate I earn from qualifying purchases. Please read full disclosure here.
Are you contemplating if a baby food subscription is right for you and your little one?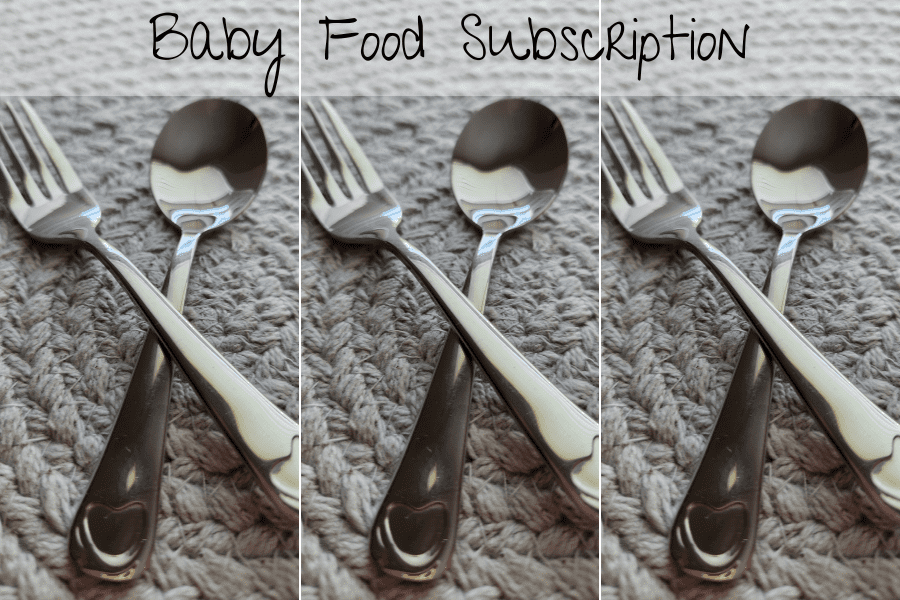 Searching for a baby food subscription? Here we are in 2022 and there is a subscription box for anything. As a mama, I totally understand wanting to be sure that all the ingredients are safe and healthy for your baby to eat. It is a big deal. I am sharing with you baby food subscription companies and information about what these companies stand for to help you decide if a baby food subscription is right for your family.
You are going to learn about a variety of baby food subscription options like Little Spoon, Yumi baby food, Tiny Organics, and more. All organic baby food!
After reading this post you are going to have more information to help you make an informed decision.
This post is all about baby food subscription options. 
Healthy Food Subscription Choices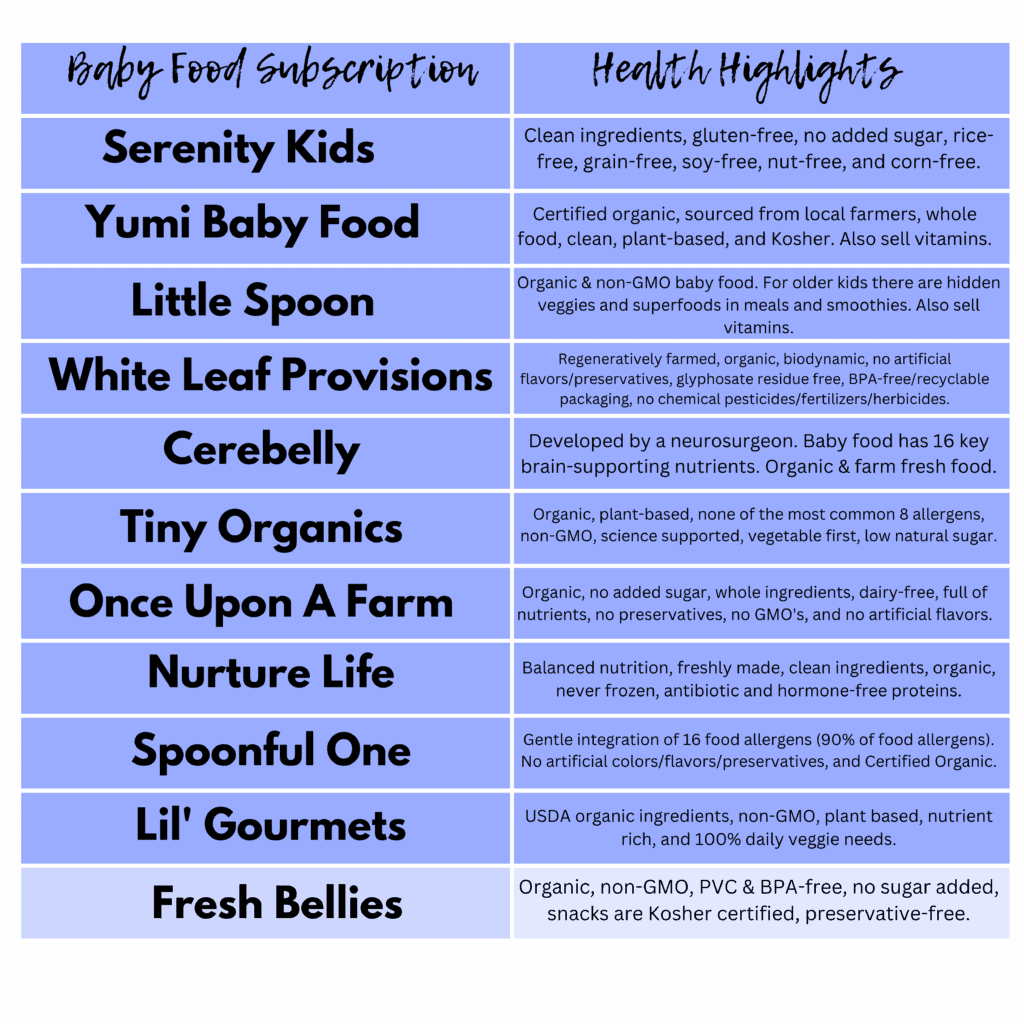 1. Serenity Kids
I really love the creators' story of Serenity Kids. The creators are a couple who like many of us, were negatively impacted by eating sugary and processed foods. They suffered from issues dealing with digestive, colic, constantly feeling sick, sleeping, stomach pain, and being overweight. Can you relate?
They noticed a dramatic difference in themselves once cutting out processed foods and sugar and replacing their diet with wholesome meals including quality meats, vegetables, and healthy fats. Together they decided to create nutrient-dense foods. They see firsthand the success their quality food has on their baby.
This company offers purees that of course are very nutritious. Their recipes mimic the macronutrients of breast milk, which is super cool! They use grass-fed pasture and organic vegetables. Their food does not contain harmful ingredients and the meals come in pouches that are recyclable. This is a great baby food subscription!
2. Yumi Baby Food Subscription
The creators of Yumi Food partnered because they were frustrated with the lack of quality options for baby food. They have a Yumi Milestone Plan which provides an organic menu aligned to your baby's development. The meals are pediatrician and nutritionist-approved. I like that they aim to introduce new flavors each week so your baby has the opportunity to taste a variety of food. Exposure to new foods is everything! As a mama myself, this is important to me because I do not want my baby girl to become a picky eater. No thank you. They also sell vitamins.
3. Little Spoon
Little Spoon's goal is to simplify parents' lives. Big thanks to anyone who tries to simplify my life! Like the other companies, they too began because they were unhappy with the lack of healthy options for little ones. They offer baby blends, which are fresh organic baby food for every food stage. They also sell plates for toddlers and older children. The plates consist of finger foods and meals. There are smoothies that make for the perfect healthy snack. Lastly, they have boosters. Boosters are clean and all-natural vitamins and remedies for kids. This is another great baby food subscription!
4. White Leaf Provisions
This baby food subscription company was created by a husband and wife. The husband, Keith, is a French-trained chef. How cool! This baby food is organic, biodynamic, and GMO-free. The baby food comes in a variety of flavors and is sold in pouches. You have the option of choosing 6 pouches or 24 pouches.
I love that they have their own baby apple sauce with so many varieties! My daughter and I LOVE apple sauce. I make organic homemade apple sauce regularly. It is so good that I always save some for myself. Anyway, there are so many variations of apple sauce to choose from. Sign me up!
(RELATED POST: 5 Nutritious Baby Food Recipes 6-8 Months That Every Mama Needs)
5. Cerebelly
When I read that this baby food subscription company includes 16 key brain-supporting nutrients I was instantly intrigued. What is really interesting about this company is that you can take a personality quiz that helps them personalize a bundle of food for you and your baby. You can also build your own bundle and pick whatever flavors you are interested in introducing to your baby.
If you choose to build your bundle you can create a small box with 14 items, a medium box with 28 items, a large box with 42 items, and a family box with 56 items. I am all about the choices.
They offer purees, smoothie-inspired baby food, as well as snack bars.
This is another clean company.
6. Tiny Organics Baby Food Subscription
This organic company makes plant-based food that is free of common allergens (milk, eggs, fish, crustacean shellfish, tree nuts, peanuts, wheat, and soybean). Their food is finger foods. So if you are into baby-led weaning, Tiny Organics is right up your alley. The food is also easy to mash up due to the soft texture.
They have a section dedicated to best sellers for babies who are 6 months old, which makes it super easy for new parents to start picking out foods.
The ingredients as well as the nutrition label are very visible. There are also seasonal options to choose from as well as larger portion sizes for toddlers.
7. Once Upon A Farm
You may not be familiar with Once Upon A Farm, but you probably are familiar with the actress Jennifer Garner. She is one of the co-founders of this baby food subscription company. At her farm in Oklahoma, healthy nutritious ingredients are grown for all of the meals.
You can purchase pouches or meals. If you are unsure of what to start with, there is a quiz you can take, and afterward, they will make product recommendations for you.
They work closely with Save the Children and have a program called A Million Meals. This program strives to provide 1,000,000 healthy meals to kids in America by 2024. What a great program. I love how important early childhood nutrition is to Jennifer Garner.
8. Nurture Life Baby Food Subscription
Nurture Life has food for babies, toddlers, and kids. The food consists of organic vegetables, antibiotic-free proteins, and whole grains.
It only takes a minute to prepare for your baby to eat. This baby food subscription company provides a variety of options catering to both picky and adventurous eaters.
In addition to meals, they also offer snacks and smoothies that are loaded with Superfoods.
Registered dietitians have a hand in ensuring that vegetables are incorporated into all meals. You are able to pick the meals you want your baby to try. There are over 40 options.
This company was featured in Forbes, Martha Stewart, People, Vogue, and Goop.
9. Spoonful One
Spoonful One is science-based and was created by a Pediatric Allergist. They say it is important to introduce common food allergens early and teach the immune system that the foods are not allergens. They sell packets that you give your baby once a day. You can mix this in with their food or milk. They recommend administering the packet for a year.
This is another clean-eating company, which is why I chose to include them in this blog post. Their food does not contain any artificial colors, flavors, or preservatives.
They test the ingredients used three times before selling them to consumers. They test for things like heavy metals, protein integrity, and that there is no harmful bacteria.
10. Lil' Gourmets
Lil' Gourmets understands that there is a strong relationship between first foods and future eating habits. They design meals that are vegetable loaded.
The founder of the company was inspired to create this company so she could feed her kids both convenient and fresh meals. Prior to developing Lil' Gourmets, she opened a baby jar to feed her child and thought that it didn't look or smell great. Naturally, she wanted to feed her baby the best and most healthy meals as possible. Hello Lil' Gourmets!
You can buy a variety pack that includes 8 meals, make your own pack, or buy a sampler subscription that includes 16 meals.
11. Fresh Bellies
Fresh Bellies was on Shark Tank. So often mamas try to sneak vegetables into their little one's diet by mixing it with fruit. I know I am guilty of this. I remember when I first introduced foods my baby girl loved ALL the fruits but was reluctant to finish the veggies. Fresh bellies make veggies the star of the show. They try to help babies enjoy all flavors.
In addition, this company sells snacks that are of course nutritious. They also say that their purees can be given to older children as well and can be used on toast, used as a sauce, or even as a dip. Brilliant suggestion! I am a huge fan of spreads and dips!
This post was all about healthy baby food subscription choices. 
Other Posts You May Like:
9 Important Tidbits About Baby Food Stages That Will Help You Tremendously
Where To Find A Great Baby Food Jar Researched By One Curious Mama