This post may contain affiliate links. Meaning I receive a commission for purchases made through those links, at no cost to you. As an Amazon Associate I earn from qualifying purchases. Please read full disclosure here.
Do you need help with your baby room organization? Do you also need help KEEPING it organized? Stay with me. I will be diving deep into baby organization.
Everyone wants to be organized, but not everyone knows how to organize and most challenging how to stay organized. When everything in our life is organized, life is so much easier! As a parent, organization helps me tackle the days. Trust me when I say that it will literally keep you sane. Being organized is my superpower. As an obsessive-compulsive organizer, I am spilling all of the organization secrets that will set you and your baby up for success.
You are going to learn about baby room organization from nursery drawer organization, nursery organization bins, nursery organization labels, and beyond! I make nursery organization with limited space seamless.
After learning about all the baby room organization tips and tricks you could be a perfect candidate to work for The Home Edit or Marie Kondo (my organization role models). But seriously, these tips will help you master baby room organization.
Life-Changing Baby Room Organization Tips
Wondering how to arrange a baby room? Keep these suggestions in mind and you will arrange all things baby beautifully.
1. Books Beside Rocker
Nursery organization baskets are essential. They are a great way to categorize items and keep everything tidy. When like items are grouped together and everything has a place, life is good.
I bought two sets of these baskets and I LOVE them. I have several baskets within my nursery, which I will elaborate on in the following sections.
One basket sits to the left of my rocking chair and is used to hold baby books. As a former teacher with a Masters's Degree in Reading, I am obsessed with books. They are so important for children. I could go on forever about the benefits of reading to little ones regularly. I have a library in my home. We love our books! My daughter started turning the pages at 4 months. Proud mama!
The books inside the basket are developmentally appropriate books that my husband and I read during story time. These books are organized in ROYGBIV (red, orange, yellow, green, blue, indigo, violet) order. Every other color goes at the end. I learned this beautiful organizational tip from Cleo and Joanna from The Home Edit (one of the best Netflix shows about organizing). Everything really does look more beautiful in rainbow order.
This is how my book basket beside the rocking chair looks. Putting things in rainbow order helps tremendously with baby room organization.
PRO TIP: I am constantly swapping out books. I keep a basket of books in her closet as well. I pull books from there to keep our story time fresh and exciting.
2. End Table On the Other Side of Rocker
At first, I did not have an end table beside the rocker. Rookie mistake! I quickly decided to move one into the nursery.
Our bedtime routine is a long process. Especially in the early days. At night I am in the nursery breastfeeding her for an hour or so before laying her down for the night. So an end table is an absolute must!
On my end table, I placed a small lamp so I can have dim lighting at night. I also keep her electric nail clippers on the end table. It is always so much easier to file her nails when she is breastfeeding. If you don't have these nail clippers, you really need to. It makes it so easy to file babies' itty bitty fingernails and toenails. The idea of using actual clippers freaked me out. The electric nail clippers get the job done safely and quickly.
At the beginning of the week, I pull a handful of books. These books are neatly placed on her end table.
I also keep her Vitamin D drops here since I give it to her nightly.
Finally, I keep a coaster on the end table since my water travels with me everywhere. The coaster serves as a good reminder to keep myself hydrated.
Here is a picture of the end table in my daughter's nursery. Hopefully, this helps you enhance your baby room organization.
3. Dresser Organization
I wrote a very detailed blog post all about baby dresser organization. Click the link below to get all the helpful tips as well as pictures of how I organized mine. I show you everything from what should go on top of the dresser to what is inside every single drawer. My tips make nursery drawer organization so simple. A tidy dresser will definitely help with baby room organization.
7 Essential Baby Dresser Organization Tips That Are Life-Changing
4. Baby Closet Organization
My husband worked so hard on my daughter's nursery. He tore the room down to the studs and designed the most beautiful nursery. I told him what I wanted to put in her closet and how I envisioned organizing it and he customized her closet perfectly.
Top Shelf Of Closet
The top shelf of her closet holds overflow items that we do not have to reach for often. It holds extra diapers, bags for the Diaper Genie, and wipes. All contained of course. Here is what is on the top shelf.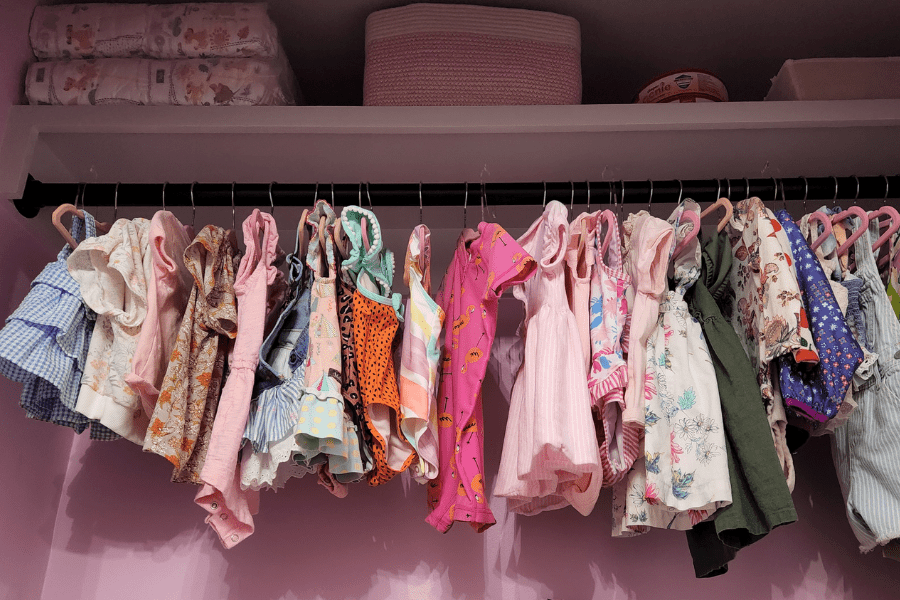 Here are what the diapers and wipes look like up close and personal. On the left I store diapers, then the diaper genie bags, and all the way to the right are the diaper wipes.
These are the drawer organizers I bought to store my diaper wipes in. It can be used for so many things. I also use these drawer organizers to store her pants.
Drawer organizers will help you achieve baby room organization.
How Clothes Are Organized
Clothes are organized by size. I strongly recommend buying closet dividers. In my post 7 Essential Baby Dresser Tips That Are Life-Changing you can see my nursery organization labels up close and personal. I can't imagine this closet without them. Especially since we are always getting new clothes from her grandparents, which I love! Here is how I organized her clothes.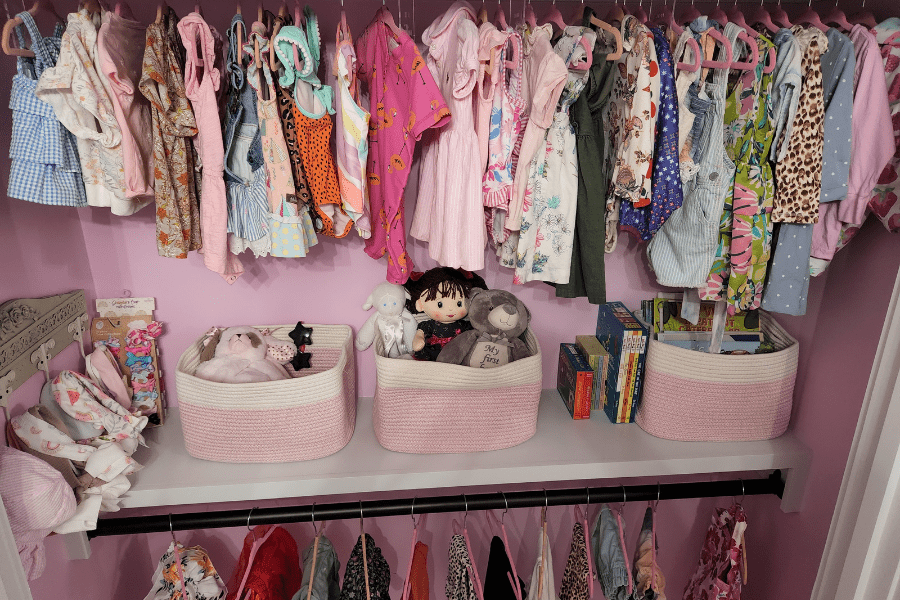 Baskets In Closet
I use baskets in several areas of the closet, from the top, middle, all the way to the floor. That is something I picked up after watching The Home Edit and Tidying Up With Marie Kondo. Contain everything! It helps a ton. Plus it looks pretty.
You can see where the baskets sit in the picture above. The basket on the left holds her comfort items like her stroller blankets, sunglasses, and slippers. The one in the middle holds her stuffed animals. The basket on the right holds her books.

Floor Of Closet
On the floor of the closet, I store extra hangers, her laundry basket, a basket that holds all of her shoes, and a sentimental baby box.
Here is a closer look at her shoe basket.
I love this laundry basket for her nursery. I really love that it matches her other baskets.
5. Bow Holder
This section is for all the girl mamas. A girl can never have too many bows and hair accessories. Am I right? I organized hers inside her closet. Her sun hats are on the first hook. We use them daily since we live in the South. The middle hooks hold her decorative thicker bows. The last hook holds her thinner bows. Leaning against the wall are her hair clips.
6. Rules I Live By
Figure out which items make sense together and contain them if possible. Categorizing is so helpful!
Color coding makes everything look prettier.
When you store items inside drawers or baskets strive to see everything.
Put things in a place that makes sense.
Store most frequently used items in a place that is easily accessible. Items reached for less often can be stored in harder to reach places.
Put things away once you are finished using them.
All of these rules help with baby room organization.
This post was all about baby room organization.
Other Posts You May Like:
15 Best Baby Care Brands You May Or May Not Know About
15 Incredible Baby Care Products That All Moms Need To Know About
13 Baby Must-Have Items That Are Perfect For Your Little One