This post may contain affiliate links. Meaning I receive a commission for purchases made through those links, at no cost to you. As an Amazon Associate I earn from qualifying purchases. Please read full disclosure here.
Do you want to discover the best baby care products for your sweet baby? These are the baby care products you need to know about.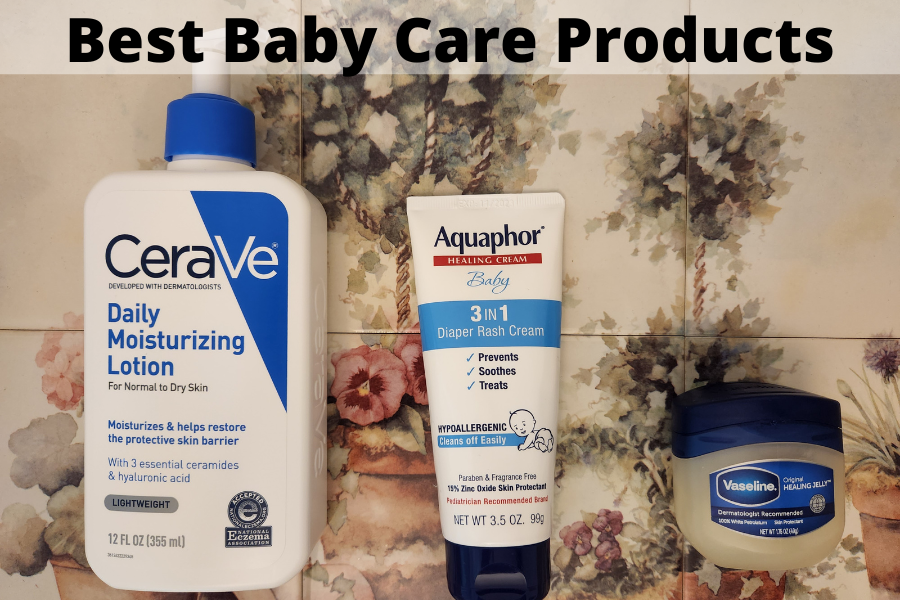 Bringing your baby home from the hospital is so exciting. Like me, you have probably already researched the best baby care products for your little one. There are so many choices out there. As a mom myself, I am giving you the must-have baby products that will bring your baby comfort.
You are going to learn about all of the baby care products from baby skin care products, natural baby care products, newborn baby care products, and more.
After learning about all of these baby care products, you are going to become an expert at tending to your little one.
This post is all about the best baby care products that all moms need.
Best Baby Care Products
Baby Care Product #1- Baby Care Kit
Having a baby care kit is super helpful. This set includes a healthcare set (toothbrush, bottle dispenser, thermometer, and 5 disposable probe covers), a grooming kit (brush, comb, nail clippers), and a clutch case that keeps all of the items organized. I love the decorative bag that keeps everything tidy. This is a newborn baby care product must-have! I do not have any complaints!
#2 – CeraVe Daily Moisturizing Lotion
I am all about skin care. It is so important for all ages. As a mommy of a daughter with eczema, I have been through plenty of lotions. I have been through so many lotions that do not work for my daughter's skin. The fragrance lotions really irritate her skin.
My daughter sees a pediatric dermatologist. We have had lengthy conversations about baby skin care products. Which ones we should use and which ones we should stay away from? The dermatologist recommended that we use CeraVe and we are thrilled we made the switch. It honestly transformed her skin.
Although I do not have eczema, I have sensitive skin and also found success in moisturizing with CeraVe. I have been using their product for years now. The dermatologist gave me a list of recommended skin products from moisturizers, to sunscreen, and more. Everything that was recommended was CeraVe brand. CeraVe is clearly doing something right!
(RELATED POST: 13 Baby Must-Have Items That Are Perfect For Your Little One)
Baby Care Product #3 – Vaseline Healing Jelly
As a new mama, I often worried about my daughter scratching herself with her nails in her sleep. Even my other mommy friends, whose children do not have eczema, have shared the same concern about their babies scratching themselves. The pajamas with cuffs are nice until they figure out how to escape them to itch themselves. If your child is anything like mine, they figure it out really quickly. I have found that Vaseline Healing Jelly works magically. We use this on her scratches and dry areas. I guess that is why healing jelly is in the name. It heals beautifully!
#4 – Tubby Todd All Over Ointment
This ointment has been a total game-changer in my daughter's skin. Her moisturizer works wonders on her skin, but there are still times when a big red dry patch will appear. When this happens I lather Tubby Todd All Over Ointment on the problem area and after a few applications, the dry patch is gone. This ointment is seriously magic in a jar. Do yourself a favor and buy a big tub of this. You won't regret it.
Baby Care Product #5 – Mustela Shampoo
Many mamas are in search of the best baby hair care products. Like lotions, we have been through plenty of shampoos. Our daughter can't have fragrance in her lotions or shampoos. We have had success using this shampoo. I love that this product has natural avocado and sunflower oil. I also love that it is tear-free. This shampoo gives my daughter relief from itching.
(RELATED POST: 9 Best Baby Clothes For Eczema)
#6 – Tubby Todd Hair & Body Wash
This product is insanely good. This is both a hair and body wash. I use the fragrance-free one during bathtime and it is so gentle on my daughter's skin. I have been using it for months now and wish I found this sooner.
Baby Care Product #7 – Electric Nail Clippers
It amazes me that little itty-bitty babies can have such sharp nails. The nail clippers that come in the baby care kit are great to have, especially when your baby gets older. At this stage, the thought of using them to cut her nails gave me such anxiety. I feared accidentally cutting her finger. Baby nails are so hard to see, EVEN with my glasses on.
One day I was talking to my friend about this fear and she recommended these nail clippers. I LOVE THESE! They are so gentle. I don't have to worry about accidentally clipping her finger and hurting her. They are also so quiet and they leave her nails feeling soft. It also comes with a case, which makes it easy to store.
#8 – Extra Mattress Protectors and Crib Sheets
We all know that babies have blowouts. There are times when your baby will make a mess out of their diaper, clothes, crib sheets, and even mattress protectors. I had no idea. I was so prepared before bringing my baby home. The one thing I wish I had more of was crib sheets and mattress protectors. I was spot-treating and doing laundry SO often. Do yourself a favor and invest in extra mattress protectors and crib sheets. I started with three sets of sheets and two mattress protectors and that was not enough. Before sleeping in her crib, she had two bassinet sheets. That was also not enough. Learn from my mistake.
Baby Care Product #9 – Books Galore!
As a former educator with a Masters in Reading, I understand how crucial it is to introduce your baby to books. The earlier the better! Reading to your child regularly gives them an advantage when it comes time for them to enter elementary school. I read a book to my baby every single night. I have done this since she was born. Her bedtime routine includes reading a story and she looks forward to it. She absolutely loves her books and began turning the pages at 6 months old. This blew my mind. So amazing!
#10 – Coconut Oil
If your baby suffers from cradle cap or dry skin, coconut oil works like a charm. I heat up a spoonful for 5-10 seconds in the microwave and rub it on my daughter's dry areas. It looks and feels much better instantly.
Baby Care Product #11 – Bum Brush
One of my friends recommended the Bum Brush to me before having my daughter. She raved about it. As a new mom, I never knew this existed. I took her advice and I am so glad I did. I keep one at home, one in my diaper bag, and one at my parents' house. It is a great way to gently apply diaper cream to your baby without getting your hands messy. They come with a traveling case. I always love a good case. I highly recommend this product!
It is one of my favorite baby care products ever!
This post was all about the best baby care products.
Other Posts You May Like:
14 Ideas For A Baby Care Package I Wish I Was Gifted
15 Best Baby Care Brands You May Or May Not Know About
Understanding and Managing Baby Eczema: A Comprehensive Guide