This post may contain affiliate links. Meaning I receive a commission for purchases made through those links, at no cost to you. As an Amazon Associate I earn from qualifying purchases. Please read full disclosure here.
Are you on the hunt for the best baby clothes for eczema? I remember being desperate to find clothing that would give my daughter's skin relief and comfort. So stick with me. I am sharing all my favorites!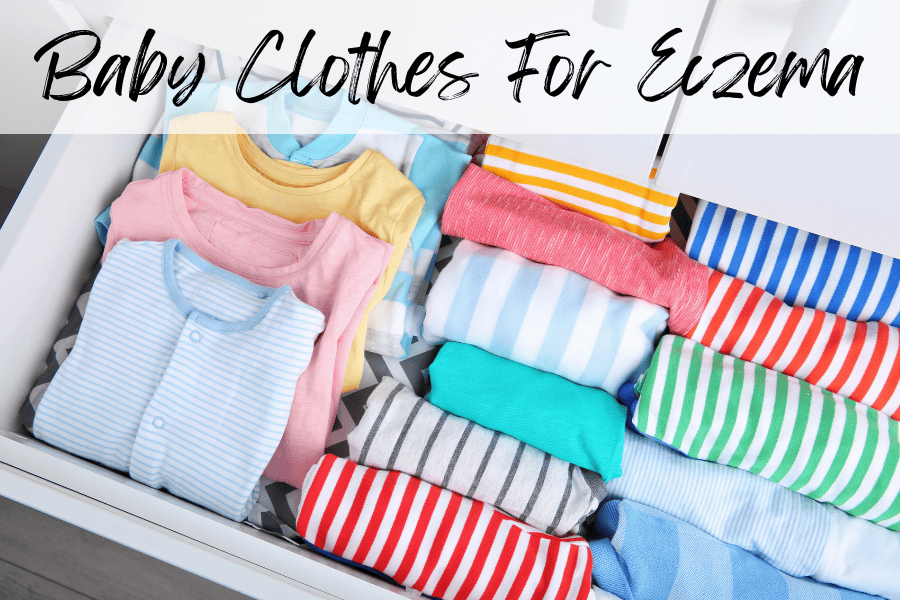 Once my daughter was diagnosed with eczema, I started doing all the research on baby eczema. I have always had sensitive skin, but I had so much to learn about eczema. I quickly learned how crucial it is to invest in the best clothes for eczema. This includes eczema pajamas!
As a mama of a baby with severe eczema, I am sharing with you all the best baby clothes for eczema. I know because I have researched and tested so many clothes. Hopefully, this post saves you some time and money. From my personal experience, here is the best clothing for eczema-prone skin. As a mama, I wanted to make her feel comfortable and take away her pain. I felt helpless. If you a parent of a child with eczema you know how long it can take to figure out the triggers and a skincare routine that helps your child. Mama stick with me. It will get better for you and your little one!
I am also sharing some helpful information to keep in mind while taking care of your little one.
This post is all about baby clothes for eczema. 
Best Baby Clothes for Eczema
Background Story
At three months old, we noticed how dry and flaky my daughter's scalp was. The pediatrician initially thought my daughter had cradle cap. When it didn't go away we quickly learned it was eczema. It was a total nightmare for our family for months. She was constantly scratching herself to the point where she made her skin bleed. She was covered with dry patches, redness, and cuts from scratching. I took her to the pediatrician and the pediatric dermatologist numerous times DESPERATE to make her better.
I was quickly given hydrocortisone cream, but I wanted to be able to manage her eczema without medication. Due to the severity, I needed to give her the steroid cream right away. Now I can happily say that we have gotten to a point where we manage her eczema really well. She hardly needs hydrocortisone cream. If you want tips and tricks for your child's baby eczema, check out the post below. It includes what I do regularly for my daughter's eczema. Everything mentioned in the post below has helped her skin tremendously. I swear by them all. They are also simple changes you can make right away.
Let's get into the best baby clothes for eczema.
(RELATED POST: Here's Exactly How To Manage Baby Eczema This Week)
Best Fabrics
The best fabrics you want to look for when shopping for baby clothes for eczema are material that is breathable, comfortable, and soft. Natural and organic clothes have been great for my daughter. So which fabrics should you buy for your little one with atopic dermatitis? There is eczema clothing for babies, but you should also pay attention to the material when shopping for your little one. You do not have to buy clothes that are designed for eczema. You absolutely can, but you do not have to. Just get into the habit of reading the tags before making a purchase.
Cotton
When buying clothing made of cotton aim to invest in clothing that is 100% cotton. Organic cotton is a great material for those who suffer from eczema. It is comfortable, cool, and easy to absorb sweat.
Silk
Silk is another great material for your eczema baby. Silk baby clothes for eczema are well known for being soft and cool. It is important to keep in mind that lotion easily leaves behind a mark on this material. Although I love silk, it is not the most practical for my 15-month-old baby. I moisturize her skin four times a day. It is inevitable that some lotion will end up on her clothes, but i don't need to see it. Bamboo and cotton are my go-to favorites.
Bamboo
Bamboo is my favorite material. It is my daughter's favorite too. She used to wake up frequently during the night to itch herself so much that her skin would bleed. It seemed like during the night, she would get an eczema flare. It was heartbreaking. If you ask me, the mittens were not worth it. She easily figured out how to remove them and get at her skin.
We made the switch to bamboo pajamas and that was a total game-changer. It was a quick fix. Baby sleep is important! I was so happy when she stopped waking up to scratch herself. We bought the bamboo pajamas with the handcuffs and that was much better than the baby gloves for eczema. Once we switched to bamboo pajamas, she stopped waking up during the night to itch herself. It was truly amazing. Now, all of her pajamas are bamboo. That has been our secret to sleeping through the night. I will never switch to another material when shopping for her pajamas. Why fix something if it's not broken?
Bamboo is cool on the skin It is worth noting that when shopping for pajamas, the tag will often say viscose instead of bamboo. You may also see lyocell or tencel. The National Eczema Society elaborates more on clothing materials.
Merino Wool
Although wool is typically itchy, merino wool is beneficial for those with eczema. I have not tried this fabric on my baby girl. You may decide to give it a try.
Fabrics to Avoid
You will want to avoid purchasing clothes that are made of wool, polyester, and nylon. Synthetic fabrics are known to cause irritation to the skin.
I also have to avoid buying clothing with embroidery on it. Embroidery is rough and causes my daughter to have a flare-up. This is something I did not think of initially. I wish I knew this sooner. 
How to Care for Clothes
When washing your baby's clothes, you want to use a detergent that is compatible with eczema.
This is the detergent I have had the most success with. It is approved by the National Eczema Association. You want to avoid detergents with fragrances. Fragrances are the enemy of those who suffers from eczema.
PRO TIP: You will see a National Eczema Association seal of acceptance on products that are safe for people with eczema. You can also look up any product quickly on their website. 
Baby Lotions for Eczema
Baby clothes for eczema is important. So is skincare! Skincare is essential for any age. Especially your baby!
I moisturize my daughter 4 times a day with this lotion. This lotion has improved my daughter's skin completely. I have tried so many lotions: Baby Dove for eczema, Aveeno, you name it I've tried it. Nothing helped her skin like this one.
Another favorite in our house is Tubby Todd All Over Ointment. I use this on really dry or red areas. After a few applications, the redness or dryness goes away. It has been magical.
Products That Have Helped My Daughter
My daughter's head has always been a huge problem area. This shampoo has been amazing. Like lotions, we have been through many shampoos. This shampoo has really helped get rid of the dryness and flakes. We have been using it since she was a newborn and have no plans to make a switch.
We use this brush during bath time and whenever I need to brush her hair. Unlike many other baby brushes, this brush is gentle on the skin. The combination of the shampoo and the brush has improved the skin on her head so much.
Best Baby Clothes for Eczema
Everyday Wear
While there is a plethora of eczema clothing and eczema baby clothes on the market, you don't necessarily need to buy clothing from an eczema clothing line. That is my opinion. I have had plenty of success buying clothes that are eczema-friendly baby clothes due to the material they are made of. These are my tested and approved favorite baby clothes for eczema!
Let me just start by saying I love the brand Lucky and Me. They are all about making clothing that is comfortable and quality made. They use organic cotton to create chic and breathable clothes for all children. These are the perfect baby clothes for eczema. Now that my daughter is older I can attest that these are perfect eczema clothing for toddlers as well. Plus they have free shipping for those in the United States.
Underwear
Finding clothing perfect for my daughter has been a hard process! This brand is known for making comfortable underwear and clothing in general. One of my favorite things about them is that everything is tagless! Tags are such a trigger for eczema. Your little one has to try these.
Many people don't think of needing quality underwear when shopping for baby clothes for eczema. They are so important!
Leggings
My daughter has a few different sets of leggings. They both hold up great. I have no complaints.
I am obsessed with these leggings. The lace at the bottom is to die for. I love these baby clothes for eczema!
I also love these leggings. They make perfect everyday clothes. They are cute and made for lounging around the house. You can even  dress them up with a cute top.
Biker Shorts
Biker shorts are the best. I am all for comfortable clothes and of course, they also have to be cute. These biker shorts are perfect for your toddler to run around in.
Bodysuits
Bodysuits are a must. My daughter wears these all the time. You have to have short and long sleeve bodysuits.
These are our favorite short sleeve bodysuits.
These are our favorite long sleeve bodysuits.
Pajamas
In my honest opinion, these are the best pajamas for every eczema baby! My daughter is the pajama queen. Here are all of our absolute favorites.
I realized how beneficial bamboo is because of these pajamas. After sleepless nights, many scratches, and tears I began researching materials compatible with eczema. I came across these bamboo pajamas and I gave them a shot. The first night my daughter slept in these pajamas, she slept through the night. I could not believe it. I immediately bought a handful more of these pajamas. They are soft, cool, and amazing.
After a few months of loving KicKee Pants pajamas, I decided to branch out and try some other bamboo pajamas. At this point in time her eczema was pretty well managed. These pajamas were just as good to my daughter. I have a few pairs of these pajamas and couldn't be happier. They also hold up great in the wash.
These are another one of our favorite pajamas. After purchasing one I went ahead and bought a few more. At this point, we have quite the pajama collection in our house.
My child will use these pajamas for years to come! From my experience, clothing made of bamboo are the best baby clothes for eczema.
This post was all about baby clothes for eczema.
Other Posts You May Like:
11 Baby Eczema Natural Remedies To Try
Here's Exactly How To Manage Baby Eczema This Week
11 Incredible Baby Care Products That All Moms Need To Know About