This post may contain affiliate links. Meaning I receive a commission for purchases made through those links, at no cost to you. As an Amazon Associate I earn from qualifying purchases. Please read full disclosure here.
These are the essential gifts for baby sprinkles that ALL guests need to know about.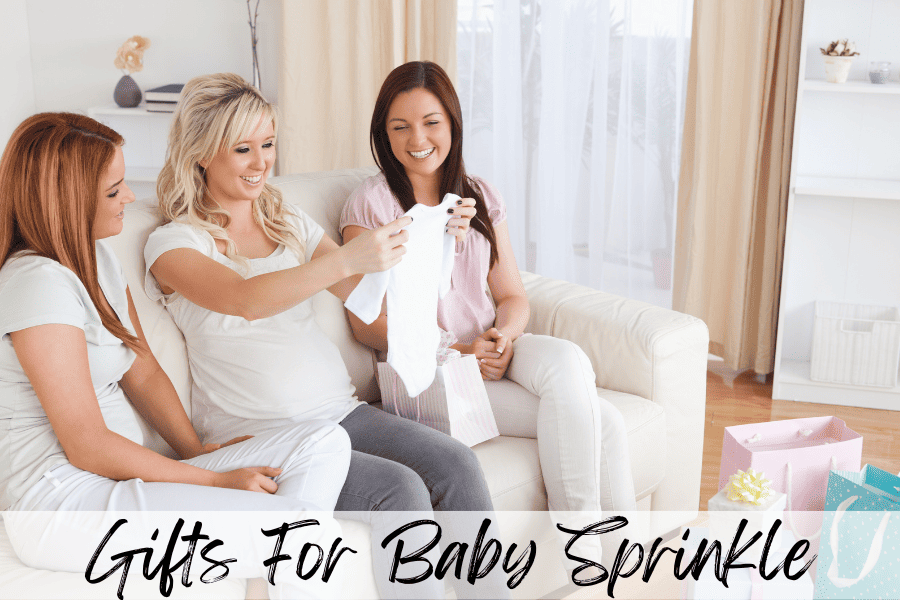 Are you dying to find the best gifts for baby sprinkles? Whether you are an expecting mama or a guest of a future baby sprinkle, these are PERFECT gift ideas that all moms will love and appreciate.
Many new parents go a little crazy shopping for ALL.THE.THINGS when they are expecting for the first time. Then comes the baby shower. Baby showers are a great way to make sure everything is smooth sailing for the expectant mama and her newborn baby. But what do you buy for new moms who are not first-time moms? What do you buy for the mom who has it all?
This list was carefully curated by a mama who is preparing for life with baby number two. I ALSO asked all my mommy friends to put in their two cents. If you are hoping to find all the baby essentials, unique baby shower gifts, and the best baby sprinkle ideas for welcoming a new bundle of joy, you are in the right place. For baby sprinkles, you can still create a baby registry to organize all the items you'll need before the big day. If guests ask you what you want or need, you can easily share your registry with them. So let's jump right into the list of best gifts for baby sprinkles.
This post is all about the best gifts for baby sprinkles.
RELATED: Beyond the Basics: What To Put On Baby Registry For The Modern Parent
RELATED: 50 Practical Newborn Hacks I Swear By
RELATED: 8 Absolute Musts On Our Minimalist Diaper Bag Checklist
Best Gifts For Baby Sprinkles
Before getting into the list of baby sprinkle gift ideas, it's worth mentioning the difference between a baby shower and a baby sprinkle. You are probably very familiar with baby showers. Oftentimes new moms create a baby registry during their pregnancy to share with their loved ones which baby items they need before the big debut. A baby shower is what many expecting parents have for their FIRST baby. Whereas a baby sprinkle is a celebration for new mamas who are not so new. It is typically more laid back and the point is to sprinkle the mama to be with items they may need. So it is a bit different than traditional baby showers.
Entertainment
1. Toy Subscription
Newborns require a lot of attention! Give your close friends or family members this genius toy subscription service. The older siblings will without a doubt need something to occupy them and hold their attention spans while mom is tending to her new bundle of joy. You can count on these toys to do EXACTLY that. This is one of the best gifts you can give. Don't get me wrong. They also have great toys for newborns too. What are other perfect gifts for baby sprinkles?
2. HOMER
This is another excellent subscription for littles AND older siblings. It costs 60 dollars for the whole year, which is an amazing deal. There are TONS of educational games that will capture kids' attention WHILE teaching them foundational skills. See exactly what I am talking about and grab a 30-day free trial here. You should definitely take advantage of this free trial. The new mama and kids you're treating will love you for this great gift. Now for more gifts for baby sprinkles.
3. Little Passports
Whether you are trying to entertain younger or older children, this subscription service is a MUST-HAVE. This company offers activities for kids 3-5, 6-8, and 9 and up. These educational kits introduce geography, science, world cultures, the arts, and more to kids. You'll get bonus points for this gift. It is one of the greatest gifts for baby sprinkles.
(RELATED POST: 68 Brilliant Activities For 19 Month Old Toddlers)
4. Books
Books are ALWAYS a great idea. Of course, the age of the kids you're shopping for is going to help you decide on an age-appropriate book. Books are great sprinkle gifts that you can't forget about.
Are you looking for a great book that is perfect to read to a newborn? This book is based on the song What A Wonderful World by Louis Armstrong. It was one of my favorite books to read with my daughter when she was a tiny baby. Now as a toddler, she STILL loves this book as much as I do.
Baby Gear
5. Double Stroller
If your close friends or loved ones you're shopping for are getting ready to transition from 1 to 2, they're DEFINITELY going to need a double stroller! This is a great and affordable option. It includes two stroller seats, a bench seat, and a standing platform. It folds just like a single stroller and has great storage. This is another perfect baby shower gift. What's next on the list of great gifts for baby sprinkles?
6. Car Seat
A car seat is needed for the first child and it is ALSO needed for every subsequent child. Safety is everything. It is a great idea to talk to other attendees about going in on a gift together. This car seat is a little bit pricey, but it is SO safe and totally worth it. This is one of the greatest gifts for baby sprinkles and it is a fantastic option for immediate family members to buy for their loved one. Best gift ever!
7. Baby Carrier
Baby carriers are incredible. It is so incredibly helpful to be able to wear your baby with your hands-free and get some things done around the house. This baby carrier will grow with your newborn baby into toddlerhood. Trust me when I say this toddler carrier will be put to good use. Both inside and outside of the house.
8. Baby Monitor
Here is another good baby shower gift or baby sprinkle gift. This is the baby monitor I have been using for 2 years and I HIGHLY recommend it. I have ZERO complaints and am SUPER confident that any mama will love it as much as I do. Wondering what else makes for the best gifts for baby sprinkles?
9. Newborn Gift Set
I swear more people need to know about this brand. Their skin care products are the perfect choice for a gift. This brand is known for creating products that are gentle on baby's skin. That is exactly why I love them so much. Grab your loved one this newborn gift set. It includes all the baby essentials. Like shampoo, body wash, baby deo, baby massage oil, All Over Ointment, and diaper cream. I am willing to bet that they will never switch to another brand after giving this newborn set a try. Shop through this link for 10% off! I have been so happy with ALL of their products and so will the new mama you're shopping for.
10. Bubble Bath
What are other great gifts for baby sprinkles? Bubbles for the bath! These bubbles are gently made. They are made of Calendula, Avocado, and Cucumber extracts so you can find comfort in knowing that these bubbles are safe for babies. There are no parabens, dyes, or phthalates.
By the way, if you don't know about Hello Bello…they offer so much more than bath bubbles. They sell diapers, vitamins, personal care, outdoor items, and more. They sell QUALITY products that don't cost a fortune. As a mama who loves to buy my baby safe quality products, I love what this brand stands for. SHOP THROUGH THIS LINK AND USE THE PROMOCODE "DIAPERBUNDLE" TO GET 25% OFF YOUR FIRST BUNDLE.
11. All Over Ointment
Here is one of the TOP gifts for baby sprinkles. Tubby Todd All Over Ointment. AKA magic in a jar. This plant-based balm eases eczema, rough patches, redness, dry skin, and other irritations.
Take my word for it when I say this stuff is SO necessary. I pulled my hair out for MONTHS searching for ointment and lotion that was going to soothe and improve my daughter's skin. You can get 10% off here when you shop through this link. Any mama and newborn would be so thrilled to receive this stuff.
12. Moisturizer
You can't go wrong with body lotion. In fact, body lotion after bath time is CRUCIAL! This lotion is our family's best friend, and it works wonders. Practical items are key to finding great gifts for baby sprinkles. Let's jump to even more gifts for baby sprinkles.
(RELATED POST: Understanding and Managing Baby Eczema: A Comprehensive Guide)
13. Bath Toys
Whether you're shopping for a baby boy or baby girl gifts, buy one of these adorable bath toys. The best part about this toy is that it is SAFE. It is made from 100% upcycled rubber. It is free from plastic, silicone, and petroleum. AND there is a hole at the bottom that is easy to clean so there is no need to worry about the toy holding water and growing mold. EW! Ready for more gifts for baby sprinkles?
14. Monogrammed Hooded Bath Towel
If the parents are sharing their new baby's name, buy them this custom and super sweet hooded baby bath towel. There is just something so special and exciting about getting gifts with your baby's name on it. It comes in a variety of different colors. This is such an adorable and thoughtful gift ANY new parent will appreciate.
15. White Noise Machine
BOTH a night light and a white noise machine are SO helpful. This is the one thing I actually forgot about the first time around and I won't make the same mistake twice. This white noise machine is ALSO a night light. It gets the job done so of course it had to make it on the list of great gifts for baby sprinkles. Having a white noise machine is a must ESPECIALLY if there are older siblings in the house. Shhh!
16. Diapers
Whether you are shopping for expecting parents and their second child, third child, etc. they will ALWAYS appreciate diapers. These are the diapers we love and have been using for years.
EDIT: We have been trying out Hello Bello diapers and we love them just as much! Maybe even more… Besides the fact that there are so many cute designs for your little one, you are getting a safe and quality product. SHOP THROUGH THIS LINK AND USE THE CODE "DIAPERBUNDLE" TO GET 25% OFF OF YOUR FIRST DIAPER BUNDLE. Don't miss out.
17. Wipes
Wipes are another staple that is always welcome! These are so good. Why? Because they are gentle. I recommend buying sprinkle baby shower gifts that are compatible with sensitive skin. So many people gave me products that were not compatible with sensitive skin and I had to get rid of SO MANY things. It was so sad. So in my honest opinion, gentle products are essential gifts for baby sprinkles.
18. Burp Cloths
Burp cloths are an absolute must. These bibs are made of 100% Viscose from Bamboo. This means they are soft and magical! They can be used as a large burp cloth and a bib (eventually when your little one begins feeding in a high chair). There is an adjustable snap closure. These bibs make the best baby shower gifts for newborn babies and quite honestly, wonderful gifts for baby sprinkles.
(RELATED POST: 17 Insane Baby Essentials First 3 Months That Will Simplify Mom Life)
19. Swaddles
These large, breathable, and FASHIONABLE swaddles make the best new baby gifts. Any growing family would LOVE these stylish swaddles. Check it out for yourself.
20. Onesies
Here are even more baby gift ideas. Onesies, onesies, and more onesies! These clothes have been such a blessing to my daughter. SHE LIVES IN THEM! They are KNOWN for making quality clothing that all children deserve. Whether or not your child has sensitive skin, they still deserve comfort. An added plus is that they are tagless. So they will not cause babies to itch or feel uncomfortable. They also offer free shipping for those in the United States.
Shop through this link and use code "LUCKY15" to get 15% off your first order.
21. Bibs
Next on the list of best gifts for baby sprinkles are bibs. This is not just any old bib. It is a super cute monogram bib, which will look so precious on any baby. Custom and unique baby shower gifts are SURE to bring a big smile to your loved one's face. Get ready for more great gifts for baby sprinkles.
22. Serenity Kids
This is a fun one. If you're looking for a baby sprinkle shower gift that is healthy, this one is it. Serenity Kids' food is grain-free, soy-free, corn-free, gluten-free, made of clean ingredients, and contains no added sugar. You can buy the parents a gift card to use once they are ready to introduce solids to their little one. They offer smoothies, variety packs, meat pouches, veggie pouches, grain-free puffs, and baby food pouches. So there is DEFINITELY something for everyone.
23. Teething Toys
Another great baby shower gift or baby sprinkle gift is teething toys. Sure they won't need them right away, but the time will quickly come. Trust me. The last thing new parents want to worry about is going shopping for something WHEN the problem comes. Being proactive is so important. This teething toy is cute but also safe. It is made of natural rubber. Teething toys are excellent gifts for baby sprinkles. Ready for more gifts for baby sprinkles?
24. Diaper Pail
Here is another newborn essential. This starter kit is just the ticket. It includes 8 refill bags as well as a carbon filter. Of all the great options for diaper pails out there, this is the diaper pail that I have liked the MOST.
For Mama
25. Baby Care Package
Mama goes through SO much during pregnancy. So why not pamper mama? I wrote a post detailing all the items I wished were in my baby care package. This list includes necessities for baby, but ALSO fun gifts for mama too. From beauty products to comfort products, you are sure to create the perfect baby care package after reading this post.
(RELATED POST: 14 Genius Ideas For A Baby Care Package I Wish I Was Gifted)
26. Diaper Caddy
Besides a diaper bag, a diaper caddy is one of the most helpful things to have packed and ready at the house. Are you ready to find good baby sprinkle gift ideas? A diaper caddy with changing must-haves is such a brilliant idea. Having easy access to these regularly used items is everything. Especially if the nursery is on the second floor and you spend a lot of your time downstairs. Curious about what to put inside of a diaper caddy? I've got you covered! Read alllllll about it below.
(RELATED POST: 13 Essential Items | What To Put In Diaper Caddy)
27. Stroller Organizer
I always say the best type of gift is one to help moms stay organized. Whether you are shopping for a second baby, fourth child, etc., you HAVE to scoop this up. Walks are made so much easier with this genius organizer.
28. Nursing Pads
Other great gifts for baby sprinkles include nursing essentials. Buy your expecting closest friends or family member nursing pads. This is something I bought way too late. I was definitely NOT prepared for the significance of these! More gifts for baby sprinkles, please!
(RELATED POST: 23 Breastfeeding Must Haves Every Mama Should Own)
29. Nursing Cover
When shopping for gifts for baby sprinkles, you can't go wrong with a fashionable nursing cover. This is perfect for a new child who is AND IS NOT going to be breastfed. It is a 5 in 1 cover that can be used for nursing, an infant car seat, a shopping car seat cover, a high chair cover, and even a scarf. Multi-purpose products are the best gifts for baby sprinkles.
30. Meal Service
Going to the grocery store is HARD for new parents. Spoil them with a gift card they can use for meals.
31. Massage
Massages make for WONDERFUL gifts for special occasions. Actually, they make wonderful gifts period. There is no better time to gift a mama to be with a massage than during pregnancy. I LOVED getting a massage after my daughter was born. It felt so good to treat myself. After all those months cooking a baby, mamas DESERVE a massage.
32. Water Bottle
If you decide to put together a baby or mama care package with different goodies a water bottle is the perfect addition. Especially if they are going to be breastfeeding. Having a large water bottle to remind you to drink more fluids is a HUGE help. Big water bottles are the best.
Of course, I had to add a few bonus gifts for baby sprinkles to the list.
Other Fun Options
33. Baby Blanket
A baby blanket is a classic gift. This teddy bear baby blanket is so unique and adorable. AND CUSTOMIZABLE FOR LITTLE GIRLS AND LITTLE BOYS. All new parents will ADORE this gift. This kind of gift is like no other. Are you ready for more gifts for baby sprinkles?
The next item on the gifts for baby sprinkles list is a…
34. Play Mat
If you want to spoil the new baby (and parents too), this play mat will help you do exactly that! This baby gym changes the game of tummy time. What all new parents LOVE about this play mat is that it grows with your baby until toddlerhood. There are 5 developmental zones that include activities that promote exploration and growth.
35. Baby Bouncer
Here is another product that will grow with little ones. This bouncer does not require outlets or batteries. It is designed to collapse so when you're not using it you can easily store it out of the way. Now, that is what I am talking about.
36. Feeding Set
Suction bowls, drinking cups, and feeding sets will ALWAYS be appreciated. When the time comes for the baby to begin self-feeding, this feeding set will make it simple and work those motor skills.
Final Thoughts
Remember the point of baby sprinkles is to sprinkle the parents with gifts they they will need for their new baby. Take into consideration conversations you've had with the parents about what they may need. I like to inconspicuously scope out the nursery to see what they have a need for.
This list of gifts for baby sprinkles will help you find something your family or friend will love and USE. I have all the confidence that you will find the best gift ever. First-time mom, second-time mom, third-time mom, you name it. No matter how many children, all mamas will appreciate these essentials. Whether you are looking for a unique baby shower gift/baby sprinkle present or the best kind of gifts, you will without a doubt find something great. So what were the best gifts for baby sprinkle that you received?
ALSO, REMEMBER THAT IT IS HELPFUL TO CREATE A BABY REGISTRY TO HELP YOU PREPARE FOR LIFE WITH YOUR NEW BABY.
This post was all about the best gifts for baby sprinkles.
Other Posts You May Like:
Beyond the Basics: What To Put On Baby Registry For The Modern Parent
Quick Guide: When To Start Setting Up Baby Stuff
21 Necessities To Add To Your Baby Must Haves List That Will Make Moming Easy