This post may contain affiliate links. Meaning I receive a commission for purchases made through those links, at no cost to you. As an Amazon Associate I earn from qualifying purchases. Please read full disclosure here.
Are you looking for fun activities for 19 month old toddlers? This carefully curated list will keep your 19 month old busy and happy.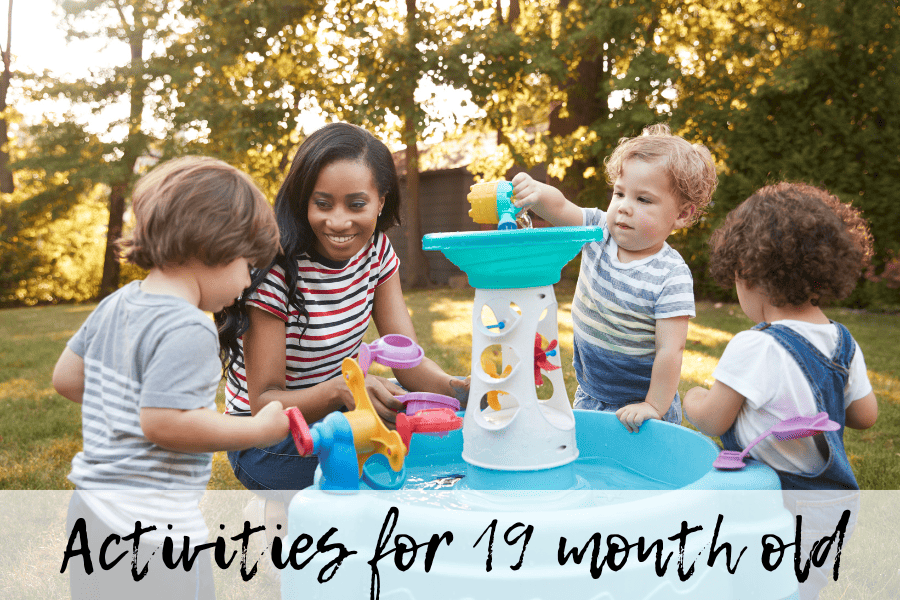 This comprehensive guide is filled with activities for 19 month old toddlers that will captivate and support their development. You're sure to find plenty of activities your little one will absolutely love. I know because my daughter loves every activity on this list. One year olds are so much fun. At this incredibly exciting age, your little one is filled with curiosity and energy, making it the ideal time to introduce activities that will nurture their fine motor skills, hand-eye coordination, gross motor skills, and more. It is essential to introduce age-appropriate activities that will stimulate your child's cognitive, physical, and social growth.
As parents of 19 month olds, you're probably already brainstorming creative ways to introduce sensory play to your baby and researching activities that will help your child grow. As a mama to a 19 month old myself, I understand wanting to discover all the activities that will engage, challenge, and further development. As a former educator, finding activities that support growth is super important to me.
At 19 months, your baby is continuing to meet milestones and hopefully getting hours of sleep! Your baby is now likely walking all around the house effortlessly, maybe even running! Look out! You probably notice their language ability growing stronger. He or she is probably able to say 10-20 words. Teething seems like it is never-ending. At this time, your toddler's canines and lower molars may be breaking through the gums.
Not only will these activities for 19 month old toddlers serve as a stepping stone in your child's developmental growth, but they are also a great way for you to bond with your little ball of energy. From imaginative water table adventures to sensory bins, your days are going to be filled with the best activities ever.
This post is all about activities for 19 month old.
Best Activities For 19 Month Old Toddlers
Sensory Exploration of Play
Engaging your 19 month old in sensory activities is a wonderful way to foster their cognitive development while providing hours of entertainment. Sensory activities allow children to experience the world through touch, smell, sight, sound, and taste. Here are some great sensory activities for 19 month old toddlers.
Water Play Extravaganza
Toddlers love water play. Whether you have young toddlers or older toddlers, they will have the time of their life engaging in water play. Make your toddler's day by introducing them to a water table. With a water table, your 19 month old can splash, pour, and interact with water, which will cater to their sensory development. This water table comes with 13 accessories for your toddler to play a fun game with. You can even add fun textured items that float like pom poms.
(RELATED POST: 20 Totally Awesome Water Toys For Toddlers)
Language Skills Splash
An easy way to incorporate language skills into water play is to introduce these waterproof foam letters. You can add these to the pool, bath tub, or water table.
Pretend Play Puddle
Pretending is so much fun for littles and it is great imaginative play. Fill shallow containers or a kiddie pool with water and have your toddler pretend to jump in puddles. Encourage your baby to splash, which will refine those gross motor skills. This is something that can easily be done in the comfort of your own backyard.
Sensory Bin
Sensory bins are another fun way to excite your toddler. There are a few different ways to use a sensory bin for activities for a 19 month old. The first way you can use a sensory bin is to fill it with a variety of textures. You can add items like cooked pasta, pom poms, cotton balls, or shredded paper. These are just some ideas. Let your little one scoop, pour, and explore their sensory bin.
Another way to use a sensory bin is to add a little bit of water! You can also add water toys, sand, textured fabrics, a strainer, or cups. Looking for sensory bin inspiration? This post has really great ideas. Sensory bins are one of the best ways to explore the five senses. Now let's dive into some more activities for 19 month old toddlers.
Sensory Bottle
Sensory bottles are very calming. They are easily made by adding a liquid and some objects. We love to add water, clear hair gel, glitter, water beads, and some food coloring.
Taste-Safe Finger Painting
Finger painting is great for young children. It allows kids to express themselves artistically as well as enjoy some sensory play! Be creative during snack time and choose edible foods to finger paint with. We love using yogurt, hummus, and raspberry spread. Enjoy and let your little artist craft their masterpiece.
Sensory Bags
Sensory play is the perfect way to build cognitive skills. For this reason, sensory bags are another one of our family's favorite activities for 19 month olds. Sensory bags include items that will engage baby's senses. Touch and sight are the two most popular senses for this great activity.
Pick fillers that you think your child will really enjoy. Here are some filler options: shaving cream, straws, buttons, glitter, water & oil, hair gel, and food coloring. The options are endless!
PRO TIP: Items used for sensory bins can also be used for sensory bags and vice versa.
Exploring Nature's Treasures
Take a stroll with your toddler in the park, neighborhood, or backyard, and encourage them to use the new words in their vocabulary to point out what they see. Let your child touch leaves, grass, flowers, and trees. Encourage them to observe different textures found along the way.
Playdough
Playdough is great for so many reasons. Homemade playdough is excellent for sensory exploration, but it is also one of my favorite fine motor activities to do with my daughter.
Pom Pom Water Transfer
Get ready to build those fine motor skills! Fill a bucket with water and pom poms. Have your little darling use a ladle to scoop up the pom poms and place them into another container. This is another one of my favorite activities for my 19 month old because it also helps improve hand-eye coordination. What are some other activities for 19 month old toddlers?
Bubble Sensory Fun
We love bubbles! If you are looking for educational activities with a sensory twist, you will appreciate this one. Fill a container with water, child-safe bubble bath, and wait as bubbles to begin to form. You can challenge your tot by challenging them to pop as many bubbles as they can. Count as your little one pops each bubble. My 19 month old wants to count everything.

You can also use this perfect no-spill bubble wand. It is the best bubble wand!
Creative Play
Now that you have a handful of sensory activities for 19 month old toddlers, let's get to some specific activities for your little one to enjoy. Nurturing your 19 month old's creativity is a great way to build cognitive development and encourage imagination. Most of these ideas are indoor activities, but you can also modify them. There are so many different ways to support creativity, which is super important. Enjoy these creative activities for 19 month old toddlers.
Finger Painting Fun
Finger painting is an oldie but goodie. This paint is non toxic and great for babies 6 months and up. It is made of actual vegetables, so they are edible. So much fun! Give your babe a large piece of paper and encourage them to create. You may also decide to use a paint brush.
DIY Musical Instruments
Want some more activities for 19 month month old toddlers? This is perfect for a rainy day. Besides cozying up with a favorite book, we also like to design something fun on rainy days.
For this activity, you will need some empty containers and rice. For a little extra fun, you can use different colored rice. Encourage your little to create their very own shakers. Let them be a musician and play with sounds and rhythm.
Collage Art
Lay out items in various textures and patterns. Some ideas include different color buttons, confetti size pieces of paper, and fabric scraps. Have your little one design a beautiful piece of textured art. Want some more activities for 19 month old toddlers? Keep reading!
Playdough Imaginations
Bring out your cookie cutters, rolling pins, sandwich sealer, and other kitchen tools. Together you can create your own art with the shapes you cut out from playdough.
Storytelling Puppet Play
Looking for fun new experiences to captivate your little one's attention? Puppets are just the thing. These puppets are ideal for storytelling. Your toddler will love being silly and imaginative with this set of hand puppets. They are also a fantastic way to teach social skills.
Nature Inspired Art
This is one of many great fall activities for 19 month old toddlers. Take a nature walk and collect things like leaves, sticks, and flowers. Bring these items home and complete a leaf rubbing craft or even a nature collage.
Recycled Art
This is one of the easiest activities for 19 month old toddlers because you already have these materials in your home. Tap into your toddler's creative side by giving them cardboard, toilet paper rolls, plastic cups, or bottle caps to make their own sculpture. You will obviously need to supervise this one.
Building With Blocks
Give your little engineer some building blocks and prompt them to design buildings, towers, bridges, you name it. Now for some more favorite activities for 19 month old little ones.
(RELATED POST: 27 Toddler Must Haves We Love)
Dress Up
I highly recommend keeping a box of dress up clothes for your tot. Add accessories like scarves, hats, and sunglasses for your little one to play pretend with.
Cognitive Development
Cognitive development is a crucial part of your 19 month old's growth. Providing your child with activities that challenge them and target their problem-solving skills benefits children of all ages. These are the top tips and best activities for 19 month old toddlers to support their cognitive development and curiosity.
Shape Sorter
Shape sorting toys are a great way to help those little hands recognize and differentiate between shapes. Allow your child to problem-solve at their own pace and celebrate when they've sorted successfully.
Stacking Cups
These stacking cups are great for babies as young as 0 months of age up until age 4. They help your child with spatial awareness as well as hand eye coordination. These stacking cups will help teach your tot about size relationships and logical order. I like to sneak in a little counting when we stack cups. Want some more activities for 19 month old littles?
Puzzles
We are obsessed with puzzles in our house. Want to know great activities for 19 month old toddlers? Puzzles, puzzles, and more puzzles! Puzzles are a fantastic way to help your child develop problem-solving skills. It is so much fun to watch my daughter's wheels turn as she tries to figure out where each piece fits.
We are on our third Lovevery play kit and we love them so much. The toys in the play kits promote learning and brain development at every stage. Each play kit is thoughtfully designed for all developmental milestones, which is why I love it so much. I notice a huge difference when my daughter plays with Lovevery toys versus regular toys. Once we unbox the kit she is instantly intrigued and loves the challenge each toy brings.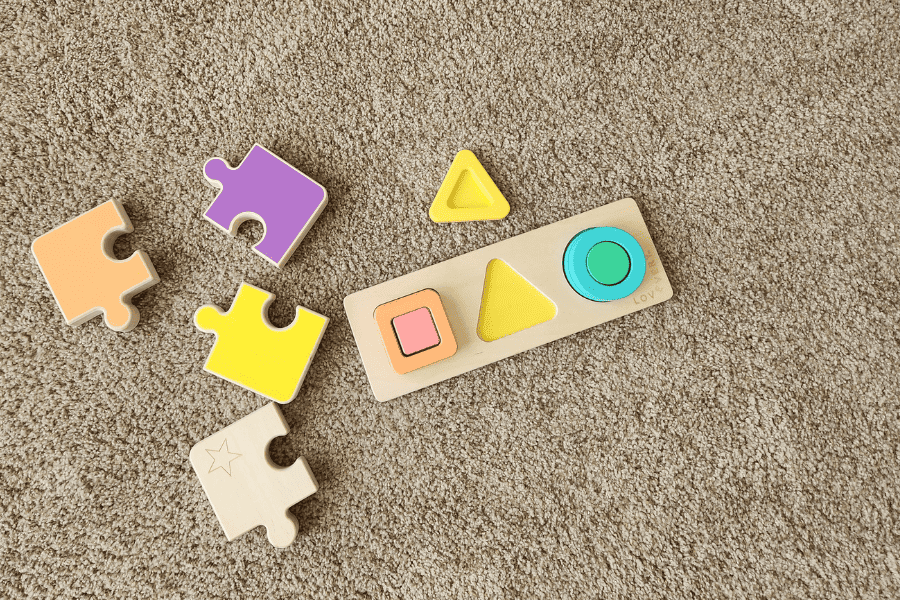 We recently received the Realist Play Kit, which is perfect for 19-month-olds. Specifically, this play kit includes a 3D puzzle. It was a big challenge for my daughter to figure out how to nest the shapes to complete the puzzle. These puzzles are excellent for cognitive development. The other puzzle you see in the picture above is the jigsaw puzzle that came in the Companion Kit. This one is still a bit of a struggle for her, but she is continuing to work on mastering it! She will do it.
Memory Matching Game
Memory is one of those simple activities that are oh so good. We love our quilted critter pockets. This came in her Lovevery play kit. The matching board is made from organic cotton. Enjoy as your little one removes the pieces from each pocket and matches them to their correct pocket. My daughter plays with this regularly! No short attention span with these toys.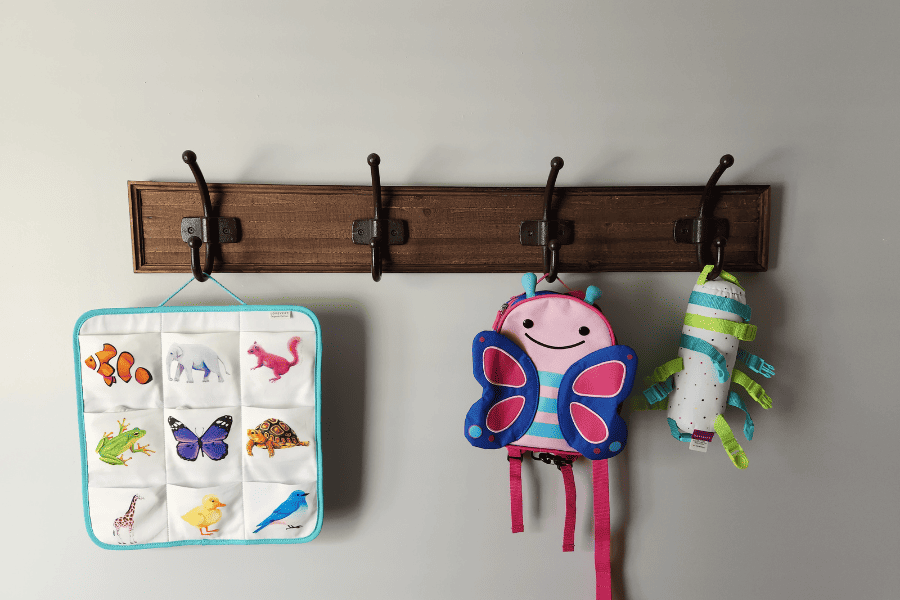 Here are some more activities for 19 month old toddlers worth knowing about.
(RELATED POST: Where to Find the Best Montessori Toys for 1 Year Old Toddlers | An Honest Experience)
Color Hunt
Have a color hunt with your toddler by showing and saying a color aloud. Ask your baby to find objects of that color and bring them to you. This will help teach your little darling to become more observant and it is also a great way to practice colors. The beauty of a color hunt is that it is easy and you can have it anywhere. We have a great time with this simple activity.
Counting
Counting is something my 19 month old daughter is obsessed with right now. She wants to count everything. We count as we climb steps, count during diaper changes, and even count our food. While placing food on her high chair tray she wants to count. For example, she likes to count all her blueberries before eating them. Sometimes even as she is eating if she is very hungry. She also loves to count the animals or characters in her books. Counting is great practice for younger toddlers and older toddlers. It will continue to be an important skill for years to come!
Object Hide and Seek
Hide an object and ask your babe to find it. You can hide the object under a blanket or someplace within the room. You can hide a toy or different things like pipe cleaners, cotton balls, or plastic colored eggs with a little surprise inside. These are good ideas for a good sensory experience. Be creative and switch it up to keep it fresh and exciting.
Read
Reading is a good way to promote cognitive development. Pick up some great engaging picture books and spend some quality time snuggled up together. One of my favorite children's authors is Tomie dePaola. You've got to read this book with your toddler. It's one of our favorites to read during story time.
Imitation Play
Let's get to some more excellent activities for 19 month old toddlers. Imitation play is a wonderful way to teach your toddler about routines and roles. Ask them to do a bit of acting by imitating real-life activities. Some activities include brushing their hair, feeding a doll, talking on the phone, or cleaning up.
For a little bit of extra fun use a wooden spoon to bang on the pot and ask your toddler to imitate you. This is sure to be a super fun activity for your babe.
Cause and Effect Play
Here is one last great cognitive activity for your 19-month-old toddler. Give your little one toys that will help teach cause-and-effect relationships. Some examples are pop up toys, race tracks, and stacking toys.
One of my daughter's favorite cause-and-effect toys is her racetrack and cars from the Adventurer Play Kit. This is still one of her daily activities. Cause and effect play makes for great activities for 19 month old toddlers.
Gross Motor Skills
Gross motor skills are essential for your 19 month old's development. These skills involve movement and coordination. Gross motor skills will help your child's physical growth. Looking for gross motor activities for 19 month old toddlers? Here are some of the best activities for 19 month old boys and girls.
Indoor Obstacle Course
Make the living room an obstacle course by using pillows, couch cushions, blankets, and tunnels. Prompt your baby to crawl, jump, and maneuver through the homemade obstacle course. This activity will enhance your child's coordination, balance, as well as spatial awareness.
Dance Party
Put on some jams and have your very own dance party. This is fun but also a very awesome gross motor activity for your toddler making this one of the greatest activities for 19 month olds.
Ball Play
Bring out all kinds of balls and play. You can roll, catch, bounce, or kick the balls.
Mommy Says
So the name is commonly known as Simon Says, but we prefer mommy says. Request your toddler to perform different movements to get their energy out. You might say hop, skip, clap, jump, roll. On to some more activities for 19 month olds.
Balance Act
Looking for some outdoor activities? Set up a balance beam for your toddler. Encourage them to walk on the beam to improve coordination and balance.
Playground
There are so many outdoor play activities. I swear playgrounds make the best activities for 19 month old toddlers and for any age. Who doesn't love going to the playground?
Get out of the house and enjoy the natural world. Encourage your toddler to jump, run, swing, slide, and explore your local playground. This is also a great opportunity to meet some new friends.
Follow the Leader
Old activities are still goodies. Take turns following the leader. Focus on improving those gross motor skills by encouraging your toddler to jump, hop, skip, march, and run. This activity for 19 month old toddlers will also improve your baby's ability to follow directions. That is an added benefit.
Bubble Chase
Blow bubbles one after the next and ask your babe to run and pop them.
Bubble Wrap Play
Lay bubble wrap on the floor and let your toddler jump and pop the bubbles.
Colorful Hula Hooping
While your 19 month old may not be a hula hooping king or queen just yet, hula hoops are so much fun. Show your toddler how to spin it around your waist, arm, and leg. You can ask them to give it a try or even have them run through it. This is a great tool to introduce new skills like coordination and balance.
You can also lay out balls and hula hoops of different colors and have your baby color coordinate by placing the colored balls inside the correct color hula hoop. This is one of many amazing activities for 19 month olds.
Language and Communication
At 19 months you are probably noticing your toddler's language and communication growing stronger. Carving out time to cater to your child's language and communication will support their verbal and social growth. Here are different activities for 19 month old toddlers that will support your baby's development.
Labeling Objects
You have probably already heard that kids are little sponges. As you go about your daily routine, stop to point out objects. You can also label these objects for your little one to see in plain sight. As a former teacher with a Master's in Reading, I talk to my baby all the time. I know just how crucial it is. As I make her food, I am talking to her about what I am whipping up in the kitchen and what ingredients go into it. This helps your baby's vocabulary grow and it also helps them understand the world around them.
Storytelling Together
Of course, we read a book every day, but we also take time to storytell together. Specifically, we do this with the Lovevery books that come with each play kit. My daughter loves that these books included real photographs. We will turn each page and talk about what we see. She will usually point and say "Oh!" Then I will describe what is going on. I will say who the characters are, where they are, and how they are feeling, and describe what objects I see in the background.
It is funny because she is so used to doing this by now that when I leave out a comment about something, she will remind me of my pointing. This is a great way to encourage your little ones to express themselves and use their language skills.
Animal Sound Guessing Game
Another great way to foster language and communication development is to engage in this activity. For this one, we will use the Montessori Animal Matching pieces that came in the Companion Play Kit. This is just one way we use these pieces.
I will hold up either an animal or the card and encourage my daughter to imitate the animal. I will also switch it up and make the animal sound and ask my daughter to find the matching card. She will say the animal's name as she picks up the match.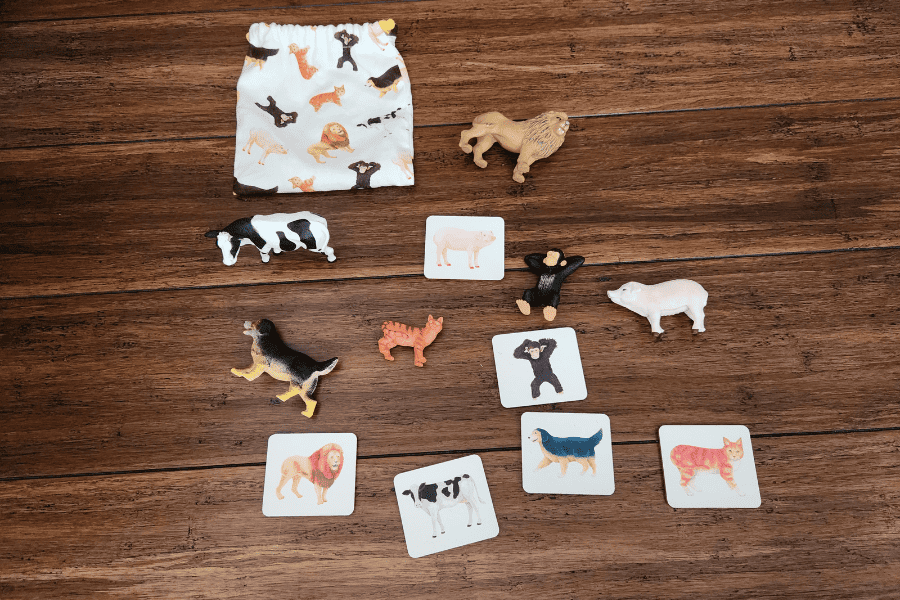 Flashcards
Introduce flashcards with colorful images and words. Encourage your baby to say the words aloud as you flash them. This is a great recipe for success.
Puppet Play Conversations
I mentioned puppet play before, but here is another way to use puppets. You hold one puppet while your toddler holds another. Use your puppet to talk to your child's puppet and encourage them to participate in the conversation. This will promote language development as well as imaginative thinking.
Nursery Rhyme Sing-Along
Sing nursery rhymes with your toddler. Incorporate hand movements as you sing along together. Singing is a great and easy way to target language development. If You're Happy and You Know It is my daughter's current favorite tune. She plays that on repeat.
Puppet Show Narration
Organize a puppet show for your child. You can even get the whole family involved. Encourage your toddler to participate. This is wonderful for imaginative play.
Ask Questions
Ask your child questions. Even if they don't always answer them, it is a great way to foster language development. I ask my daughter questions like: Do you want a snack? What color is this? Where are your toes? Can you bring Mommy your cup? Even if your little one is responding with gestures, that is okay.
Mirror
Mirror play is so much fun. Look in the mirror with your baby and make various facial expressions. Point out the facial expressions you are making. For example, when I make an excited facial expression I will say that I feel excited. Then I will ask my daughter can you look excited?
Sign Language
Sign language is a super helpful tool. Your toddler is still learning to communicate so teaching and using signs for words like please, thank you, more, again is a big help!
Family Photos
This is a fun one. We like to pull out the family photo album and point to familiar faces. I will explain where we were in the pictures and what we were doing. My daughter loves spotting her favorite people.
Social Interaction
Social interaction is critical. Not only is it so much fun, but it is a great way to teach little ones how to communicate, share, and play nice with others. Creating opportunities that encourage social interaction is everything. We don't want our babies to have a difficult time in social settings. These activities will also help their emotional intelligence. Let's get to some more activities for 19 month old toddlers.
Play Dates
Organize or join play dates with other toddlers in your area. Socializing is a great way to help your child become more social.
Once a week I will take my daughter to a playdate. Sometimes we go to someone's house to play, go to the pool, go to an open gym, or walk around downtown. We switch it up to keep it fun for the littles and for us mamas too.
Tea Party
A pretend tea party is a great activity for you and your toddler. There is something so special about having a tea set with all the tea accessories. Your toddler is sure to love this.
Sharing Games
Any kind of game that involves sharing is excellent for social development. You can easily do this at home or encourage it during a playdate. Next time you are playing with your toddler, try this. Give your toddler a toy and take turns sharing it. This will help your toddler learn how to share and cooperate with others. A skill that is often tough for little ones!
Build Together
Use blocks or legos to build different things together. Practice passing pieces back and forth and praise your toddler by thanking them when they offer you a piece.
Toddler Time
Check into what is going on for toddlers in your area. In my town, we have toddler time weekly where parents can bring their toddlers for open gym time. The littles can play with balls, jump in a bouncy castle, go down the slide, go on the seesaw, or just run around. We love going! So far this is another one of my daughter's favorite activities for 19 month old toddlers.
Cooperative Art
This also makes a great sensory activity. It is also a perfect playgroup activity as well. Set up a collaborative art project for a group of toddlers. Lay out posterboard or construction paper and have the kiddos work together to paint a group masterpiece.
Outdoor Activities
There is no great place like the outdoors. Sometimes we just need to get out and about. Outdoor activities give us opportunities for fresh air, physical movement, and even great sensory experiences. Here are excellent outdoor activities for 19 month old toddlers that will help with their physical development.
Nature Walks
Nature walks were mentioned earlier on this list of activities for 19 month old little ones, but they are also a great outdoor activity. Take a stroll at a nearby park. Point out the beautiful surroundings like trees, flowers, and insects. Ask your little one to spot their favorite things like colors or maybe even a fun park feature. Our local park has a splash pad and my daughter is obsessed.
If you live near the beach, you may want to take your toddler to the beach to look for sea shells.
Sidewalk Chalk
Use sidewalk chalk to doodle with on a beautiful sunny day. Let your driveway be their masterpiece!
Playground
This is definitely one of the best and most popular outdoor activities for 19 month old babies. For all kids really!
Scavenger Hunt
Keep it simple! Scavenger hunts are a classic. Set up a scavenger hunt in your yard. I love to use colored eggs to hide fun items in. No, colored eggs are not just for Easter! I hide some of my daughter's favorite toys inside the eggs. I also hide some of her favorite snacks as well as new things she has not been introduced to yet. This is another great opportunity for her to practice her colors. I will encourage her to find the different colored eggs.
Sensory Garden Exploration
If you have a garden of your own, take a little tour with your toddler. Allow them to touch different textures within the garden. This is also a sensory activity.
Bubbles
Here is an easy activity for you. Whip out some bubbles for some good old-fashioned bubble blowing. Show your toddler how to blow bubbles. My 19 month old tries very hard to blow. She has not quite mastered it yet, but has fun trying!
Outdoor Art
Find a good outdoor spot and bring your toddler and art supplies. Encourage your toddler to create something beautiful inspired by the great outdoors.
Picnic
Depending on where you live, this activity might not work for different times of the year. Cozy up on a blanket and enjoy lunch outside for your sweetie pie. A picnic is always a good thing to do.
Bug Hunt
This one might not be for everyone. Take your toddler outside to spot different insects and other small creatures. Talk about what bugs or animals you see.
Garden Watering
Involve your toddler in watering your garden or plants.
Final Thoughts
I hope you found these activities for 19 month old toddlers to be helpful. My daughter and I adore them. Hopefully, you have new ideas in mind about how to nurture your 19 month old's growth and development. These experiences help their cognitive, physical, social, and emotional development.
This list is organized into sections: sensory, creative, cognitive, gross motor, language and communication, social, and outdoor activities. Many activities simultaneously promote more than just one type of development. By providing a variety of activities, you are shaping your toddler's holistic growth.
Feel free to modify or change these activities to your little one's liking. As a mama, I love watching the joy, curiosity, and excitement on my daughter's face when she engages in new activities for 19 month old's.
These activities will help your child understand the world around them, communicate, connect, learn, and so much more. Enjoy these little moments and experiences with your baby. They grow so fast.
Keep on exploring, playing, and learning! Comment below with your favorite activities for 19 month olds!
This post was all about activities for 19 month old toddlers.
Other Posts You May Like:
7 Game-Changing Hacks For Brushing Toddler Teeth: A Parent's Ultimate Survival Guide
Quick Guide: How To Travel Light With A Toddler