This post may contain affiliate links. Meaning I receive a commission for purchases made through those links, at no cost to you. As an Amazon Associate I earn from qualifying purchases. Please read full disclosure here.
Are you looking to find out what to put on baby registry?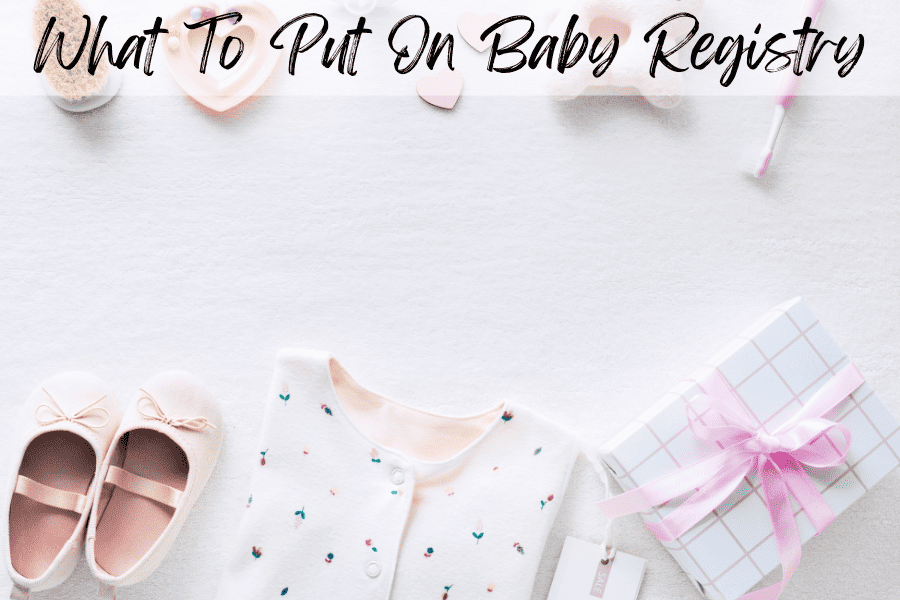 Creating a comprehensive list of what to put on baby registry is essential for new parents. Making a baby registry list is super exciting, but it can also feel overwhelming for first-time parents. Before becoming a mama I had no idea how many baby things existed. When creating the ultimate baby registry, I found myself doing a lot of research! A whole lot. This is where this baby registry checklist comes in handy. I wish I had this checklist when I was searching for the best baby registry items. 
From cribs to strollers, bottles to swaddles, the options are endless! This carefully curated baby registry checklist will take some of the weight off of your shoulders. These items are convenient and safe for your little one. This thorough blog post answers the question so many new mamas ask, "What do I need on my baby registry?" 
This one-stop resource for all things baby registry-related will be your guide. This post does not just include the essentials. It includes extras too! Like useful items I wish I knew about sooner. There are definitely a handful of items that I wish I knew about before my daughter made her big debut. This blog post will help you pick out baby registry items that are genius, practical, and super adorable. To be completely honest, this comprehensive guide helps parents build the perfect baby registry. Get ready to set your eyes on the ultimate baby registry checklist. 
Let's get into exactly what to put on baby registry that will make moming easy.
This post is all about what to put on baby registry.
What To Put On Baby Registry 
Researching Baby Registry Essentials 
Yes, deciding what to put on baby registry is so much fun. However, it is super important to do your research before diving in. You want to add items that follow current safety standards. You also want to make sure you pick baby products that you will absolutely love and use. After all, many of your family members and friends will shower you with these handpicked gifts. 
Here on the blog, I often write about baby must-have topics. So if you are curious about newborn must-haves, toddler must-haves, and beyond, you can read more here. When I was adding registry items, Babylist was an amazing resource. They share helpful information for expecting parents and make creating a baby registry seamless.
When customizing your baby registry, consider your lifestyle, budget, and living space. Research a number of items to figure out exactly what to put on baby registry. There are some decorative items I decided to leave off my list. These items were curtains, a crib, a dresser, and decorative frames for the nursery. I really wanted to pick everything decorative myself and set it up in my own time. I found the most beautiful curtains from Pottery Barn Kids.
Must-Have Items For The Baby Registry 
Here is an organized list of what to put on baby registry. These essentials will bring a smile to your face at your baby shower. If you are looking for a more comprehensive list, be sure to download the baby registry checklist! That will ensure that you are extra prepared. 
If you are shopping for a baby shower gift, you have come to the right place. You are sure to find something your loved one will adore.
Nursery Essentials 
Crib & Mattress
Of course, a crib and mattress need to make it to your registry checklist. We actually bought the crib and mattress ourselves because we wanted to splurge. We fell in love with a crib and dresser set at a local baby store. We bought this mattress and love it. It is waterproof. One side is for infants and the other is for toddler years. Make sure you buy a mattress protector as well as a soft fitted sheet. You can always buy more sheets later when your little one is ready to sleep in their crib.
PRO TIP: I suggest buying a crib that turns into a toddler bed. A crib is one of those big-ticket items so if you can buy one that will grow with your newborn, that is wonderful. 
Changing Table Or Pad
The dresser we bought came with a removable changing table. As a first-time mama, I had no idea how many messes were going to occur during diaper changes. I kept having to remove my changing pad covers. Then I decided to buy a changing table pad liner, which has been amazing! These do a great job of protecting the changing pad covers. They also wash up really well. Still wondering what to put on baby registry? These move on to the next great idea.
Rocking Chair
You and your baby are going to need a rocking chair. You will spend many hours in a rocking chair. A lot of time! Trust me. Any piece of furniture that you will spend hours in has to be comfortable! It just has to. For this reason, I encourage you to buy this nursery staple in person. You want to test it to make sure that it is comfortable. Keep in mind furniture may take more than just a couple months to come in, so time your shopping right. 
Dresser and Storage Solutions
Looking for baby dresser organization tips? I wrote an ultimate guide on this topic. It includes pictures of my baby dresser and storage solutions I swear by. Click the link below to get all the tips and tricks. 
(RELATED POST: 7 Essential Baby Dresser Organization Tips That Are Life-Changing)
Diaper Pail
If you're still wondering what to put on baby registry, this is another great item you will use regularly. I am very happy with mine. Here are some more things to add to baby registry.
Baby Gear
Stroller and/or Carrier
A traveling system is everything. It is one of my favorite registry must-haves.  This is a bit pricey but it lasts until your baby is a toddler, which is amazing. If this is your first child, you can always get more use out of it for your second baby. When shopping for a car seat, you should check that it meets the US safety standards. You should see a label on it. If you will soon have two little ones, you may decide to purchase a double stroller. 
PRO TIP: A car seat cover is life-changing. This particular one is cold and wind resistant. If you want something light for the warmer days, this is another great option. 
Bouncer or Swing
We love our baby swing. So did our daughter. To be honest, we didn't have a baby swing right away and we wish we bought one sooner. Your baby will adore this swing. A swing is a great way to soothe your baby. Enjoy being hands-free for a moment! 
Playmats
This play gym needs to be added to your list of items. It grows with your new baby from the first week until they are a toddler. It includes activities that will engage, encourage exploration, and foster growth. Tummy time is recommended from the time of your baby's arrival. So a play mat is a must. Still wondering what to put on baby registry?
Feeding Necessities
Bottles and Nipples
My biggest suggestion is to not go crazy buying baby bottles. Meaning, don't add a million and one bottles and nipples to your baby registry list. Bottle feeding can be a challenge. It is very possible that your baby is particular when it comes to which bottles he or she chooses to feed from. I suggest buying one type and seeing how it goes. If your child takes to it, buy another set. My daughter was very picky and she loved these bottles. Only these bottles. They're a popular option. She had a tongue and lip tie. These bottles reduce gas build up and the nipples are breast shaped. Your newborn baby will make it very clear which bottle is best for them. 
Breast Pump
This is my favorite breast pump. Ever. It is one of the pricier breast pumps, but that is because it is hands-free and incredibly amazing! I invested in this product before my maternity leave was up for my first baby. Thank God I did because my work did not give me a break during the day to pump. This breast pump allowed me to pump without anyone knowing and continue on with my workday without being tethered to a wall outlet. It was my best friend. 
Nursing Essentials (nursing pads, nipple cream, nursing
everything
)
Okay, so I wrote a whole post about breastfeeding must-haves. These must-haves will make your breastfeeding journey so much easier and give you lots of great options to choose from. It is a must-read! 
(RELATED POST: 23 Breastfeeding Must-Haves Every Mama Should Own)
High Chair 
This is something you won't need until a little later when your little one begins eating solid food, but personally, I do not like waiting until the last minute to buy baby registry must-haves. I suggest adding this to your registry. Hopefully, someone will buy it for you! We are so happy with our high chair. I highly recommend it.
Milk Storage Bags
You need to have breast milk storage bags ready to grab. In those early days, I did not think about how engorged I would be. I had to pump a lot in the beginning in addition to breastfeeding. As a mama who needed to return to work after maternity leave, building up my freezer stash was super important to me. Breast milk storage bags helped me do that.
Burp Cloths
Do you and your baby a favor and add several of these to your baby gift registry. 
Nursing Pillow
My daughter and I loved the boppy pillow. It made feedings so much more comfortable and it even grows with your little one. Still want to know what to put on baby registry? Keep reading.
Diapering & Care Supplies
Diapers 
We have used these diapers since the very beginning. Diapers make it onto many baby registry lists for a reason. They are essential! They are very gentle on the skin, which is something that is so important to me as a mama of a baby with eczema. Love, love, love these disposable diapers! If you choose to use cloth diapers, you may want to add those to your list. 
Wipes
Buying diapers and wipes in bulk is crucial. You don't have to worry about running out to the store every five seconds and you save money when you buy in bulk. We have always used these wipes and never had a reason to switch to another brand. Like diapers, they are compatible with sensitive skin. 
Diaper Rash Cream
This is the diaper rash cream you are going to want to use on your little one! It will keep your baby's bum irritation-free. Be sure to add this diaper cream to your wish list. 
Baby Bathtub
When your babe is a newborn, it is easy to bathe in the sink during bath time. Regardless of where you choose to wash your little one, this baby bathtub makes bathtime easy as pie. It has a quick drying cushion, drains so the water level is perfect, and it even gives your newborn head and neck support. 
Baby Monitor
This is the baby monitor we use and love. I love watching my little darling sleep peacefully on the monitor. You won't use this until your little one is sleeping in their nursery, but I always like to prepare what I will need in advance. 
Diaper Bag
This is my favorite diaper bag and it is a popular choice. It is a backpack and organizes all the baby essentials so well. Wondering how to pack your diaper bag? The post below has you covered. I even included a diaper bag checklist for both newborns and toddlers.
(RELATED POST: 8 Absolute Musts On Our Minimalist Diaper Bag Checklist)
Clothing and Bedding
Onesies and Bodysuits
Onesies and bodysuits are baby registry essentials! My daughter still lives in bodysuits. These bodysuits are our favorite. They are soft, made of cotton, tagless, and hold up excellent over time. I have a few sets of both short and long-sleeve bodysuits. There are so many cute baby clothes out there. Happy shopping! 
PRO TIP: Add a variety of sizes to your list of baby registry wishes. 
Pajamas
I have so many favorite pajamas. Pajamas are one of the best baby registry items to add to your list. Your baby will spend so much time sleeping. Being cozy is a priority! These pajamas are super soft. They are quality made and my daughter has worn these throughout her 18 months of being in this world. 
Sleep Sacks
Sleep sacks are amazing. This brand is one of my favorite baby brands out there. It is so cozy. 
Swaddles and Blankets
These swaddles are a must-have. They are so easy to put on your little darling. We only buy soft and cozy things in this house.
Hats 
Depending on what time of year it is and where you live, you may have to buy hats sooner rather than later. 
Socks
Stock up on socks to keep your baby's toes and feet warm.
Safety Considerations
When building your registry list, it is important to understand what makes a product safe. This section will help you pick safe baby registry must-haves for first-time moms. Safety should always be considered when deciding what to put on baby registry. 
When you are shopping for an infant car seat and stroller, you will want to check that there is support for their head and neck. You will want to have a newborn support accessory. Something else to think about is how often babies make messes. If you can opt for a stroller with washable fabric, that will make it easier to clean up the messes. Your stroller should have a five-point harness for safety purposes. The base should be wide and have brakes that are easy to use. The leg openings should not be too wide for newborns. They should be snug and supported. Newborns need a stroller that reclines to support their head and neck. Not all strollers recline. So keep that in mind while you are shopping. 
Be super sure that you install your car seat properly. If you are not sure you installed it properly, you can go to a local fire station and they will install it for you or check that you have done it correctly. Initially, the car seat will be rear-facing until your child is at least 2 years old. Maybe even older. Your manual will give you the specific pounds and height safety information for a rear-facing car seat. If you need a little help choosing the right car seat, this 2023 car seat product list will come in handy. Your manual will answer specific questions about the car seat you choose. 
When shopping for cribs there are some safety features to keep in mind as well. Cribs should not have a drop side rail. The gap between the slats is also important. These gaps should not exceed 6 centimeters. This is to protect your precious darling from getting trapped between the slats. Newborn mattresses should be firm! Our mattress has one side for infants and the other for toddlers. The crib mattress should also fit snugly. This will help your baby sleep safely. If a crib has corner posts, they should be over 16 inches tall to avoid being a strangulation hazard. 
If you are going with an old or used crib, understand that the crib may not meet the current safety standards. It may also have paint that contains lead, which is not safe for your little one. It is smart to buy new products and check for recalls. 
Crib bumpers used to be common. However, these days the American Academy of Pediatrics advises against having anything inside of the crib due to safety reasons.
Non-Essential, But Useful and Unique Baby Registry Items
If you are anything like me, you're all about finding products to make motherhood simpler. These non-essential, but useful items, do just that. These unique baby registry items will help you craft the ultimate baby registry! They enhance the baby's comfort as well as the parents' convenience. These unique baby registry items will help you figure out what to put on baby registry. 
Wet Dry Bags
These are truly amazing! Trust me when I say any mama will appreciate this unique gift. Have you ever been out and about with your little one and they had a blowout or even a small accident? I have many times! It is super convenient to have a wet dry bag to keep the contaminated clothing separate from everything else. I learned about wet dry bags way too late! If someone gifted this to me early on I would have been in heaven.
You can also use these bags during a pool day with the family. They are a great bag to store wet clothes or bathing suits in. 
Sound Machine
A white noise machine is a great way to provide comfort to your little one and keep them asleep! No need to worry about tip-toeing around the house during nap time. You can control the Hatch Rest from your phone, which is a pretty amazing feature. 
If your child is a little older, you can set the time-to-rise feature. This produces a light and sound to gently wake up your little one. There is also a winding down feature. In addition to being a sound machine, the Hatch can also produce calming music, read bedtime stories, and serve as a night light. This is a great product to add to your baby registry!
Baby Nasal Aspirator
I keep a baby nasal aspirator in my diaper caddy. Regular boogie suckers just don't clear out all the snot. I find comfort in knowing that a doctor invented this genius baby product. Bye-bye mucus! 
(RELATED POST: 13 Essential Items | What To Put In Diaper Caddy)
Baby Humidifier
Humidifiers are great for when your little one is feeling under the weather. Honestly, they are a must-have! 
Stroller Organizer
This is something I overlooked at the beginning of motherhood. I had no idea how many walks I would be taking with my baby girl. A stroller organizer is great because it allows you to bring your items with you and keep them organized. It also attaches to your stroller so you can be hands-free. I am obsessed!
Baby Grooming Kit
I bought a baby grooming kit and love it. However, I do not love the brushes that usually come in these kits because they are too rough on my daughter's head. I also do not use baby nail clippers because I worry about cutting my daughter's skin. I love everything else that comes in the baby grooming kit so it is worth it to have one around the house. Many of the items that come in the bag make for great additions to a first-aid kit. 
Bottle Drying Rack
So this is a preference thing. There are so many bottle-drying racks on the market. You decide which one works best for you. Personally, I just use a regular drying rack. The only items that dry on that rack are baby items. Items like bottles, nipples, and pump parts. 
Baby Carrier 
A baby carrier makes going out and about so much easier. I love baby wearing. This carrier will grow with your little one from the time they are a newborn to a toddler. 
Baby Toys
Do your little one a favor and buy some toys that are going to foster their growth. So far, we have three of these play kits and I wish we got our hands on them sooner. 
Activity Center 
You won't need an activity center right away, but it is good to have once your newborn reaches 4 months and up. This activity center is interactive and is sure to bring excitement to your growing babe. Activity centers are wonderful.
Wipe Warmers 
This is something you may or may not have a need for. I suggest you wait and see. If you feel like your wipes are a bit of a startle for your bundle of joy, you may want to buy some wipe warmers. 
Baby Registry Checklist PDF
This baby registry checklist 2023 will help you tremendously! This is the baby registry checklist I wish I had during my pregnancy. Are you asking yourself what should I put on my baby registry? These are the exact things to put on baby registry. This checklist sets you up for the best baby registry ever. I wanted this list to include everything. Just the way I like it. What to put on baby registry made easy!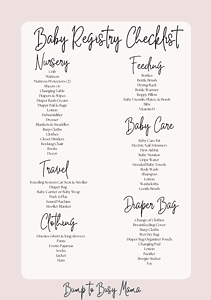 Click here to get your free baby registry checklist download!
Practical Tips and Recommendations 
It is a good idea to add items of varying price ranges or different price points to your baby registry list. For example. when picking bodysuits, try to add a few different ones. This will help accommodate guests with different budgets. 
Don't be afraid to add some sentimental items like books, bath toys, baby book, or toys. I personally chose my own sentimental items but welcomed meaningful gifts from family and friends. 
I was so happy to use a universal baby registry. This allows you to add items from any store. I used Babylist and really loved it. 
Baby registry finder makes it really easy to search for someone's existing registry.
Where to Register
There are so many platforms that offer baby registry, wedding registry, baby shower invitations, you name it. So of course you want to know the best place to register. There are store-specific baby registries, where you can register all of your registry must haves. Then there are universal registries, where you can choose items from a variety of stores. Finally, there are baby registries for cash. With this option, people can donate money for you to do the shopping yourself. 
I think it's beneficial to shop from different stores. Wondering where to register? This post gives the scoop on the pros and cons of the 6 best baby registries. It will help you make a final decision. 
I personally love Babylist. It is my favorite baby registry for so many reasons. The biggest reason I love it so much is that you can add any item from any store to your baby registry. You simply bookmark it and any time you come across a baby item online that you want or need, you add it to your registry with a simple click of a button. They also have a free welcome box. My motto is, "If it is free, it is for me." Who doesn't appreciate samples and coupons?
I also love that your registry stays hidden until you are ready to make it public for your friends and family to view. I started my baby registry toward the end of my first trimester and added items little by little. This worked for me. After adding items a little at a time, I made my registry public. Building the registry this way helped reduce the overwhelm.
So how does a baby registry work? You decide where and how you would like to register. Do you want a store-specific, universal, or baby cash registry? There is no best way. Talk to your partner and figure out what works best for your growing family. If you choose the baby registry route, you can simply pick all of the goodies you want to add to your list with the click of your mouse. After finalizing what to put on baby registry, remember that you will have these products for a long time, so pick the best things! You can get more use out of these items and use them for your second child as well.
Conclusion
Deciding what to put on baby registry is not an easy task for new moms. There is so much that goes into it. You need to do your research and figure out which brands and items you love the most. There are so many different brands in the baby world. Safety should be a major consideration as well. You want your precious babe to have products that will be 100% safe. You want to purchase items that are in good condition. Remember that old cribs and strollers may not follow current safety guidelines. 
The must-have items for baby registry list are a bit more modest than the baby registry checklist. Hopefully, this blog post gave you a lot to think about. Try to accommodate all family and friends by adding items with varying price points. Finally, decide where and how you would like to register while keeping the practical tips and recommendations in mind. Have fun creating a baby registry with carefully selected items. 
I encourage new parents to start early. You can create your baby registry and keep it hidden until you are ready to share it with your family and friends. 
Cherish this exciting journey of parenthood. Whether you are a first-time mom and it is just beginning for you or you are a seasoned mom welcoming a new addition to your family. Enjoy the ride.
This post was all about what to put on baby registry. 
Other Posts You May Like:
15 Best Baby Care Brands You May Or May Not Know About
23 Breastfeeding Must Haves Every Mama Should Own
25 Baby's First Christmas Gift Ideas That Your Child Will Fa La In Love With