This post may contain affiliate links. Meaning I receive a commission for purchases made through those links, at no cost to you. As an Amazon Associate I earn from qualifying purchases. Please read full disclosure here.
These newborn hacks will make life as a new mom so much easier. I know because they made moming easy for me.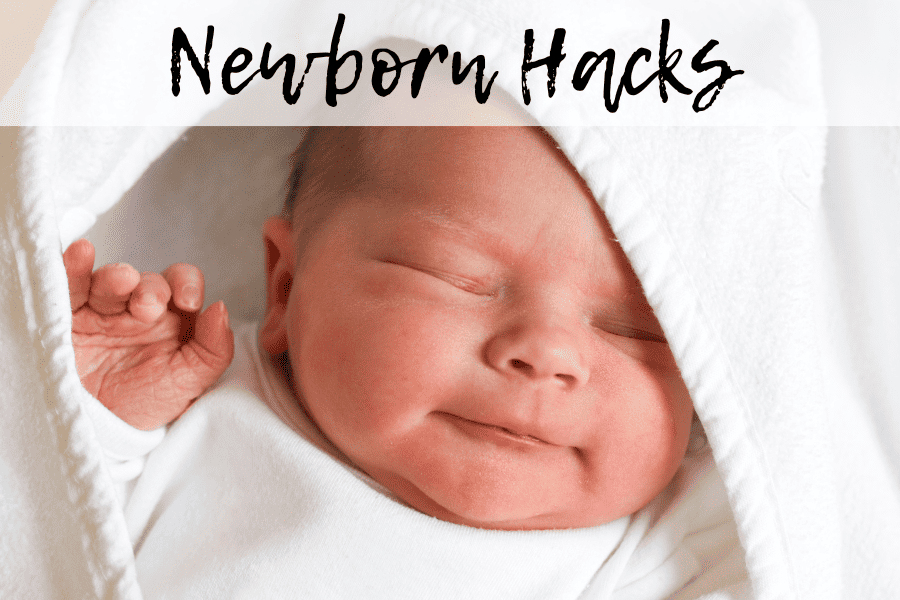 During those postpartum days, I would have so appreciated knowing these newborn hacks. Trust me when I say that these newborn hacks make your life with your new baby so much easier. Whether you are first-time parents or seasoned parents, you will learn new tips and tricks that will help you master parenthood.
As a first-time mom, it took me many months before realizing that the tops of bodysuits are designed to roll off the shoulders and be removed like a pair of pants. It does not have to be removed from over their head. This blew my mind and totally changed the game for cleanups after blowouts. These baby hacks will benefit your child's sleep, comfort, organization, and more.
As a mama who has learned so much along the way, I am sharing it all! You will learn 9-month-old baby hacks, baby hacks to make life easier, newborn mom hacks, newborn tips for dads, and so much more!
This post is all about newborn hacks. 
The Absolute Best Newborn Hacks
Bathing Newborn Hacks
Brush
My daughter has baby eczema. So I have to be very careful with everything that comes in contact with her skin. Initially, I bought a baby brush that was way too rough on her head. It made her eczema so much worse. I decided to make the switch to this brush. I honestly saw such a huge difference in her skin. Even if baby number two does not have eczema, I am still going to choose a gentle brush. I highly recommend this brush! This is one of my favorite mom hacks for newborns I wish I knew sooner!
Ditch Washcloths
My pediatric dermatologist told me to ditch the washcloths. She said that washcloths are typically rough on the skin and that my daughter's skin is better off with me just using my hand. After ditching the washcloths, I noticed a big difference in her skin. This is one of those baby hacks that make life easier. I just wish I didn't buy so many washcloths. Let's get into some more newborn hacks!
Bath Toys
Even though your newborn is likely getting bathed in the sink, the day will quickly come for your little one to bathe in the tub. I suggest paying attention to bath toys between now and then. I had no clue that many bath toys are susceptible to growing mold. EW! If there are holes in bath toys, water gets trapped and that's when mold grows. This is something I didn't realize during those newborn days.
When the day came for her to bathe in the tub I just bought her some bath toys and didn't even think twice. Big mistake. When I realized this I ended up tossing her unsafe bath toys and making a smarter switch. These bath toys are safe for babies and very easy to clean. My daughter loves these toys during bath time. Let's get into some more newborn hacks you will appreciate.
(RELATED POST: 15 Best Baby Care Brands You May Or May Not Know About)
Changing Newborn Hacks
Buy A Variety of Clothing Sizes
When you are shopping for baby clothes always buy a variety of sizes. Babies grow so fast and you never want to be in a situation where you just realize you need new clothing sizes right away. One of the most important newborn tips is to prepare for growth.
I like to buy baby clothes in a variety of sizes so that I never have to worry about restocking the closet. The grandmas do the same and it has been so nice.
I prefer to buy a bodysuit for 3-6 months instead of 3 months. This allows my babe to get more use out of her clothes. These newborn hacks will save you stress.
Bodysuit Secret
As I mentioned in the introduction, the shoulders of bodysuits are meant to roll right off and be removed like pants. This makes cleaning up messes a breeze. Keep reading for some more changing newborn hacks.
Use A Butt Spatula
This is my favorite tool to use during a diaper change. This handy butt spatula allows me to avoid getting diaper cream on my hands. These can also be cleaned and sterilized in the dishwasher.
Use Diaper Changing Pads
As a first-time mom, I had no idea how helpful diaper-changing pads are. They are amazing! These are the changing pads I use and love. They are absorbent and soft. My favorite part about them is that they have a multi-purpose. You can also use these in the bassinet. I also keep one in the car to use for car diaper changes. Products that have multi-purpose = great newborn hacks.
Sleeping Newborn Hacks
Zipper Pajamas
You will be doing many diaper changes. Newborn care is constant. During my pregnancy, my friends told me to buy plenty of zipper pajamas. I am so glad I listened. Zipper pajamas allow you to complete diaper changes quickly. These are one of my favorite pajamas. They are so soft and comfortable.
Offer Pacifier Before Sleep
One of the super important newborn life hacks is offering a pacifier when putting your newborn to sleep. The American Academy of Pediatrics says offering a pacifier when putting a newborn down for sleep reduces the risk of SIDS. Here is study if you're interested in reading more.
White Noise Machine/Humidifier
This product is amazing. It has a built-in sound machine, color changing night light, an aroma tray, and a humidifier. This is one of those newborn sleep hacks that I wish I realized sooner. A sound machine is a lifesaver. Are you ready for some more newborn hacks?
Bamboo Pajamas
As I mentioned earlier, my daughter suffers from eczema. Bamboo pajamas are the only pajamas she wears at night. We have had many sleepless nights due to my daughter waking up from feeling uncomfortable and itching herself to the point where she makes her skin bleed. It was so heartbreaking.
Once I made the switch to bamboo pajamas, she slept comfortably through the night. So now I only buy her bamboo pajamas. I swear by them. They are so soft and wash really well. Here is another one of our favorite pajamas. Put this in your newborn tips and tricks book: invest in good comfortable pajamas to help your newborn get the best sleep possible. It is so worth it.
Sleep Training
We obviously did not sleep train our baby right away. I am sure you have heard many people say to enjoy your time because it flies by. That really is the truth. I recommend reading up on sleep training so that when the day does come, you have the background knowledge on how to train your little one. If that is something you are interested in of course. I am always one who likes to be prepared.
When the time was right, we used the Ferber sleep method. If you are looking to read up on it, you can click here. This is also one of the best baby hacks for dads. My husband was just as thrilled as I was when my daughter was finally sleeping through the night.
Distinguish Day and Night
I taught my newborn the difference between naptime and bedtime. When she was napping I did not attempt to darken the room or limit the usual noise within the house.
For bedtime, we established a routine right away. We had tummy time, moisturized her skin, changed her into pajamas, and read a story.
SNOO
This is a pricey item but it absolutely will help your baby sleep soundly. It is like having an extra parent in the house. This bassinet rocks and soothes your baby when they need it. It detects when your baby is crying and includes white noise.
Blackout Curtains
Blackout curtains are the best things ever. They have been so helpful. My newborn had no issues falling asleep for naps in the beginning, but there came a day when she had difficulty taking naps. When that day came I was thankful for my curtains. Babies go through many sleep regressions along the way and having a dark room is certainly a big help as they grow older. Even though my newborn wasn't sleeping in her nursery for the first 6 months, I still had them up and ready from day one. Let's look at some feeding newborn hacks.
Feeding Newborn Hacks
Take Advantage of Other Feeding Positions
Life with a newborn is both beautiful and exhausting. As a new mom, I had no idea about the different breastfeeding positions. For the longest time, I just used my boppy pillow and fed my baby while sitting up. Naturally, my back started killing me and I discovered different ways to feed my babe. The side-laying position quickly became my favorite position. If you want to switch it up, here are the different breastfeeding positions you may want to try.
Trim Nails While Breastfeeding
The absolute best time to trim your baby's nails is while they are breastfeeding. These are the nail trimmers I used when my daughter was a newborn and still use as she entered toddlerhood.
Learn Different Ways To Burp Your Baby
Remember to burp your baby after every feeding. There were times when gas was trapped and we needed to switch up the burping position. Sometimes burping my daughter with her over my shoulder just wasn't cutting it. Here is a great reference with information on different ways to burp your newborn. One of the most helpful baby hacks for new moms is to change the burping position when your little one is having trouble releasing gas. Your gassy baby will thank you for learning these newborn hacks!
Newborn burping hacks: The most successful way to burp my daughter was to do it while she was sitting in my lap. This position relieved a lot of gas.
Premake Bottles
After maternity leave was over, it was so hard returning back to work. Luckily my little darling was able to stay home with her daddy for a few months while I finished out the school year. I had a lot of frozen milk stored in the freezer, which made me feel so much more comfortable when it came time for me to return to work.
When I returned to work I pumped milk for the following day. We made this transition a little smoother by preparing premeasured bottles in the fridge and ready to go. This way my husband could just grab a bottle from the fridge and put it on the warmer quickly. This was another one of my husband's favorite newborn hacks.
(RELATED POST: A Complete Guide On How To Make Your Own Baby Food)
Caring Newborn Hacks
Buy in Bulk
Buy diapers and baby wipes in bulk. This is a newborn hack that made our life with a new baby less chaotic. We still continue to buy diapers and wipes in bulk. It saves us time and money.
Gripe Water
Gripe water is another one of those new newborn baby hacks I wish I knew about sooner. This helped relieve discomfort for my baby girl.
Coconut Oil
Coconut oil has truly been amazing. For the longest time, we thought my daughter had cradle cap. It turned out to be eczema. To this day we still use coconut oil on her dry skin. I scoop out some oil, heat it up in the microwave for 10 seconds, and massage it on her dry area. If your little one suffers from eczema or cradle cap you will love this baby hack.
Baby Wear
Baby wearing is amazing. I used to wear my baby while we were out and about as well as around the house so I could have hands to do things. Some people prefer a carrier while others prefer a wrap. I enjoyed my baby wrap and this is the one I used.
The Power of Tubby Todd All Over Ointment
Tubby Todd has been a huge blessing. I apply this ointment on really dry areas on my baby girl's skin and it takes away any dryness or redness. We always have a tub on hand. It is like magic in a jar.
CeraVe
CeraVe is another product I love using on my daughter. It took us so long to get her eczema under control and we saw the most success with this moisturizer. I apply this to her skin four times a day and it does a great job of locking in moisture. It has made a tremendous difference in her skin. A great skincare routine for your baby is essential.
Use a Playpen
Looking for more newborn hacks for moms? Buy a playpen for your baby. Having a safe place to lay your baby is so helpful. I have always kept a playpen in the living room. Now that my daughter is a toddler, she is obsessed with her playpen.
Outdoor Wear
Add outdoor wear to your baby registry. Babies need cozy outdoor wear too.
Skin-to-Skin
Skin-to-skin is so important during those newborn days. It benefits both you and your baby! This is one of the best baby care tips ever. It helps your baby feel safe, helps with their body temperature, cry less, and so much more. Carving time for skin-to-skin counts as tummy time for your bundle of joy.
Bring the Car Seat to Restaurants With You
It took us an embarrassingly long time to realize how beneficial bringing the car seat into restaurants with us was. We used to remove our little from the car seat and hold her while we were dining at restaurants or pop her in my baby wrap. This would oftentimes wake her up and cause her to be fussy. One day my mother-in-law suggested keeping her in the car seat and bringing that into the restaurant with us. Duh. This was a total game-changer. This is one of the best baby hacks ever!
Unscented Everything
Scents smell great and all, but they don't help my baby at all. Even if my daughter didn't have eczema, I would choose unscented products for my daughter.
Organizing Newborn Hacks
Always Have the Diaper Bag Packed
Leaving the house with a newborn takes a significantly longer time than it used to. I save time by making sure my diaper bag is always ready to go. I restock diapers and wipes in advance. This hack will simplify your life. Isn't that what we all want?
Use A Diaper Caddy
Having diaper caddies around the huge is insanely helpful. I keep a diaper caddy in my living room for quick diaper changes. This saves me from having to make a trip to the nursery. This is one of those easy DIY baby hacks that won't take you much time to organize! Interested in reading more about what to put inside your diaper caddy? Check out the post below!
(RELATED POST: 13 Essential Items | What To Put In Diaper Caddy)
Prepare A Car Diaper Caddy
I can't tell you exactly how many car diaper changes I have done…but it has been a lot! Having a car diaper caddy is incredibly helpful. Especially when you just need to make a quick trip and don't feel like bringing your diaper bag along for the ride. Keeping a diaper caddy in your car makes quick errands a breeze.
Implement the Folding Method
Are you familiar with Marie Kondo? If not, I highly recommend watching her show on Netflix. She is the best organizer and I am obsessed with her folding method. I applied this to my nursery dresser drawers and it makes finding my daughter's things so easy. For more information on how to organize your nursery flawlessly, check out the post below. This post will also share some more organization newborn hacks.
(RELATED POST: 7 Essential Baby Dresser Organization Tips That Are Life-Changing)
Use Closet Dividers
Looking for new parent hacks that will enhance organization? Use closet dividers! I store all of the larger sizes in my closet, so having closet dividers is everything. It is so nice to visually see which clothes are 3-6 months, 6-9 months, and so on. These are a must-have.
Stroller Newborn Hacks
Get a stroller organizer! This is one of the greatest new mom hacks I learned. It is so nice to go for walks with your little darling and be hands-free. Stroller organizers allow you to bring a few of your basic necessities with you on your stroll.
Have All Clothes Organized and Ready to Pull
I mentioned before that I store bigger clothes in the closet organized by size with closet dividers. Having clothes organized and ready to pull allows me to quickly see which clothes I should be moving into the baby dresser. I keep all current clothes inside the baby dresser.
Hacks for New Moms
Take Advantage of Nap Times
I am sure you have heard people say, "Sleep while your baby sleeps." I have heard that a million times. Some days I would. On other days I just wanted to rest and relax in front of the TV or get things done around the house. Listen to your body and do whatever you want to do while your baby is asleep. Perhaps you need to rest with a heating pad as you recover. Take care of yourself mama!
Have Water and Snacks Easily Accessible
Nobody warned me that breastfeeding was going to make me so incredibly hungry and thirsty. My biggest suggestion is to have a large water bottle that you fill at the start of each day. This water bottle is great and helps you keep track of your water intake. Something that is important for everyone, especially if you are breastfeeding! Always have snacks ready to grab.
Make the Crockpot Your Best Friend
I always love a good crockpot meal. I especially loved them postpartum. There is something so delicious about throwing ingredients into a crockpot, setting it, and forgetting it. It is all about maximizing your time during those newborn days. Best of the best baby life hacks!
Prepare Postpartum Meals
Prior to your due date, have frozen meals on standby. You are not going to want to do a lot of cooking with a newborn. Looking to discover new mom life hacks? Carefully plan out meals that you can make in advance and freeze, prepare crockpot meals, or have loved ones make you easy meals. This got our family through life with a newborn baby.
Pay Attention to What You Eat While Breastfeeding
Looking for more newborn hacks? If your baby is breastfeeding, pay attention if any food is causing your baby discomfort. If so, it is worth having a conversation with your pediatrician. When we realized my daughter had eczema, the pediatrician recommended limiting dairy. He said that oftentimes dairy is a trigger. For my child, this did not make a huge difference. I did notice that black beans made my daughter gassy.
Track Your Baby's Feeding Schedule
Newborns feed so frequently. One of the parenting hacks for newborns that I loved was recording my daughter's feeding schedule. I did this through the Ovia Parenting app. This reminded me of when my daughter's next feed should be and helped me track the length of her feeding. It was a big help.
Place an Endtable Besdide the Rocking Chair
Initially, I did not have an end table beside the rocking chair in my daughter's nursery. That was a huge mistake.
I needed a place for a small lamp, which is essential during nighttime feeds.  I needed a place to hold my water. I also needed a good spot for the vitamin D drops.
Learn Your Baby's Cues
Take notice of your baby's cues. Even though they can't talk, they try to communicate with us through cues. If your baby is putting their fist toward their mouth, turning their head, or opening their mouth, they are trying to communicate they are hungry.
My daughter used to throw her head back and forth and this made me nervous. Then I learned that she was trying to soothe herself and put herself to sleep.
Clean Little By Little
It is so easy to feel overwhelmed by everything that needs to be done. Don't stress. One of the best first-time mom hacks is to clean little by little. At the beginning of each day, I like to make a list of three things I want to complete by the end of the day. I might write something like clean the floors, wash the clothes, and clean the bathroom. This helps make everything manageable. This is one of those overlooked newborn hacks.
Create a Schedule That Works For You
Having a schedule has made our days smooth sailing in our household. Kids thrive with a routine. When your baby is a newborn they eat, sleep, poop, play, repeat.
Have a System In Place and Stick To It
Organization goes a long way. Every item in my house has a place. All socks go in the top left drawer of the baby dresser. Pants go in the middle left drawer. Pajamas go in the bottom left drawer. You get the idea. When every item in your house has a place, and you maintain order, life is good for the whole family.
Lestoil is Amazing
This is one of the ultimate baby hacks for moms: Lestoil is a miracle worker. I struggled for so long with getting stains out of my daughter's clothes. Nothing seemed to do the trick. My mom told me to use Lestoil. I just spray the stain and let it sit for 20 minutes. After 20 minutes is up I throw the clothing in the washer. It saved my sanity and my daughter's clothes. Hope you learned some new newborn hacks to try out!
This post was all about newborn hacks. These life hacks for babies make life so simple.
Click below to pin these newborn hacks.
Other Posts You May Like:
Secrets To Baby Room Organization
17 Insane Baby Essentials First Three Months That Will Simplify Mom Life
11 Incredible Baby Care Products That All Moms Need To Know About