This post may contain affiliate links. Meaning I receive a commission for purchases made through those links, at no cost to you. As an Amazon Associate I earn from qualifying purchases. Please read full disclosure here.
Here is my toddler summer bucket list. This list helps keep my toddler active, entertained, and happy during the summer. Hopefully, it gives you some new ideas for this summer! 

As summer is quickly approaching, this toddler summer bucket list will bring you endless ideas to help engage your little darling. Toddlers are balls of energy. Literally. A summer bucket list brings entertainment, excitement, and memories to our family. I know it will do the same for yours. A change of scenery can do wonders for our little ones. These summer activities will help you easily plan your days. Take them outside!
You are getting bucket list ideas, outdoor activities for toddler summer, ideas for summer bucket list, and much more! So get ready for a fun summer! You can download your toddler summer bucket list at the bottom of this post.
As a mama of an oh-so-busy toddler, I am always looking for outdoor activities. Here is the holy grail toddler summer bucket list.
This post is all about toddler summer bucket list. 
The Holy Grail Toddler Summer Bucket List
1. Go to the beach
Whether you live nearby or far away from the ocean, a beach day is a great toddler summer bucket list idea. We are a big beach family. Looking for help planning your beach day? Check out the post below. I am sharing all of my favorite beach must-haves!
(RELATED POST: 22 Mind-Blowing Beach Essentials For Toddlers)
2. Draw with chalk
A summer bucket list does not have to be complicated.  Drawing with chalk is a great summer bucket list activity for toddlers. Encourage your little ones to express their creativity. You can also play good old-fashioned hopscotch. Sidewalk chalk is a family favorite!
3. Run through sprinklers
Running through sprinklers in the yard is an excellent toddler summer activity. Set up as many as you want and let your little one run wild.
4. Blow bubbles
Blow bubbles and set up a bubble machine for your busy toddler to enjoy. Bubbles are fun for every age.
5. Splash around in a baby pool
A kiddie pool is the perfect activity for a toddler summer bucket list. Throw in your little one's favorite toys and let them splish splash and have fun in the sun.
6. Go to the pool
Looking for more ideas for your summer bucket list? Enjoy a pool day with your toddler. Be sure to bring enough snacks to keep your toddler happy. The snacks mentioned in the post below are not just healthy snacks for hiking. They are also great snacks for on-the-go. They are staples in my house. I am sure your family will enjoy these snacks just as much as mine does.
(RELATED POST: 19 Healthy Hiking Snacks For Toddlers)
7. Walk through the park
One of my daughter's favorite outdoor activities has always been going for a walk in the park. This is something we love doing as a family.
8. Play at the park
Playing at the park is a must for your toddler summer bucket list. This is a great way for your baby to get their energy out. This is the perfect summer activity before a nap.
9. Go to the zoo
Another one of our family's favorite activities is to visit the zoo. No matter how old you are, the zoo is a fun place to spend the day. Our local zoo lets kids enter for free. You can't beat that!
10. Visit a farm
The beautiful thing about a summer bucket list is that it keeps your kiddo busy and engaged. Visit a local farm one day and check out all the adorable farm animals.
11. Play kickball
Like us, kids need to be active. My daughter is fascinated with balls. She loves to throw the ball, pass the ball, and kick the ball. Get outside and teach your babe how to play kickball.
12. Go to Gymboree
Gymboree is another great place for your little one to get their energy out. Gymboree is also a great opportunity for your child to socialize and meet new friends.
13. Sign up for mommy-and-me yoga
Looking for more active ideas? Sign you and your little one up for some mommy-and-me-yoga.
14. Enjoy a craft
Prepare an outdoor craft for your little one to engage in. Even if it is in your backyard!
15. Have a picnic lunch
Like us, toddlers like a change of scenery. Prepare a picnic lunch for your kiddo. You can even have them help prepare and pick out food for you to pack for your outdoor picnic.
16. Go fishing
A free activity for your toddler summer bucket list is fishing. This is an activity that Daddy loves, so this is something that he takes the lead on. Plus, this gives my husband and daughter a good opportunity to spend quality time together.
17. Go crabbing
Another good opportunity to squeeze in some quality time is to go crabbing together. If you live close to the water, this is such an easy activity for your summer bucket list.
18. Play badminton
Have your toddler learn something new! Teach them how to play a sport like badminton.
19. Play in a ball pit
Another bucket list activity for this summer is to play in a ball pit.
20. Have a dance party
You need to add a dance party to your children's summer bucket list.
21. Go to the beach and watch the sunset
Take a trip to the beach and watch the sunset. You can walk and watch the sunset or bring a beach blanket and snuggle up.
22. Catch lightning bugs
There is something so great about being out in nature. One summer night catch lightning bugs with your little one.
23. Play at a water table
A great sensory play activity is playing at a water table. This will keep your toddler busy!
24. Have a sleepover with cousins
Looking for more bucket list ideas for kids? Have a sleepover with all the cousins! When I was growing up this was one of my favorite things to do.
25. Make tents in the living room
Using blankets to set up tents or make forts in the living room are great summer toddler activities. Kids love this.
26. Watch a movie and eat your favorite snacks
Schedule a movie night and munch on yummy snacks. A movie night is the perfect addition to a toddler summer bucket list.
27. Visit the ice cream truck
You can't leave out eating from the ice cream truck off of a bucket list for children.
28. Bake something delicious
Bake something new with your little chef. This needs to make it to your bucket list ideas for the summer.
29. Read and snuggle
Another one of my favorite bucket list summer ideas is to cozy up together and read. Save this activity for a rainy day. Ask your little darling pick out their favorite books.
30. Sit on the dock and watch for dolphins
See if your town offers outdoor toddler events, If not, you can always organize your own! Find a nearby dock and watch for dolphins. You can also look out for any other sea life. We have our best times by the water.
31. Go for a hike
Take your little one for a hike.
32. Browse your local library and pick out some new books
A trip to the library needs to make it on your kids' bucket list this summer. Visit your local library together and check out books you want to read.
33. Go to a coffee shop
Need more bucket list ideas for kids? Go to a coffee shop together and order something fun. Perhaps a smoothie for your kiddo and a tasty treat.
34. Watch fireworks
For the 4th of July, enjoy watching and listening to fireworks. This is an essential addition to your bucket list for summertime.
35. Set up a lemonade stand
Need even more ideas for a summer bucket list? Set up a lemonade stand with your child. You both can sell lemonade to your neighbors and invite family over to enjoy a summer refreshment.
36. Collect shells on the beach
Here is another great idea for your kid's bucket list. Walk the beach and collect beautiful sea shells. You can bring them home and store them in a beautiful glass vase for decoration.
37. Play in an outdoor tent
Adding to the list of summer activities, play in an outdoor tent! You can't go wrong with a tent. Ever.
38. Plant in the garden
Planting something new and exciting is a great idea for your summer activities list. You can plant beautiful flowers or something you can eventually eat from. Let your little one decide!
39. Explore the local farmers market
Take a stroll at your local farmers market. You can always find something exciting there!
40. Make s'mores
One of the very common summer bucket list activities is making s'mores. This was always one of my favorites.
41. Take a boat ride
Next up on the summer bucket lists for kids is to take a boat ride.
42. Explore your local history
Exploring your local history needs to make it on your summer fun list! In our town, we have horse carriage tours where they take you for a ride while sharing the history of our town.
43. Join a playgroup
This is an activity that is not just on my summer to-do list for kids. I want my baby girl to be a part of a playgroup all year long so she can socialize with others her age.
44. Visit an aquarium
Another activity perfect for a to-do list for toddlers is visiting an aquarium.
45. Fly a kite
Are you looking for summer activities for 3-year-olds? Get outside with your little one and fly a kite.
46. Paint
If you are in search of summer projects for toddlers, paint with your baby. You can paint kindness rocks or even paint a picture on a canvas together.
47. Offer a you pick day
Let your toddler decide how you will spend the day together.
48. Dress up day
Let your little one dress up as their favorite superhero or character.
49. Have a cookout with family
One of our family's favorite activity bucket list choices are to have a cookout with our family. Nothing beats family time.
50. Take a family road trip
Pick a destination you want to travel to and hit the open road!
51. Obstacle course
Set up an obstacle course at your local park or in your backyard. This is something siblings, cousins, and friends can join in on.
52. Nature walk
Head out on a nature walk.
53. Bouncy castle
Blow up an outdoor bouncy castle.
What is a summer bucket list?
A summer bucket list is the most amazing resource to help keep your toddler busy and happy during the summertime. Use this list of ideas to help you plan your adventures. You can pick what you would like to do with your little one. Or you can have your child pick from the list. Totally your call mama!
Summer Bucket List for Kids Free Printable
Download your free toddler summer bucket list here.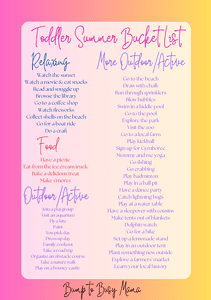 This post was all about toddler summer bucket list. 
Other Posts You May Like:
22 Mind-Blowing Beach Essentials For Toddlers