This post may contain affiliate links. Meaning I receive a commission for purchases made through those links, at no cost to you. As an Amazon Associate I earn from qualifying purchases. Please read full disclosure here.
Are you brainstorming hiking snacks for toddlers? These healthy snacks will keep your toddler happy on your upcoming hiking trip.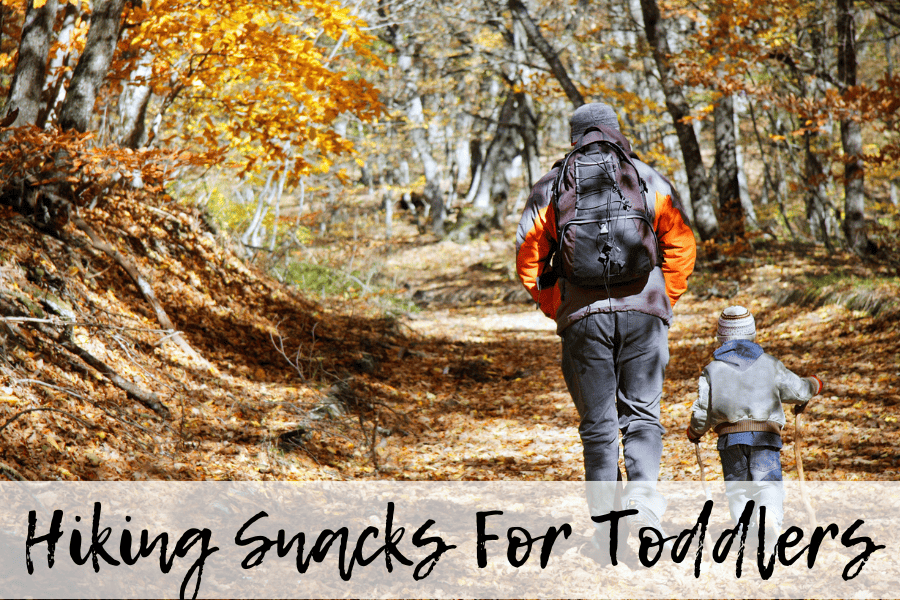 If you are planning a hiking trip with a little one, you may be wondering what healthy hiking snacks for toddlers you should bring along with you. No worries! I have prepared a list of plenty of favorite hiking snacks for you to choose from. You certainly do not need to pack them all. I just like having choices and imagine someone else might appreciate the options. When you are on the go, you want quick and easy snacks. These snack ideas will keep your toddler happy, healthy, and nourished.
As a mama of a toddler myself, I am sharing with you healthy travel snacks for toddlers, snacks for toddlers, healthy snacks for hiking, energy snacks for hiking, and beyond! We all know preparing to leave the house with a toddler takes a lot of thought and preparation. I always keep easy snacks on hand. I love making homemade food and snacks for my daughter, but I also like to keep easy-to-go snacks ready to grab on our way out the door. These snacks make great hiking snacks for toddlers, but they also make great snacks for any family outing.
After reading this post you are going to be so ready to hit the trails with your little one.
This post is all about hiking snacks for toddlers. Snacks kids love! I know because my daughter loves everything on this list.
Best Hiking Snacks For Toddlers
Peanut Butter Crackers
Peanut butter is so good AND good for us. It provides us with protein, which is why it is one of my favorite hiking snacks. Packing high-protein snacks for hiking is essential.
I like feeding my little darling these crackers. They are thin, which makes for the perfect snack for toddlers. They are also made of whole grain and the ingredients are simple. I try not to buy snacks that have a lengthy list of ingredients. The more natural, the better.
I spread this peanut butter on my daughter's crackers. I like this brand because it is all-natural peanut butter. Remember to spread a thin layer of peanut butter on your babe's crackers since peanut butter is a choking hazard for kids under 4 years of age. 
Crackers
Crackers are great hiking snacks. We buy these crackers often and my daughter adores them. We buy whole wheat everything to help with constipation. A constipated toddler is not a happy toddler.
Crackers are healthy travel snacks for toddlers. I always keep a bag of crackers in my diaper bag. You just never know.
Nut Butter
Our family loves nut butter. It is so healthy for you. Nut butter is another great hiking snack for toddlers. You can easily spread nut butter on crackers or fruit. These packets make for a super convenient hiking snack. Simply open the packet and spread it on your food of choice. It is that easy. That is just how I like it.
I personally love it spread on apple slices sprinkled with a little bit of cinnamon. YUM!
Trail Mix AKA Gorp
Trail Mix, otherwise known as Gorp, is another great option for hiking snacks for toddlers. Can toddlers eat trail mix? Many of the ingredients I would typically put in my trail mix, I would not put in my daughter's trail mix.
When making trail mix for my toddler, I crumble and add the following ingredients:
Raisins (chopped up into really small pieces)
This toddler trail mix makes for great hiking snacks for kids. When making my trail mix, I always fill a bag like I am hiking across a national park. I can't get enough of trail mix. My toddler feels the same way about her toddler trail mix.
(RELATED POST: 7 Healthy Toddler Snack Ideas Your Babe Will Eat Up)
Dried Fruit
Dried fruits have so many benefits. They prevent anemia and are a great source of iron. In addition, dried fruits give a boost of energy, help maintain a healthy digestive system, and even promote brain development. In my opinion, dried fruit is one of the best hiking snacks.
These are the dried fruits we buy and love. These are good trail snacks you are going to want to have on hand.
Fresh Fruit
I can't go hiking without fresh fruit. Bananas are great healthy trail snacks for the whole family to enjoy. My daughter is obsessed with bananas, so they are a staple in our house.
Some other good fruit snack ideas you might consider packing are apple slices or oranges.
Fresh Veggies
I usually buy bell peppers (all colors) and chop them into sticks. Colorful bell pepper sticks make me happy. My daughter also loves colorful food. These are really simple and healthy hiking snacks for the family to munch on. I don't hike without them.
(RELATED POST: Here's Exactly How To Deal With Your Toddler Spitting Out Food)
Granola Bars
If you are looking for new snack ideas, you have to try these healthy granola bars. These granola bars are amazing hiking food for kids.
I like to feed my daughter healthy food and don't like to buy food from the grocery store that has an overwhelmingly long list of ingredients. These granola bars are healthy and simple to make. Anything with chocolate chips is amazing. However, I leave chocolate chips out of the muffins I bake for my daughter.
Nature's Bakery Fig Bars
My daughter loves these raspberry fig bars. She always gets so excited when I give her these fig bars for a snack. They have other flavors too! Raspberry is just her favorite, so that is our first pick. These fig bars are so easy to eat during outdoor activities, which makes them a wonderful hiking snack for toddlers.
Lara Bars
These are our favorite flavor of Lara Bars. Here is another one of many incredible food options to pack for a day out on the trails with your toddler. After trying these bars, you are going to quickly realize that you need to keep this snack in your pantry at all times.
Clif Bars
Looking for more hiking snack ideas? Z bars are great hiking snacks for toddlers. When shopping for energy bars, I look to buy bars that are low in sugar. These healthy snacks are a hit in our house. Quite honestly, bars make great outdoor snacks for kids. Healthy bars are good snacks to take hiking.
Banana Bread
I love making recipes from this fellow blogger Elizabeth. She has so many healthy and delicious recipes that I make on repeat. If you want to make your own banana bread, here is a great recipe! This is a family favorite.
Honey Stinger Waffle
Depending on how old your toddler is, you may decide to introduce these waffles as a hiking snack. This brand also offers kids organic waffles and energy chews.
While I love these waffles, my toddler won't be trying honey until after her second birthday. Here is more information about honey for babies. 
Yogurt Melts
These are great snacks for family travel. Kids aren't the only ones that love these delicious treats. I am not going to lie. I am guilty of taking a handful of these yogurt melts for myself.
Wrap
Make a wrap at home and cut it into sections for the family to easily share. This can be a part of a hiking lunch for kids or even munched on as a snack. Some of our favorite wraps are:
Turkey & Avocado
Turkey & Cheese
Chicken & Hummus
Ham & Cheese
Peanut Butter and Jelly Sandwich
You can also make this in advance for lunch on the trails. Or even use cute cookie cutters to carve out cute little designs. This makes for another quick and easy snack. You can't go wrong with a peanut butter and jelly sandwich. How you enjoy it is totally up to you and your little one.
Muffins
I love making all kinds of muffins. I am always looking for new muffin recipes to try. Like most of us, my daughter loves biting into something sweet. These spiced sweet potato muffins are so good! I am sure your toddler will love these too! These muffins are excellent snacks to bring hiking.
Beef Jerky
I do not give my little one your traditional beef jerky. I give her these instead. They are made of 100% grass-fed, free-range, and do not contain GMOs. Your kids will adore these snacks while hiking. You'll need to pack some for yourself too. They are seriously so good. For the longest time, these were my daily snack.
Water
So I know this post is all about hiking snacks for toddlers, but you absolutely can't forget to pack water. Staying hydrated is just as important!
How to Pack Snacks
If you buy store-bought snacks from the grocery store, you can throw your snacks in a freezer bag.
If you make your own snacks like the toddler trail mix, granola bars, or banana bread you can easily store them in this reusable storage bag. They come in different sizes so choose what works best for you. You can also buy packs if you wish.
Fresh fruit and vegetables can also be stored in these reusable bags. I love them.
Remember to also pack some sort of trash bag to keep the wrappers in. After all, you are out on the trails. Trash cans may be hard to find.
What are the best healthy snacks for kids?
Even though I keep packaged store-bought snacks on hand, I try to reach for snacks that are filled with nutrients. Here are some of my favorite healthy snacks for kids:
Yogurt
I keep yogurt in the fridge at all times. Yogurt is a healthy snack for kids that you can always spice up and make fun. I like to spread yogurt on my daughter's chicken quesadillas. It tastes like sour cream on a quesadilla, except it is much healthier. I am also always mixing yogurt with different fruits. Raspberries, bananas, oranges, and peaches are some of her favorite fruits with her yogurt.
As a mama of a growing toddler, I love feeding my daughter yogurt because I know it benefits her gastrointestinal health as well as her bone development. Grow baby grow!
Cottage Cheese Combo
Like yogurt, you can always keep cottage cheese interesting by mixing up how you serve it to your little one. It pairs great with fruits like pineapple, raspberries, bananas, berries, and much more. Cottage cheese goes well with so many kinds of food.
One of our family's favorite cottage cheese combos is not as popular, but I swear it is delicious. We love eating cottage cheese with chopped dill pickles. When I feed my toddler this yummy snack I remove the skin.
Banana Smoothie
When we introduced milk to my daughter it was a total nightmare. She hated whole milk, 2% milk, and plant-based milk. She thought all milk was disgusting. So I had to be creative because she needed liquid calories to help her gain weight.
I began making her smoothies with almond milk and bananas and she was hooked! Banana smoothies are a daily snack for my toddler.
Cucumbers and Hummus
Another healthy snack for kids is cucumber sticks and hummus. I remove the skin and cut the cucumber into sticks making it easy for dipping. My toddler is obsessed with hummus on everything.
Olives and cheese
I dice olives and cheese for my daughter to enjoy for a snack. Olives are a great healthy snack for toddlers. Olives contain gut-friendly fiber as well as healthy fats. Olives also provide vitamin E, vitamin A, and vitamin C.
I like to buy my olives from glass containers and look for olives that are low in sodium. I avoid serving my daughter anything sold in a can.
Why do toddlers need snacks?
If you have a toddler, you probably have experienced your toddler being a picky eater at times. One day they may love the blueberry waffle you whipped up, and the next they may make a disgusted face and throw it on the floor for the dogs to eat.
Toddlers need snacks because snacks are a great way to balance out their diet. Think of snacks as another opportunity to sneak in some nutritious and delicious food for your little one. If my toddler decided that she didn't want to eat her fruit with breakfast, I save them and serve them to her for snack time.
Have you ever experienced a cranky hungry toddler? I have and it is horrible. I learned early on that a schedule is crucial and we do not show up late for snacks and meals. Nope!
Toddlers' bellies are much smaller than ours, so toddlers need snacks to help ensure they get all of their daily nutrients.
Take them outside!
Having a change of scenery is so helpful. Like us, our toddlers thrive from spending time outside and exploring. You may decide to go for a short walk or a long walk, but make time a take them outside! We all need it.
This post was all about hiking snacks for toddlers. 
Other Posts You May Like:
Here's How To Deal With Your Toddler Spitting Out Food
7 Shocking Baby Food Strategies That Transformed My Toddler From A Picky Eater To An Adventurous One