This post may contain affiliate links. Meaning I receive a commission for purchases made through those links, at no cost to you. As an Amazon Associate I earn from qualifying purchases. Please read full disclosure here.
Is your toddler spitting out food? Mine did too and I am thrilled to share how I got her to stop doing this.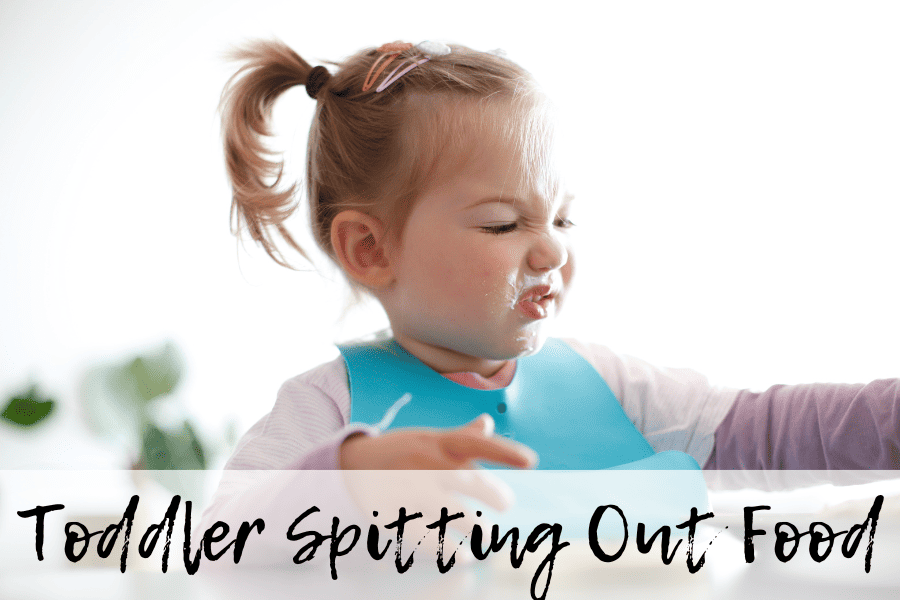 It can be so incredibly frustrating when you are dealing with a toddler spitting out food. You spend so much time whipping up delicious and nutritious food. You're excited for your little one to devour the food you spent so much time planning and preparing. But when you have a toddler spitting out food during all three meals and two snacks, it can quickly make you crazy. I have been there mama.
As a mama myself, I am sharing toddler spitting out food after chewing, 18 month old spitting out food, baby spitting food, toddler spitting out food on purpose, toddler spitting out food teething. Join me in exploring reasons for baby spitting out food.
Toddler Spitting Out Food
Disclaimer: I am not a medical professional. I am just a mama sharing information I have learned along the way as well as my experience with toddlers spitting out food. Always consult your pediatrician if you are experiencing any issues with your child. 
Why does my toddler spit food out?
Behavioral
One reason for a toddler spitting food out could be behavioral. Babies spit food at one point or another. They might be looking to get a reaction out of you. For this reason, it is important that you do not react emotionally. You can absolutely respond to your little one with a firm no. This way they understand that spitting out their food is unacceptable. Eventually, they will grow to learn to eat food properly.
Pickiness
Another reason for a toddler spitting food out could be due to pickiness. I experienced this with my daughter when she began eating solid food. She spit out many types of food! If your toddler is refusing by spitting out food, swatting it away, throwing food, or fighting sitting in their highchair read the post below. It details how I turned my toddler from a picky eater to an adventurous one. I am happy to share that she now eats everything I put in front of her.
For picky eaters, continue to prepare and serve your little one a variety of table foods during meals and snacks. Do not get discouraged if your toddler does not take to certain foods right away. It took my daughter SEVERAL attempts. Honestly, I think eventually she thought, "Wow my mother is persistent. The food is clearly going to continue to come so I may as well eat it." That is just what I think! Picky eating is a common problem. You are not alone.
(RELATED POST: 7 Shocking Baby Food Strategies That Transformed My Toddler From A Picky Eater To An Adventurous One)
Swallowing Issues
If you are experiencing your toddler spitting out food, it is smart to bring it up with your pediatrician. It is worth investigating whether or not your child is having any issues swallowing. Oral motor skills take time and practice.
My daughter was born with a tongue tie and lip tie and was seen early by a lactation consultant. From what the doctor explained to me, depending on the severity the tongue can impede swallowing. Lucky for our family, her tongue and lip tie is mild. After looking at her mouth and listening to my experience introducing solids to her, they said she does not have swallowing issues.
If your toddler is spitting out food or having any other food issues, it is worth bringing it up to your pediatrician. They are a wealth of knowledge.
Texture Issues
Have you ever encountered food that you did not like its texture? For me, that food is tomatoes! What do I do? Avoid the squishy soft tomatoes that I know I do not like eating. Toddlers are still learning all the different food textures so what do they do when they encounter a texture they do not like? Baby spits food out.
A part of eating is becoming familiar with different textures. You will notice which textures your little one likes and which textures they do not like.
Size
Perhaps the size of the food is too big for your little one's liking. My daughter used to spit out food a lot early on due to pickiness. From time to time she will spit out food when the size is too big for her comfort.
If she does this I will break the piece in half and give it back to her. This usually solves the problem.
Check it
Babies spitting out food could be because they are checking to be sure that the food was chewed enough.
Still learning the process
Your child may still be learning how the chewing process works. Eating is a learning process and something that takes practice! The mouth does a lot of work before your little babe is able to comfortably swallow their food.
Why is my baby suddenly spitting out food?
Teething
As you know, teething affects so many things! Teething causes a lot of discomforts, as I am sure you are aware! My teething toddler reminds me of her discomfort often. I feel for her.
Sometimes my daughter will spit out her food if cold food is sitting on her newly ingrown tooth. Occasionally, I will have to move the food away from her new tooth.
(RELATED POST: 7 Most Effective Natural Teething Remedies)
Not feeling well
If your little one is not feeling like themself and is feeling under the weather, that could be a possible reason why they are spitting out their food all of a sudden.
Not hungry
They also might not be hungry. Perhaps their last snack was not too long ago and they just aren't ready to chow down.
Tired
Perhaps your baby is feeling tired and fussy. I learned that it is never a good idea to offer food to my daughter when she is tired and fussy. It never goes well!
Sensory Issues
You may have a toddler spitting out food due to sensory issues. When they put the food inside of their mouth, you may notice them spit it out.
To explain it simply, they may have trouble with how a particular food looks, feels, tastes, or smells. When your child eats something their brain also processes the food as well as the experience. If your child experiences something they dislike about the food, they will spit it out. They will also remember their experience with a particular food.
My daughter always loved sweet potato fries. But, it took her many times before liking mashed sweet potatoes. At first, she did not like the mashed texture of the sweet potato. I am happy to report that she came around to the texture and now she is obsessed with anything mashed.
This article does a great job of explaining sensory issues in great detail. 
How to stop toddler spitting out food
Tips and Tricks
Be consistent
Consistently offer new foods to your little darling. Consistency is how I got my daughter to eat successfully without spitting or throwing her food.
Do not fight
Do not fight with your baby during mealtimes. You want meals to be a pleasant experience, not a stressful one. Try to stick to a feeding schedule so they become familiar with when they are expected to eat.
Keep it interesting
Always offer new foods to your little one. Don't we all like to switch it up sometimes?
Eat together
Try to eat together as much as possible. This does not always work out, but it really does help to eat with your baby. This shows them what eating looks like and makes them feel more comfortable trying new food.
Involve your little one
Involve your babe as much as possible. That might look like them helping pick out food at the grocery store or watching and helping you prepare meals and snacks.
Leave the spoon in their mouth
This is a tip geared more toward babies who are newer to eating. It works! When feeding baby, leave the spoon in their mouth for a few extra seconds. They will suck the food off the spoon and swallow it instead of spitting it out. Sucking comes naturally to babies. There is a genius mom hack for you!
Try again
Sometimes littles will spit their food out to look at it and make sure that it is chewed up. Let them put food back in mouths after spitting it out.
Offer cold food
If your toddler is teething, give them some relief by offering them cold food. My daughter is currently teething and is a huge fan of anything cold. She loves all her fruit cold. She also loves her sweet potato fries served cold.
Implement a feeding schedule
Kids need structure. Providing your child with a schedule for napping, eating, and playing is so beneficial. I am not super strict when it comes to our daily schedule. She has her meals, snacks, and takes her naps relatively around the same times each day.
This way she knows what comes next and it makes transitioning super easy.
Other Common Eating Issues
Other common eating issues consist of throwing food, swatting food away, and refusing to sit in the highchair.
If you have not already visited my post about how to deal with a picky eater, go there now! This post addresses other common eating issues your babe might be experiencing.
Eventually, eating will click for your baby and they will eat successfully.
This post was all about toddler spitting out food.
You May Also Like:
7 Healthy Toddler Snack Ideas Your Babe Will Eat Up
8 Absolute Musts On Our Minimalist Diaper Bag Checklist