This post may contain affiliate links. Meaning I receive a commission for purchases made through those links, at no cost to you. As an Amazon Associate I earn from qualifying purchases. Please read full disclosure here.
Here is everything you need to know about a 13 month old sleep schedule.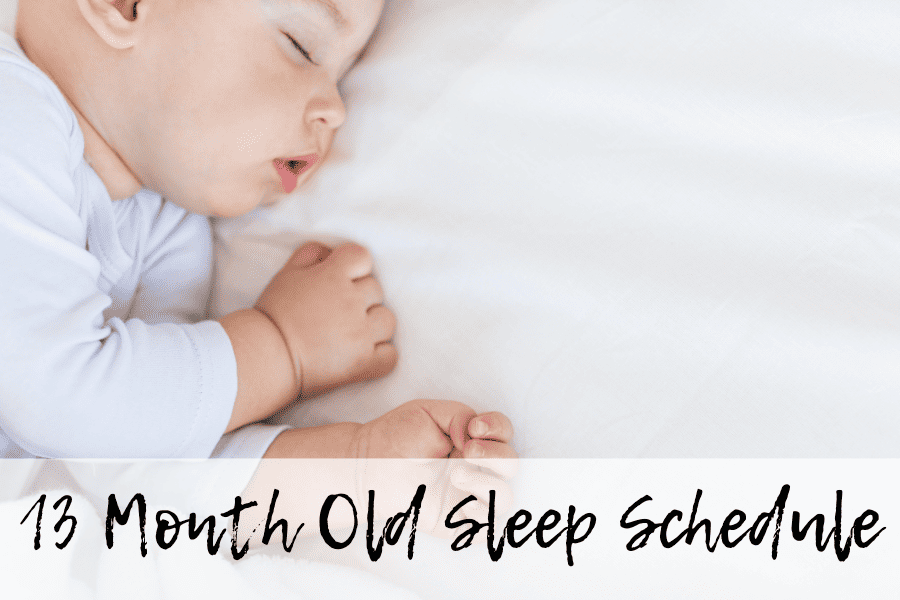 Are you concerned about your current 13 month old sleep schedule? I know as my daughter continues to grow I am always researching what her sleep schedule should look like. Keep in mind that every baby is different. Your baby may thrive off of two naps a day at this age. If your baby is like my daughter, they may prefer taking one nap a day. I like this because this means I get really long mommy time.
You may be wondering if there is a 13 month old sleep regression, what wake windows should look like, a sample nap schedule for 13 month old, and how many hours they should sleep. As a mama whose daughter was a 13 month old just two months ago, I am sharing all the information and experience with a 13 month old sleep schedule.
This post is all about a 13 month old sleep schedule. 
Everything About Your 13 Month Old Sleep Schedule
13 month old sleep schedule
Let me start by saying that every child and every family is different. If your child does not have this exact 13 month old sleep schedule, that is perfectly fine. Whatever schedule you decide on is great! Having a baby sleep schedule is crucial! Routine and schedules make everything easier.
For example, it is recommended for babies at this age to have two naps. My daughter has a nice long midday nap. It works for us! That may not be your babe's jam. You will find what works.
Toddlers have a mind of their own. Toddler feeding, toddler sleep, toddler everything can be a major challenge! I say this to remind you to be patient. I have found that being consistent and having a daily schedule makes a tremendous difference.
Use this information to help you pick the sleep schedule that works best for your little babe. Below is a sample nap schedule. Of course squeeze meals, milk, and a snack or two in between.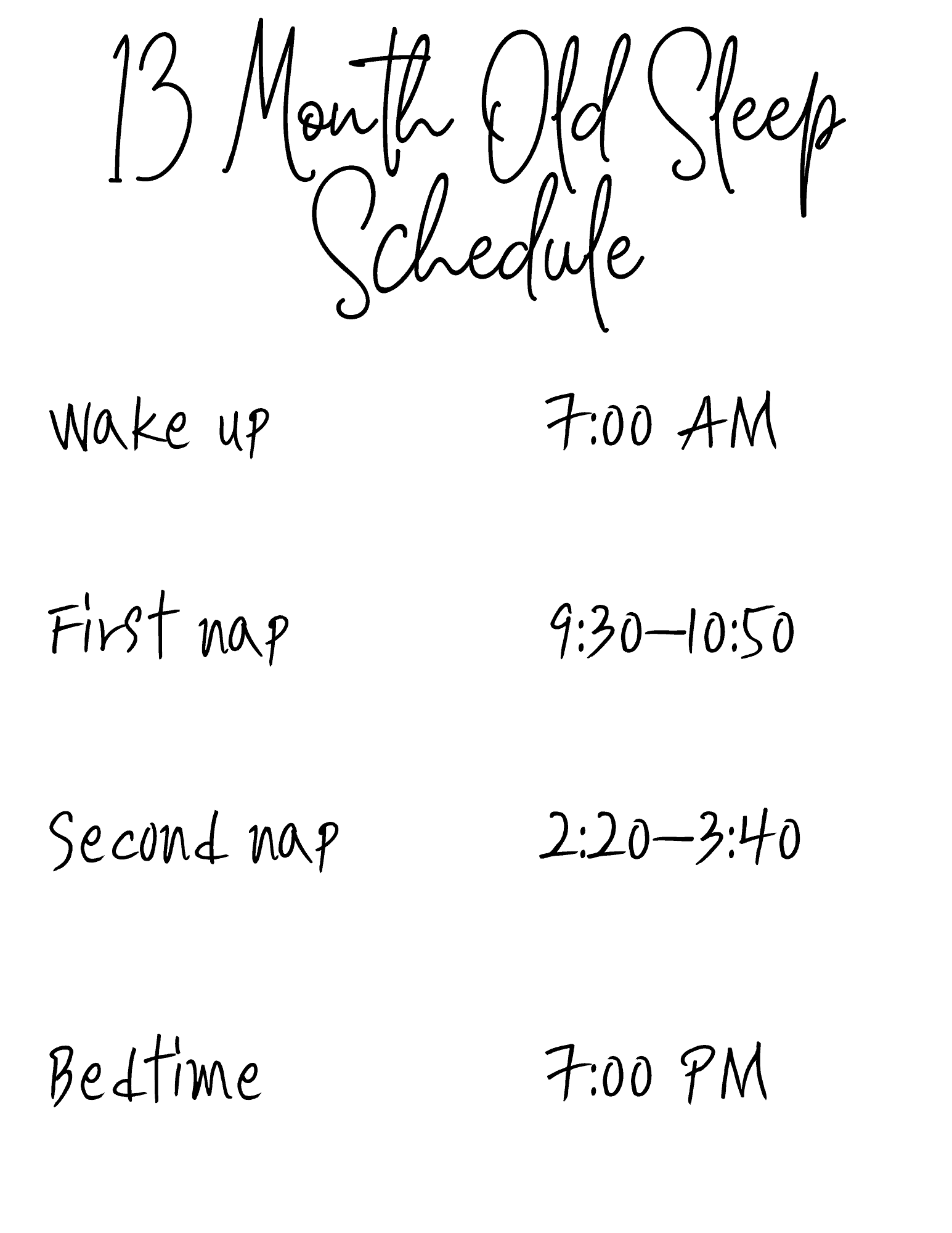 If this schedule does not work for you, feel free to adjust the times. Whatever 13 month old nap schedule you choose, try to stick to your routine. Consistency, consistency, consistency.
Goodnight Sleep Essentials
My baby used to have trouble sleeping through the night because of her eczema. My poor daughter would wake up scratching herself and crying due to being so uncomfortable. Once I dressed her in pajamas made of bamboo, that changed the game. COMPLETELY!
I love these pajamas! They stand the test of time and are so soft. If you have visited my blog before, you know I love bamboo pajamas because they are super soft! I love this brand and highly recommend you buy a pair to keep your baby cozy at night.
Here is another one of my favorite pajamas. I love these for the same reason as the pajamas mentioned above. We only use bamboo pajamas in this house! Comfort is key.
PRO TIP: Remember to have a simple bedtime routine in place. My daughter's bedtime routine consists of applying lotion, brushing her teeth, changing into cozy pajamas, and ending with a story. What does your 13 month old sleep routine look like?
(RELATED POST: 26 Toddler Must Haves We Love)
What time should a 13 month old go to sleep?
Your baby may thrive from two naps a day. One nap in the morning and the second in the afternoon.
If your baby is like mine, he or she may prefer to take one nap a day.
The above sample schedule will help you plan nap times accordingly.
What is a good bedtime for a 13 month old?
Every family has a different schedule. We all do what works best for our family.
A great bedtime for a 13 month old is between 7:00 and 8:00.
Since sleep training my daughter, her bedtime was 6:00. Sure we occasionally had nights where a 6:00 bedtime was a struggle. This tended to happen if we got home late. Most nights, we were beginning the bedtime process at 6:00. I always love a schedule, but I am not by any means married to it.
Now that my daughter is older and my husband works a new job that requires him to work later nights, we pushed her bedtime back to 7:00. This allows my husband to spend more quality time with our baby girl. The point is, you may need to shuffle your schedule around a little. She does great with her new 7:00 bedtime. Pushing her bedtime back did not change what time she wakes up in the morning.
If your child struggles to sleep soundly throughout the night, you may need to make some adjustments to your schedule. If they have difficulty falling asleep, wake up during the night, or wake up early in the morning, you may want to change their bedtime. Perhaps moving their bedtime a bit earlier would make a positive difference.
On days when my daughter did not nap at all or did not get a quality nap, I push up her bedtime! A cranky baby is not a happy baby. Or a happy family!
How many hours should a 13 month old sleep?
How much sleep should a 13 month old get? For your 13 month old baby, shoot for 11-12 hours at night as well as 2.5-3 hours of sleep during the day.
Your baby may benefit from two naps 60-120 minutes long.
Try to have between 3 and 4 hours of awake time between naps.
My daughter takes one nice long midday nap. I have to say it is quite nice to get a long midday break to relax or get a few things done. Things I am unable to do while my daughter is up.
Why is my 13 month old waking up at night?
Disruption in the schedule
If your baby slept too long during the day or did not sleep enough during the day, this can certainly cause a disruption in their sleep.
Sick
If your little one is feeling under the weather this can cause them to wake up during the night. I know if I am congested I have a harder time getting quality sleep.
Sleep regression
I am sure you are familiar with sleep regressions by now. Seems like they just keep popping up! My daughter is currently going through a sleep regression now. In fact, she fought to take a nap today.
The good ole sleep regressions are notorious for interrupting sleep. Not just for your child, but for us parents too!
Teething
Teeth bursting through their littles gums causes them to be cranky, uncomfortable, and flat-out unhappy campers. If your baby is getting a lot of new teeth in or a super unpleasant tooth like a molar, this could certainly be a reason why your baby is waking up at night.
(RELATED POST: 7 Most Effective Teething Remedies)
Separation Anxiety
Your 13 month old may wake up missing you. Many babies go through stages where they cling to us. Separation anxiety does have a direct effect on your 13 month old sleep schedule.
Why is my 13 month old waking at 5 am?
There can be several reasons to explain why your little one is waking up at 5 am or super early.
Light
If the sun or an outdoor light is peeking through the curtains, that could cause your little one to wake up early.
If you do not have blackout curtains in your babe's room, you need to buy some! I am obsessed.
Bedtime needs to change
Bedtime might be too late. I was one of those parents that initially thought a later bedtime might encourage babies to sleep in. That is not true.
If your baby is waking up too early, try moving their bedtime up 30 minutes. The fix is that simple.
Naps need adjusting
Naps impact your 13 month old sleep schedule. If your first nap is too early, that might contribute to your baby waking up early.
You may want to evaluate your wake windows and duration of naps during the day.
Is there a 13 month old sleep regression?
Typically, there is a 12-month sleep regression. This does not mean that your baby can't experience a 13 month sleep regression. It is possible for your baby at 13 months old to have a sleep regression. Sleep regressions and milestones don't always happen exactly on time.
These regressions are always tough and certainly change sleep patterns temporarily. Hang in there. They are only temporary.
Don't forget when making your schedule for a 13 month old baby to also include playtime. I quickly learned that my daughter needs time to play and get her energy out before taking a quality nap. Tire your little one out!
This post was all about 13 month old sleep schedule. 
Other Posts You May Like:
7 Most Effective Natural Teething Remedies
Here's Exactly How To Manage Baby Eczema This Week