This post may contain affiliate links. Meaning I receive a commission for purchases made through those links, at no cost to you. As an Amazon Associate I earn from qualifying purchases. Please read full disclosure here.
Are you desperate for baby food strategies that will encourage your picky eater to just eat something?! I have been where you are.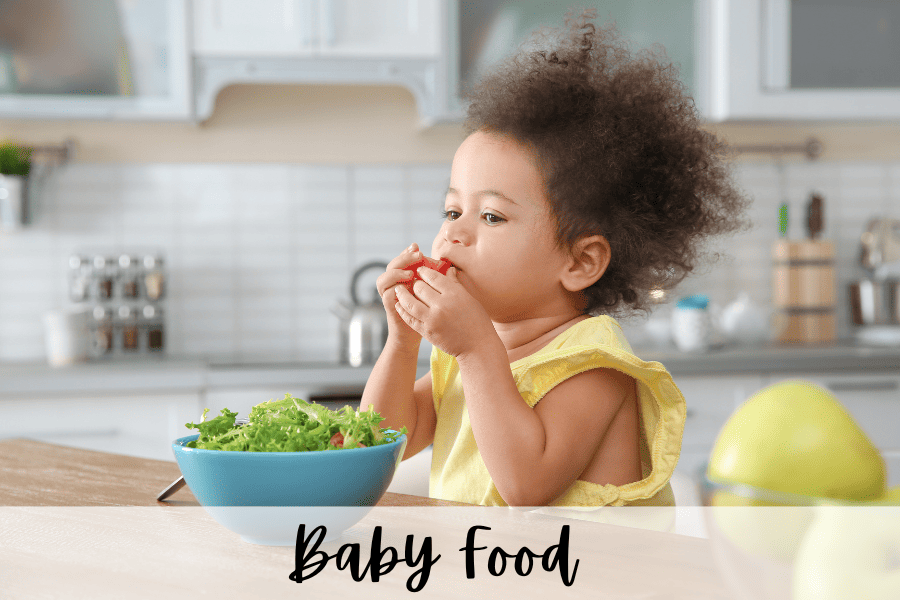 You are here because you want to learn smart baby food tactics that will help your little one gobble up everything that is on their plate. Does your little one make frustrated noises, push food away, or even throw food on the floor? Mine did all of those things.  Eating used to be stressful for all of us. Now take a deep breath. Things can change! I know because they changed for us. Eating is now fun, just like it should be!
Baby Food Tactics That Worked For Us
Our Struggle
I am one of those moms who has a fear of choking. I gave purees to my daughter for the first 9 months of her life because I was so worried about her baby food being too difficult for her to swallow. Baby-led weaning scared me and I was afraid to begin feeding her finger foods first. Of course, I understood the day would come for her to eat real solid food. I was scared.
I knew how important it was that she had enough time to practice eating before her first birthday so she could safely and comfortably enjoy the homemade & healthy baby smash cake I planned to make her. Anxiety-free first birthday please and thank you!
Before I introduced her to solid food, I bought the LifeVac. I hoped to never need to use this. Having one at the house made me feel more comfortable with the introduction process. If you are a mama who is terrified of choking, I highly suggest you buy one of these. They even sell one for traveling. In my honest opinion, I'd rather be safe than sorry.
So the day had come. I finally began introducing food that wasn't pureed to my little one. I was prepared to feel anxiety about her eating safely, but was not prepared to feel anxiety about her being such a picky eater. As I am sure you are aware, one-year-olds require more calories. Consuming three meals and two snacks every single day was a MAJOR challenge. She would grunt, push the spoon, throw fits, and refuse the highchair. It was awful. I was desperate to find baby food strategies that would turn my picky eater into a pleasant and adventurous one.
Looking for Baby Food Recipes?
Before introducing finger food to my baby girl, I was the puree Queen! Click below for baby food recipes that your little darling will eat up. My daughter loved them all.
(RELATED POST: 5 Nutritious Baby Food Recipes 6-8 Months That Every Mama Needs)
Looking for Toddler Recipes?
Click below for easy and nutritious toddler recipes. These baby food recipes are all tested and toddler approved!
(RELATED POST: 7 Healthy Toddler Snack Ideas Your Babe Will Eat Up)
Offer A Variety Of Options
My first piece of advice is to offer a variety of options. The pediatrician recommends toddlers eat three meals a day and two snacks. My first thought was that is a lot of baby food! For meals, I always give fruit, veggie, and protein.
My daughter has always LOVED fruit. Finding a fruit she liked was never a challenge. She likes them all. She also could eat sweet potatoes for breakfast, lunch, and dinner. Protein was always tough to get her to eat.
When I say offer a variety of options, I am not suggesting that your kitchen becomes a restaurant. Simply offer a fruit, veggie, and protein. Try to switch up what meals look like. From my experience, offering the same meal was ineffective. When I offer a different lunch on Tuesday than on Monday, she is intrigued. As a result, she will eat!
If your little one still seems picky at first, keep offering a variety of food! My daughter was picky for the first week or so. Then it just clicked. Now she eats just about everything I offer her.
I offered chicken to my daughter 10 times before she finally ate it. Now she shovels chicken like it is nobody's business!
Buy Products That Will Make Feeding Easier For Your Little
This feeding set is perfect for serving baby food. It contains a mini mat, a mini fork, and a mini spoon. It has sections perfect for serving fruit, vegetables, and protein. It is also so easy to clean. I especially love this because it has a protective mat. I am all for toddler-eating products that offer a bit of extra protection from a big ol' mess!
You will want to buy a cup set too. You can't serve baby food without something for your babe to drink. I love that these cups help your babe master drinking from a real cup. If your baby is just learning to drink, it comes with a soft straw. After using the straw, they can tilt the cup back while learning to drink from a spout. Finally, when they are ready they can drink from a regular drinking cup. These cups will last you a long time! Products that grow with your babe are the absolute best. You get more bang for your buck that way.
Toddlers are insanely messy eaters. They end up covered in food by the end of the meal or snack. As a neat freak, I struggled with the mess that goes along with eating. Don't get me wrong. I understand the mess is important. Anyway, sleeved Bibs are the BEST! They help keep your little one way less messy. I especially love that these sleeved bibs are waterproof and that they have food catchers. Waterproof bibs are the way to go. Cloth bibs stain way too easily. I wish I knew this before buying so many cloth bibs!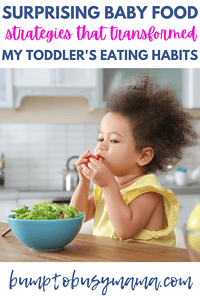 Repetition is Key
If your baby does not like a particular food or is unwilling to try it, keep offering it! It can take SEVERAL times before babies take to certain foods. The CDC says your toddler may not like a particular food until they are offered it more than 10 times. This was true for my daughter. It took many many times before she liked chicken, eggs, and bread. That is just to name a few.
Protein was always a struggle to get my daughter to eat. She liked peanut butter the first time, but then she decided she didn't like it anymore. It took more than 10 attempts of offering chicken before she agreed to try not. Now she can't get enough of chicken. Turkey was like peanut butter. She liked it the first time, but not the next. Or the time after that.
After repeated attempts, she is now happy to eat all the protein.
Do not give up. I know how frustrating it can be to take time to prepare a meal that your child doesn't want anything to do with. It will get easier with time.
Make Food in Front of Your Little Darling
My daughter used to get very fussy in her highchair. I think this was because mealtimes used to be so stressful.
I found that she likes to be a part of the cooking process. She enjoys watching me chop fruits and vegetables. Sweet potatoes are her absolute favorite. She enjoys watching me skin, crinkle cut, and drizzle olive oil over her favorite vegetable. She even claps when I pop them in the oven. When the timer goes off she beckons for me to give her a fry.
It sounds silly but I sometimes treat it like a cooking class. I explain to her what food I am preparing and the steps involved. Toddlers love to be included in everything. Include yours as much as possible. My daughter is always so excited to watch me whip something up in the kitchen. By now she knows what it means when she hears the timer go off.
When I began making food in front of her that was a game changer. Doing this made her curious about what was on the menu for the day and would ask me for some before I finished chopping. We are practicing patience!
Have Plate in Plain Sight
This tip changed everything. I will admit that I was a bit controlling during mealtimes. I would offer my daughter baby food of MY choosing from her plate. If you have visited my blog before, you know that I do not like a mess. I quickly learned that I needed to let go of that control.
So I began putting all of her food in front of her. Her fruit, vegetable, and protein were placed right in front of her. Finally, she began eating. I couldn't believe my eyes. She wanted to be able to eat her food groups in the order she chooses and she wanted to feed herself. Not for mommy to feed her. She shoveled the food into her mouth. I had to remind her to slow down. It was like I was looking at a totally different baby.
Please take my advice and give up control. Allow your little ones to see all of their food and feed themselves.
Eat Together
Try to eat together as much as possible.
Just seeing mommy and daddy eat is encouragement enough for little ones to eat up what is on their plate. This helped my daughter enjoy eating. Once she sits in her highchair and sees that it is family dinner time she is waving her arms in the air with excitement.
Praise
At the beginning of this baby food journey, my daughter refused to eat many different types of food.
I did not give up offering her food. Even if she swatted away the turkey, she would be offered turkey several more times. So when the day came when she finally agreed to try the turkey, I praised her. I clapped and said, "Good job!" Kids love to be praised. She would then take bites, clap, and smile.
Kids want to make us happy. So when they do a good job eating, praise them for a job well done.
This post was all about smart baby food strategies that will turn your little one into an adventurous eater. These worked for my daughter. I hope they work for your babe!
Other Posts You May Like:
Where To Find A Great Baby Food Jar | Researched By One Curious Mama
17 Best Postpartum Must Haves That Got Me Through
7 Genius Playroom Organization Tips Guaranteed To Make Your Whole Family Happy