This post may contain affiliate links. Meaning I receive a commission for purchases made through those links, at no cost to you. As an Amazon Associate I earn from qualifying purchases. Please read full disclosure here.
Are you in search of an 8 month old baby food menu? Here you go! I am sharing mine.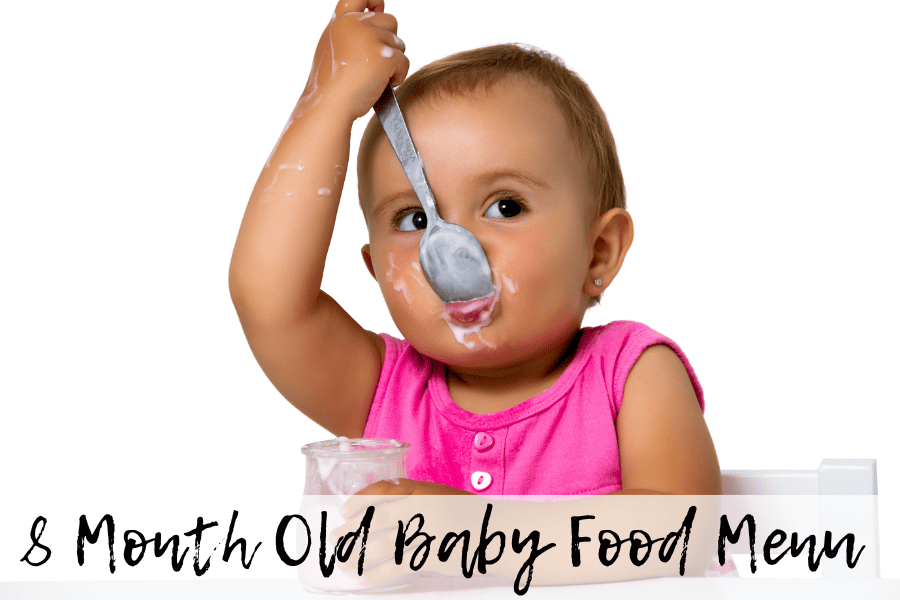 This 8 month old baby food menu will add simplicity to your life. It wasn't too long ago that your baby was just starting solid foods. I am sharing with you the same menu I used for my daughter. As you know, your baby's caloric intake increases as they grow older. Exposing your child to a variety of food is so important.
When my daughter was this age I wanted to find 8 month old baby food ideas that she loved. It was also important to me to pick food that would nourish her growing body. Even as a toddler, it is still important to me to feed my daughter nutritious food. I figured out very quickly the significance of developing an 8 month old baby food schedule each week. Having a routine and plan for the week is essential! I live by a daily schedule. So does my daughter. Kids need structure. For example, my babe knows that every morning when she wakes up, she will have breakfast. After lunchtime, she knows that it is nap time.
Another burning question I frequently wondered was what the serving sizes look like for an eight month old baby. Frankly, I continue to wonder about this as she grows bigger and bigger. Stick around because you are getting a sample 8 month old baby food menu that helped me feed my baby girl. Plus other helpful information!
This post is all about an 8 month old baby food menu. Hopefully, it gives you new ideas! 
The Best 8 Month Old Baby Food Menu
How Much Solid Food Should An 8 Month Old Eat?
As far as 8 month baby food goes, your baby is still reliant on breastmilk or formula as their primary source of nutrition. Breastmilk or formula should remain a part of their diet.
Your baby should consume a total of 750-900 calories. Out of that total, 400-500 calories should come from either breastmilk or formula.
When my baby was 6-8 months old, I followed the following serving sizes:
Grains/fruits/vegetables: 4-9 tablespoons daily
Protein/Meat: 1-6 tablespoons daily
Keep this information in mind as you prepare your 8 month old baby food menu.
8 Month Old Baby Food Schedule
According to the World Health Organization, babies between 6-8 months old should eat two to three times a day. Whereas babies between 9-24 months can eat three to four times a day. Healthy snacks can be offered once or twice daily. 
Remember to introduce solid foods to your little one slowly. You want to pay close attention to your baby while eating. My baby girl had an allergic reaction to pineapple. We knew she had a pineapple allergy because we introduced that food alongside food she had already been exposed to. Knowing that a food allergy may not happen during the first feed is worth knowing. In our case, it reared its ugly head during the second interaction. Be sure your baby is not shoveling their food and never leave them alone during mealtimes.
Here is a sample meal plan that I used. Feel free to add these foods to your 8 month old baby food menu!
(RELATED POST: 6 Yummy Baby Food Recipes Stage 1 To Whip Up Right Now | Plus Helpful Information)
8 Month Old Baby Food Chart
I wrote a post that features a free download of a baby food chart by age. It details food to introduce to your baby at EVERY stage. I added a section for you to take notes about what your baby loves and what food your baby isn't a big fan of. This makes it so easy to meal plan for your 8 month old baby food menu! Click the post below to read more information about baby food chart by age.
(RELATED POST: Beginner's Guide: Baby Food Chart By Age | This Will Help You Plan Mealtime)
Feeding Necessities
Whether you formula feed or breastfeed, remember that your baby's main source of nutrition is breastmilk or formula until the first year.
The feeding essentials below go hand in hand with your 8 month old baby food menu. Here are some feeding necessities for your eight-month-old baby:
You will need a feeding set! Personally, I bought feeding sets that were great for toddlers too. I always like to have a variety of options for my daughter. I did not buy too many feeding sets for starting foods because I was gifted so many. I think you get more use out of the feeding sets for toddlers because you will be using them longer. That is just how I feel. Do what works for you and your little one.
You will also want a bib set. I am a huge fan of the easy-to-clean bibs with food catchers. I made the mistake of buying so many cloth bibs and hardly used them. I got so frustrated with how easily they stain and how difficult it is to get stains out of them. These bibs are the way to go!
This drinking cup is perfect. It is great because it will grow with your baby. These cups are also textured, which makes them really easy for your baby to hold. The bottom is also weighted so it is not as easy for your baby to make a big ol' mess by tipping it over!
(RELATED POST: 7 Shocking Baby Food Strategies That Transformed My Toddler From A Picky Eater To An Adventurous One)
What Food Can I Give To My 8 Month Old Baby?
It is so important to offer your baby a variety of food. When shopping for meals to feed your baby for the week, keep these healthy foods in mind:
Fruits
Vegetables
Dairy
Fish
Protein
Grains
The free downloadable freebie in the post- Beginner's Guide: Baby Food Chart By Age | This Will Help You Plan Mealtime spells out which food you can give to your 8 month old baby. The food in the sample meal plan is all safe for a baby at this age to consume and they include the important foods noted above.
If you do not already have the app Solid Starts downloaded on your phone, you need to download it now! You can enter any food and find out when it is recommended to introduce it to your baby, and how to serve it based on their age, allergies, and other helpful information.
8 Month Old Baby Food Ideas
Quinoa and diced bell pepper
Mac & cheese with mashed peas
Egg and zucchini
Oatmeal and barley
(RELATED POST: 5 Nutritious Baby Food Recipes That Every Mama Needs)
What Finger Foods Can I Give My 8 Month Old?
When your baby is starting solids, you can give your baby easy finger foods to eat or purees. Either way, the American Academy of Pediatrics encourages parents to foster self-feeding. Encourage your baby to feed themselves with their hands or spoon. Don't be afraid for them to get messy!
My favorite tip for making easy finger foods is to use a crinkle cutter! This is the one I use and it is literally my favorite kitchen tool. I use this to make homemade sweet potato fries, cut avocado, and bananas. This tool makes it so easy for your baby to grip and feed themselves easily. My daughter's favorite finger food is crinkled sweet potato fries. If you want the recipe I linked it below! I guarantee your baby will love them.
(RELATED POST: 7 Healthy Toddler Snack Ideas Your Babe Will Eat Up)
How Much Milk Should My Baby Drink?
Do not introduce cow's milk until your baby is one year old.
At 8 months old, in addition to solids, your baby should consume 24-32 ounces of breast milk or formula.
This post was all about 8 month old baby food menu.
Other Posts You May Like:
11 Healthy Baby Food Subscription Options That Are Totally Worth It
9 Important Tidbits About Baby Food Stages That Will Help You Tremendously