This post may contain affiliate links. Meaning I receive a commission for purchases made through those links, at no cost to you. As an Amazon Associate I earn from qualifying purchases. Please read full disclosure here.
Are you searching for the best baby food jar? I got you covered!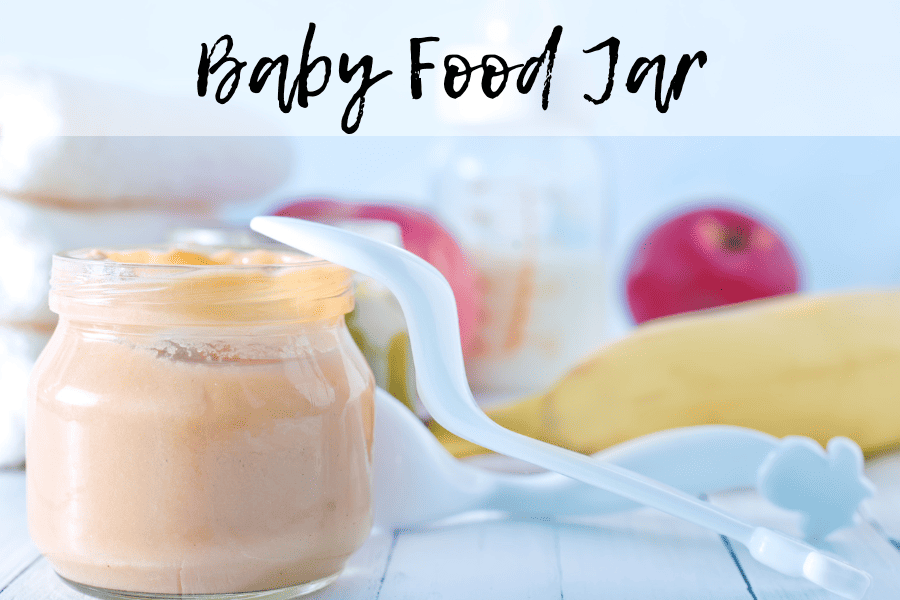 Making homemade baby food is so much fun. I love trying new recipes for my sweet girl and seeing her reactions to new food! If you are like me, you have probably wondered which baby food jar is the best for storing baby food. As a mommy first and a baby food-making chef second (full disclosure: I am only a chef in my family's eyes!), I am giving you great baby food jar candidates, and the one I ultimately went with buying to store my baby girl's food.
You are going to learn about baby food jar options and where to find them. Now that your little one is trying new solid foods, having a great baby food jar is a necessity.
After learning about the best baby food jar containers, you are going to be able to confidently pick which one works best for you and your family.
This post is all about baby food jar options as well as where to find them. Hopefully, this helps you decide which one you would like to use!
Best Baby Food Jar
When looking for baby food jars it is very important to be sure that the jars you choose are freezer-safe. I only store baby food in the fridge for 2 days. Everything else gets frozen and stored in the freezer.
The first three baby food jars are very similar. For that reason, they all made the list.
Glass Baby Food Jar Options
1. WeeSprout Glass Baby Food Storage Jars
In my opinion, baby food jars with lids glass are the way to go. These jars have a lot of great qualities. You can prepare up to 4 ounces in each jar. The measurements are very clearly marked. If you are searching for baby food jars 2 oz, you can simply fill half of the jar. You are able to write the food and date made on the lid with an expo marker. WeeSprout jars come in a pack of 12.
They are lead, BPA, phthalates, and PVC free, and are all-natural and non-porous.
These jars make proportioning and serving food seamless. These are very similar to the jars I ended up going with.
2. Safe Spoonfuls Big Batch Baby Food Storage Containers
Here is another great baby food jars with lids freezer-safe option. What I love about Sage Spoonfuls is that you can pick the size count. You can buy 4-ounce, 8-ounce, or a mix of 4 and 8-ounce jars. I love the idea of buying a mix of both sizes. This makes prepping food easy as your baby grows and begins eating larger portions.
They are BPA, phthalate, and PVC-free.
These glass jars are durable, leakproof, dishwasher, freezer, and microwave safe.
3. KeaBabies 12-Pack Glass Baby Food Containers
These baby jars 4 oz are amazing! After some research, I ended up going with these jars. I knew that I wanted to store my homemade baby food in glass containers. These come in a pack of 12 and have a variety of colors. I ended up buying two sets because I like food prepping in bulk. What I really LOVE about these jars is that I can use an expo marker to write on the lid. Similar to the other jars. I also like the color options KeaBabies offers.
They are dishwasher, microwave, and freezer safe. If you choose to put the jar in the microwave, remember to remove the lid. They are also lead, BPA, phthalates, and PVC-free.
The measurements are clearly marked on these jars. This is really helpful because you can see easily prep 2 ounces for when your baby is just beginning solids and 4 ounces for when your baby has more experience with eating.
They also do a great job of sealing the food. I do not have any complaints about these baby food jars! I strongly recommend these jars for mamas who like to meal prep. You really can't go wrong with these.
(RELATED POST: 5 Nutritious Baby Food Recipes 6-8 Months That Every Mama Needs)
Silicone Baby Food Jar Options
4. BEABA Multiportions Premium Quality Silicone Baby Food Storage Container
This is a very popular option. These containers are designed for freezing and storing baby food. This silicone container is sectioned into 6 pieces. Each section holds 3 ounces of baby food.
This is another option that is baby safe.
It comes in gray, pink, or blue.
You simply store this container in the freezer. When you are ready to warm the baby food you can just pop out however many servings you would like to prepare.
It is also dishwasher, freezer, microwave, and oven safe.
TIP: I know moms who chose this baby food storage container who also bought reusable storage bags. They like to store their homemade purees in the storage bag so they can reuse the food storage containers for a new batch. Use or lose!
5. WeeSprout Silicone Baby Food Freezer Tray
This option is similar to the BEABA container. This freezer tray holds 10 servings of 1.5. If you decide to go the silicone route, you can decide the tray that best aligns with your baby's appetite. Whatever works best for you!
This freezer tray comes in a variety of colors.
It is made of 100% food-grade silicone.
6. Kiddo Feedo Baby Food Storage Container
This option is similar to the other silicone options. This container comes with a free e-book about baby feeding.
There are 9 2.5-ounce pods and the measurement is clearly marked.
The tray and lid are made from food-grade silicone and you can choose from a variety of colors.
Plastic Baby Food Jar Options
7. Munchkin Miracle 360 Trainer Cup and Snack Catcher
This set is great. The trainer cups are 10 ounces and the snack cups are 9 ounces.
The cup helps avoid spills by sealing when children stop drinking from it.
The snack catchers are spill-proof.
Both the cup and snack catchers are easy for kids to grasp.
8. OXO Tot 12-Piece Baby Food Storage Container
These are great because they come in a set with a tray. There are 2 and 4-oz containers in this set.
They are easy to stack and easy to travel with because they have a snap top.
These are BPA, phthalate, and PVC-free.
Pouch Option
9. Baby Brezza Reusable Baby Food Storage Pouches
These pouches are another baby food storage option. These have a wide opening making them very easy to fill. 
They are easy to clean and are top-rack dishwasher safe.
It is made of high food-grade plastic. They are BPA, phthalate, and lead-free.
These come in a pack of 10.
Insulated/Travel Option
10. Skip Hop Insulated Baby Food Jar
This insulated jar is a great way to keep baby food either warm or cold when you are on the go. This option is great for mamas who travel often and need a way to keep their baby food safe.
This stylish jar should be hand washed and is not dishwasher or microwave-safe.
This brand recommends this product for children three years and up.
It holds 11 fluid ounces and is BPA and phthalate-free.
This jar comes with a matching spork. How adorable! There are also different design options to choose from.
(RELATED POST: 13 Baby Must-Have Items That Are Perfect For Your Little One)
This post was all about baby food jar options. Hopefully, this helped you decide which one works best for you!
Other Posts You May Like:
Informative Beginner's Guide: Baby Food Chart By Age | This Will Help You Plan Mealtime
9 Important Tidbits About Baby Food Stages That Will Help You Tremendously