This post may contain affiliate links. Meaning I receive a commission for purchases made through those links, at no cost to you. As an Amazon Associate I earn from qualifying purchases. Please read full disclosure here.
Looking for tips and tricks for brushing toddler teeth? These are the game-changing hacks for brushing toddler teeth I swear by!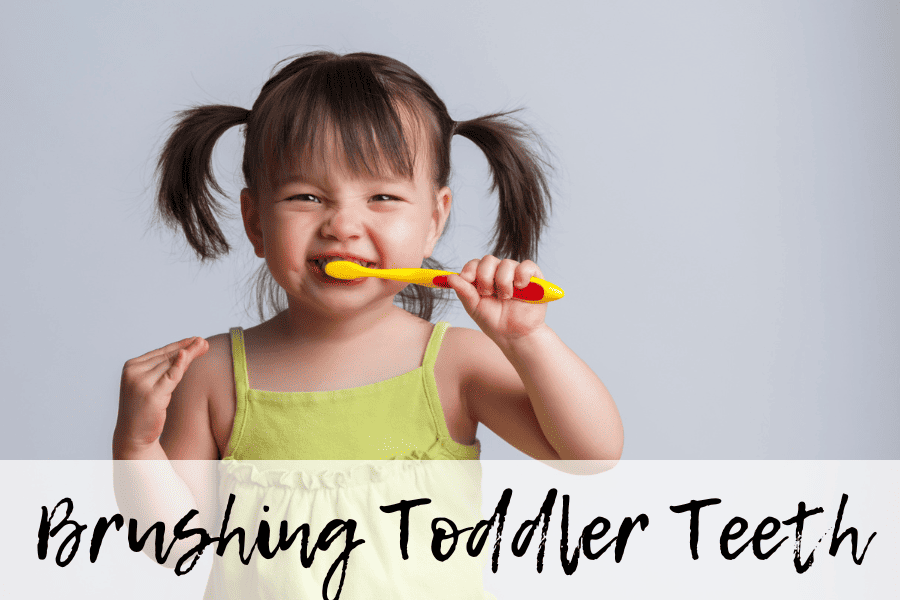 As a mama to an 18-month-old wild thing, I fully understand the daily struggle of brushing toddler teeth. Getting her to embrace the toothbrush and maintain good oral hygiene is not an easy task. This survival guide is providing you with 7 game-changing hacks for brushing toddler teeth. You can thank me later!
Healthy oral hygiene should be instilled in our little ones from the very beginning. This will foster long-term dental health. Brushing toddler teeth certainly comes with many challenges! From strong resistance filled with wiggling, squirming, and swatting, it can feel like a battle you're always losing. So if you can relate, stick around. I am sharing tried and true solutions to make brushing toddler teeth much easier.
I am giving you 7 game-changing hacks that are insanely helpful. These tried and true techniques will make your mornings and evenings more smooth and enjoyable. These tips and tricks will also save you lots of frustration and stress.
From starting early and being consistent to making it a fun and engaging experience. To the significance of leading by example and choosing toddler-friendly toothbrushes and toothpaste. You will also learn about the power of positive reinforcement, turning brushing into a routine, as well as the power of professional guidance.
Keep reading to discover essential strategies, creative ideas, and professional advice to help make brushing toddler teeth a harmonious routine. Let's get into brushing toddler teeth.
This post is all about brushing toddler teeth. 
Best Hacks For Brushing Toddler Teeth
Hack 1: Start Early and Be Consistent
The Significance
It is essential to start brushing baby teeth early in order to establish good oral hygiene habits. The American Dental Association reminds parents that there is a connection between oral health and overall health. Some parents may not realize that cleaning baby gums should begin at birth, but it should. Before your child has teeth use a damp washcloth to clean your baby's gums after feedings. This is also a great way to get your baby prepared for tooth brushing.
When your little one's first tooth sprouts through their gums, you are ready to begin brushing his or her teeth with a baby toothbrush. Before the age of 1, use fluoride-free toothpaste. It is important to understand that using toothpaste with fluoride is not recommended under the age of 1 year old. It is crucial to schedule an appointment with a pediatric dentist once you see your little one's first tooth. At least that is what my daughter's pediatric dentistry wishes.
Once your baby turns 1 year old your dentist will tell you it's okay to begin brushing toddler teeth with fluoride toothpaste. Brush your child's teeth every morning and every night. That is how often to brush baby teeth.
From 3 to 5 years old, you can increase the amount of toothpaste to the size of a pea. Continue brushing twice a day and strive for each session to last for 2 minutes.
Starting early and being consistent will help your child's oral health.
Tips For Introducing Brushing As A Regular Routine
The best tip for getting your child on board with the routine is to brush baby teeth regularly. Consistency, consistency, consistency.
Brush your teeth in front of your toddler. This will show them that everyone brushes their teeth. They love doing what we are doing. So why not let them see you take care of your teeth too?
I swear by a daily schedule. If you strive to brush their teeth around the same time every day, they will learn to expect it. When toddlers know what's coming, it makes them a bit more cooperative. Give it a try.
Hack 2: Make It Fun and Engaging
Creative Ideas
With toddlers, it is all about coming up with creative ideas to make brushing enjoyable! I have no shame that some days I brush my daughter's teeth while she is watching Miss Rachel. She gets a kick out of it when I play the Brush Your Teeth song. If you are looking for other fun dental care songs for kids, these are some other favorite tunes.
Most often I will have her lay on her back with her head in my lap. This position works really well for both of us. It allows me to get a good view of her mouth and she actually lets me get in there.
It is also a good idea to offer some type of reward or incentive after brushing their teeth. It doesn't have to be something extrinsic. After brushing my daughter's teeth in the morning, she will go off and play with her toys. Of course, she looks forward to independent playtime, so she lets me get in and get out without a hiccup.
Books
I am such a sucker for children's books. Here is a great book that encourages your little one to brush baby brush. Pop-up books are our favorite kind of books!
Here is another great book that helps resolve the toddler brushing teeth struggle many of us parents experience!
(RELATED POST: Supercharging Stay At Home Mom Motivation: Unleashing Your Inner Superhero!)
Hack 3: Lead by Example
Toddler teeth are just as important as adult teeth. It is up to us as parents to lead by example. Show your children the significance of dental health by starting and ending your day with a toothbrush. I like to brush my teeth first. This helps my baby girl transition smoothly. In my experience, this has helped reduce the resistance to brushing toddler teeth. When our kids see us do something, they want to do it too. Sometimes a little heads-up goes a long way!
When you model how to care for your teeth, be sure to demonstrate proper brushing techniques and involve your whole family. Allow your babe to watch daddy brush his teeth too. When it comes time for your toddler to take the reins and brush his or her own teeth, they will have a good example of how to effectively do this. Brushing baby gums and brushing baby teeth will need several demonstrations!
That leads us to how to brush 1 year old teeth and really all-age teeth! Use a toothbrush and toothpaste to draw small circles inside the mouth. Be sure to cover the outer and inner surfaces as well as the gum line. Do not use too much toothpaste. Apply the size of a grain of rice.
Hack 4: Choose Toddler-Friendly Toothbrushes and Toothpaste
Brushing baby teeth is effective with the right toothbrush and toothpaste. Fluoride prevents tooth decay and cavities and is safe to use once your pediatric dentist gives you the okay. We were told it was okay to make the switch to fluoride toothpaste once my daughter turned one year old.
Not every parent feels comfortable applying fluoride toothpaste to brush toddler teeth. These parents may decide to use Xylitol toothpaste, which is a natural alternative. Dentists tend to say that fluoride does a better job.
This is the toothpaste our pediatric dentist recommended that we use. Like toothpaste, there are so many toothbrush options for toddlers. You are going to replace your child's toothbrush every 3-4 months, so don't be afraid to switch it up. Here is a really fun toothbrush for your toddler to try out.
When choosing a toothbrush for your little one, you want to pick out a brush that is not too large. The bristles should also not be too firm. If you have questions about which toothbrush is the best fit for your child, consult the dentist. Perhaps an electric toothbrush is a good match for your little one. Especially if you use an electric toothbrush. After all, they want what we have.
Hack 5: Use Positive Reinforcement
Rewards go a long way. Here are some effective ways to encourage and reward your toddler during brushing. You can keep a visual reward calendar for your toddler. They can earn a sticker every time they do a good job brushing their teeth. Once they make it through the whole week, you can reward them with something they will enjoy.
Maybe you buy them a new toy, they pick out a new fun toothbrush, you read them an extra bedtime story before bed, or give them 10 extra minutes of wake time before laying them down for the night.
You may also decide to allow your toothbrushing toddler to choose somewhere fun to visit for the day after they have a great week. You can give them choices like going to pick up a yummy treat, visiting the zoo or aquarium, or spending the day fishing. Be creative!
Don't be afraid to switch things up. It is always nice to have a goal to work towards. Celebrate your little one's milestones and praise them for a job well done. This is great motivation for your little ones.
Hack 6: Turn Brushing into a Routine
Brushing baby teeth becomes easy when you implement a routine. Aim to schedule brushing toddler teeth around the same time each day. This helps your kids learn that they can expect to do this twice a day. When kids know what their routine looks like, life is much easier!
At this point my daughter knows we brush our teeth after breakfast and right before bed. Predictability is key. No resistance!
If your child is autistic, a visual daily schedule is super helpful. When I had students with autism in my classroom, I swore by a visual schedule.
(RELATED POST: Where To Find The Best Montessori Toys For 1 Year Old Toddlers | An Honest Experience)
Hack 7: Seek Professional Guidance
If at any point you are really struggling with brushing toddler teeth, consult your pediatric dentist. They have a plethora of tips and tricks. Of course, if you have a concern about their teeth or gums, share that with your pediatric dentist. These professionals are specialists in young jaws. Use their expertise!
Maybe you have heard that habits like thumb sucking and teeth grinding can have an impact on dental health. Pediatric dentists are there to provide you with strategies that will help your child shy away from these habits.
If you notice that your child is experiencing tooth or mouth pain, discoloration, sensitivity, or inflamed/bleeding gums, schedule an appointment with your child's dentist. Most dentists like to see your child when they are a year old or when their first tooth comes in.
Toddlers can be very challenging. If you or your child are struggling with brushing toddler teeth, they will be able to bless your family with their professional advice and personalized strategies.
Conclusion
These 7 game-changing hacks for brushing toddler teeth will make your mornings and evenings so much better. Remember starting early and being consistent is crucial. Lead by example. Those little eyes are always observing. Kids are little sponges. Choose the right toothbrush and toothpaste for your toddler. Positive reinforcement is always a big help. Praise your littles when they do a good job. Turn toothbrushing into a daily routine. This will make for smooth transitions and help set clear expectations. Seek professional guidance and schedule regular visits with your pediatric dentist.
These brushing toddler teeth hacks will get easier as time goes on. Consistency is key. Eventually, your toddler will stop resisting and embrace the toothbrush. It is so important for us to nurture good oral hygiene habits from an early age. This sets the tone for the rest of their life! I know these tips for brushing toddler teeth will change the game for your family. They certainly help me with brushing toddler teeth.
This post was all about brushing toddler teeth. 
Other Posts You May Like:
Quick Guide: How To Travel Light With A Toddler
20 Totally Awesome Water Toys For Toddlers (And You're Going To Want These)