This post may contain affiliate links. Meaning I receive a commission for purchases made through those links, at no cost to you. As an Amazon Associate I earn from qualifying purchases. Please read full disclosure here.
Are you on the hunt for the best Christmas gifts for 1 year old not toys? This list is sure to give you plenty of ideas for your shopping list this year.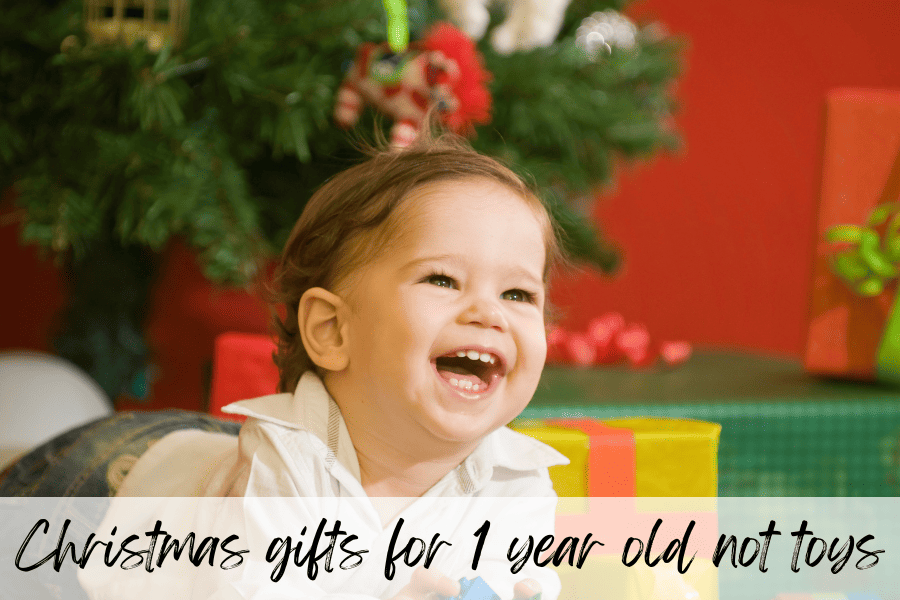 Your 1 year old probably has so many toys at this point, but you need help brainstorming Christmas gifts for 1 year old not toys. Between your family, friends, and toy subscription services your toddler most likely has a ton of toys. The holiday season is a time of joy, celebration, and gift-giving, especially for all the littles in the family. Finding the perfect Christmas gifts for your 1 year old is super exciting, but it is also very challenging.
If you are anything like me, you probably still plan to give your toddler toys for Christmas but you want to find thoughtful and creative alternatives- gifts that will also foster their development and create memorable experiences for years to come. Because let's face it, at 1 year old, children are undergoing lots of growth as well as exploration. They are curious to understand the world around them, and it is our job as parents to provide them with opportunities to grow in all areas of development. Sensory, creative, cognitive, social, gross-motor, and language and communication activities are all critical.
Besides development, you also want to shop for items that are cute, fun, and that are just plain sentimental. A great way to ensure that you find the best Christmas gifts for 1 year old not toys, is to research and narrow your ideas down to options that will likely pique your little one's interest as well as support their development. I did all the research for you. This list has all the best gifts for 1 year olds. You will without a doubt walk away with amazing Christmas gift ideas. 
Whether you are a parent, grandparent, aunt, uncle, or friend, these gift ideas are designed to make this Christmas a success.
This post is all about the best Christmas gifts for 1 year old not toys.
Best Christmas Gifts For 1 Year Old Not Toys
Practical and Useful Gifts
When you are shopping for gifts for your 1 year old, keep practicality in mind. As parents of growing children, we are always in need of essentials that make life with a toddler smoother. These gifts are practical and useful Christmas gifts for 1 year old not toys. Consider giving your child gifts that are functional, stylish, and comfortable.
Sleeping Bag
My daughter and I sometimes like to snuggle up on the floor together and watch a show, so this sleeping bag is perfect. I love that this sleeping bag comes with an adorable play pillow and that it easily folds up.
It is worth mentioning that we are not a camping family. So if you want to take your family camping, this is probably not the best sleeping bag choice. This is simply a fun and cute option for being indoors. Now for some more Christmas gifts for 1 year old not toys!
Overnight Bag
Does your toddler spend the night at their grandparents' house? This overnight bag is great for storing all their essentials. After packing the overnight bag, have your little darling zip the bag for added fine motor skills practice.
Backpack
Besides the fact that this backpack is chic, the padded straps are easy to adjust for your child. This backpack offers a lot of space for your must-haves. I especially love that for every bag purchased, they support American families in need. I like supporting brands that give back. Now onto more Christmas gifts for 1 year old not toys.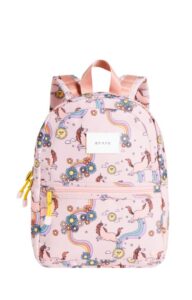 Suitcase
This luggage set is the best! Now that your baby is a bit older, traveling is a bit easier. This suitcase spins 360 degrees and it makes traveling a breeze.
Gift Card
Gift cards make for one of the best non-toy gifts. If you are a family member giving a gift card to a little one in your family you could give them a credit to a local toy shop. You could also just give the parents a Visa gift card.
Sunglasses
Ready for some more practical gifts? Sunglasses! These sunglasses are too precious. This brand offers sunglasses to children who are 0-2, 3-5, and 6 and up. If you're looking for non-toy gift ideas, these stylish glasses are essential.
You can also rest knowing that your little darling's eyes are protected. They offer UVA & UVB protection.
(RELATED POST: 68 Brilliant Activities For 19 Month Old Toddlers)
Here are some more Christmas gifts for 1 year old not toys.
Clothes
Clothes are another great option. You can never have too many clothes for your toddler. This is one of my favorite clothing brands to buy for my daughter. If you have visited my blog before, I am all about buying soft comfortable clothes since my daughter suffers from eczema. This brand is amazing for kids with sensitive skin. I have their short and long-sleeve bodysuits, leggings, shorts, and underwear.
Even if your baby doesn't have a skin condition, you'll still love this brand. They also offer 15% off on your first order. Can't beat that!
Pajamas
I always loved getting pajamas every year for Christmas. These are some of my favorite pajamas for my daughter. I have been buying these pajamas since she was a newborn. They are so soft and gentle on her sensitive skin.
Hats
We live in the South, so hats are a staple. Hats are great for younger and older kids. This hat is UPF 50+ and is reversible.
Scrunchie
Scrunchies are super cute. They can be worn for a special occasion or as an accessory to a casual outfit.
Socks
Socks are the perfect gift. They make great stocking stuffers. I remember always looking forward to new colorful socks in my stocking every year.
Shoes
Crocs are one of my favorite toddler shoes. There are so many fun colors to choose from, they are so easy to slide on and off, they're great water shoes, and you won't have to break the piggy bank. You won't regret buying these shoes. Take my word for it. Add these to your Christmas gifts for 1 year old not toys list.
Cups
Now for some more Christmas gifts for 1 year old not toys. My biggest mistake as a new parent was not having enough drinking cups on hand. Initially, I bought two thinking that'd be enough to start. Kids drop cups on the floor, get food all over them, and toddler cups just require a lot of washing. Do yourself a favor and buy more than just a couple of cups.
Having new drinking cups under the tree is a great way to start Christmas morning. We love these cups!
Plates
If your toddler is anything like mine, they're eating every few hours. So you could probably use some extra plates. These plates make the best gifts for 1-year-olds.
Utensils
You can't have plates without eating utensils!
Books
While curating this Christmas gifts for 1 year old not toys list, books first came to my mind. This book has to make it under your tree this year. Your one-year-old will love the popups in this book. Honestly, the whole family will enjoy this Christmas gift.
The Regulars Bundle
I love Tubby Todd, but I especially love this bundle. It comes with shampoo, lotion, and All Over Ointment. By the way, if you do not know about the magic of All Over Ointment you are missing out! It takes care of any redness, dryness, or irritation that appears on your little one's skin. I swear by it.
I use the fragrance-free bundle on my daughter. The hair and body wash are so gentle on her skin. This bundle is totally worth buying. You have to add this to your Christmas gifts for 1 year old not toys list.
The Regulars Bundle – The Regulars Bundle features 3 of our essential products to help with skin sensitivities in your family, all bundled together for extra savings when purchased here. Every product is gentle enough for newborns and toddlers and good for sensitive skin.
Bath Tub Crayons
Did you know that crayons help improve fine motor skills? Buy some bathtub crayons for your one-year-old to play with during bath time.
Toy Shelf
So this one is a bit pricey, but it is totally worth it. This toy shelf is the best home for your toddler's toys. It makes toy rotation so easy and I just love the toy storage.
Let's discover more Christmas gifts for 1 year old not toys.
Experience-Based Gifts
Next up on the Christmas gifts for 1 year old not toys list are experiences! Experience-based gifts help create long-lasting memories and enrichment in a child's life. Here are some great experience gift ideas for this holiday season.
Tickets to the Children's Museum
Last year my friend recommended taking my toddler to the children's museum. Children's museums are amazing for learning and exploration. I love watching my daughter's face as she visits someplace new. At a Children's museum, your little one can engage in hands-on activities, experience interactive exhibits, and imaginative play and curiosity at its finest!
Zoo Passes
Animals are so fascinating and entertaining for little ones. Take your 1-year-old to the zoo for the day and allow your tot to ooh and aah at the beautiful creatures around them.
This would also make for a great first birthday experience. My daughter's birthday is 5 days after Christmas so I am always brainstorming one long list of fun things to do and great gift ideas. Then I will decide what is for Christmas and what is for her birthday.
Trip to the Aquarium
Like a trip to the zoo, this would also make for a great gift for your baby. Here is another experience for your son or daughter to marvel at beautiful creatures. Now for some more Christmas gifts for 1 year old not toys.
Baby-Friendly Shows
Check out what is happening in your area. Look for age-appropriate entertainment for your toddler. There could be theatre productions, puppet shows, or music performances for little kids in your town.
Holiday Stroll
Go somewhere festive and take a nice holiday walk. My city puts on a lights show every year. People can drive through a park and check out the beautiful holiday lights. There is an area where you can park and walk around. Here there are stores for Christmas shopping, a place to get hot chocolate and yummy treats, a holiday art display done by kids in the area, and more. Our family looks forward to the lights every year. Another fun gift could be attending a festive event in your city and enjoying every bit of it.
Holiday Picnic
This is a great one. Make food for a Christmas Picnic. You can prepare and pack red and green food to celebrate the holiday season. Since sugar isn't recommended until your baby is older, you can make baby cookies in advance. Finish your lunch with a yummy baby cookie of the perfect size and a nice glass of milk.
(RELATED POST: 7 Healthy Toddler Snack Ideas Your Babe Will Eat Up)
Swimming Lessons
Water activities are always so much fun. Swimming lessons are also very important. We live by the water, so learning how to swim is an absolute must. Swimming classes will allow your baby to safely explore water play. These classes will also help build confidence, physical development, and bonding with your little one.
Keep reading for more Christmas gifts for 1 year old not toys.
Dance Lessons
This is at the top of my list this year. My daughter is a dancing Queen. Dance classes are offered for kids beginning at age 2 in our area, so she will be registering for dance class. She will turn 2 shortly after Christmas. I just know she will love this experience-based gift.
Toddler-Friendly Classes
Lots of communities offer toddler-friendly classes. Do a bit of research to see what kind of classes are offered for your 1-year-old. Many workshops target creativity, motor skills, imaginative play, and social interaction.
Personalized and Keepsake Gifts
Looking for more Christmas gifts for 1 year old not toys? Stick around. Gifts that hold sentimental value are so special. Your family will cherish these gifts for a lifetime. Consider these personalized and keepsake gift ideas!
Custom Name Blanket
Cozy blankets are one of our family's favorite things ever. Grab your toddler a custom-name blanket this year. The fabric is soft and it is so beautiful.
Custom or Engraved Jewelry
If you are shopping for a little girl consider buying engraved or custom jewelry for your little one to grow with. I love this custom bracelet. It makes the perfect accessory for your daughter's Christmas outfit.
A Personalized Coloring Book & Name Crayons
Wow, what a fun way to color with this personalized coloring book and name crayons! Coloring is also great for hand-eye coordination. Your toddler is sure to love this gift. It will quickly become one of your family's favorite books.
Hand and Footprint Frame Kit
This sentimental hand and footprint frame kit is an easy way for you to remember those precious little hands and feet.
Custom Growth Chart
This custom growth chart is too cute. This seller has good options for you to choose from. You can customize the fabric, and color options, and even add your little one's name.
Now for more excellent Christmas gifts for 1 year old not toys.
Toy Guitar
Do you have a little musician? Musical instruments make great gifts for toddlers. This personalized toy guitar has an adorable teddy bear head on it. It doesn't get much cuter than that. You can also order your child's name on it.
Toddler Memory Book
So you probably already have a baby book for the first year or two. This toddler memory book is a special keepsake until your child turns 5 years old.
Pillow
This beautiful custom pillow will make a great addition to your child's bedroom. Let's continue with some more practical non-toy gifts.
Keep reading for more Christmas gifts for 1 year old not toys.
Chair
Next on this list of gifts is a comfy cozy teddy chair. Your 1-year-old is sure to enjoy relaxing in this chair.
Piggy Bank
This is a classic! This hand-painted piggy bank makes a beautiful gift that can be showcased in your child's room.
Name Puzzle
This name puzzle is another great Christmas or birthday gift. I love that babies can also practice their shapes and numbers.
Sun Hat
Sun hats are great gifts for kids of all ages. Protecting your skin from the sun at any age is important. These customizable sun hats are so precious.
Subscription Boxes & Educational Toys
Subscriptions and educational kits are perfect Christmas gifts for 1 year old not toys. Unleash the power of learning and discovery this holiday season! These ideas will keep your toddler engaged, curious, and encourage cognitive growth.
Einstein Box
The items in this box are sure to become your 1-year-olds favorite educational toys. This box includes animal masks perfect for role-playing, an adorable peek-a-boo game, flashcards to help build your child's vocabulary, and more. This gift will help keep your toddler engaged while practicing new skills.
KiwiCO Panda Crate
This monthly subscription box is loaded with fun educational projects for your baby. Kiwi crate gives parents an easy way to promote language development, discovery, and much more.
Lovevery
This blog post includes practical non-toy gifts for your 1 year old. Even though Lovevery is a toy subscription, it is worth mentioning that they also include great books and puzzles. My daughter thinks these are the best books. My little girl loves how the books include real photographs of the characters and the challenges these puzzles bring. We have a great time opening these play kits and if you are looking for the best toys, these are it.
Little Passports
Depending on how old your little one is, you may want to start early on this subscription. This is geared for kids from 3-10. I got my daughter started on this subscription when she was about 2 and it was a good thing I did. I love that this program promotes curiosity and introduces little ones to various cultures and global experiences through hands-on activities.
HOMER Early Learning Program
This is a high quality program that enforces reading, math, social-emotional learning, thinking skills, and creativity for kids from ages 2-8.
Hello Bello
The whole family will appreciate this one. Here is another one of the best non toy gifts! This brand was created by Kristen Bell and Dax Shepard. All of their products are crafted for babies, parents, and the planet. They offer diaper bundles, training pants, vitamins, and more. They believe in creating premium products that are also affordable.
Want some more Christmas gifts for 1 year old not toys?
Bookroo
This brand offers a board book club for kids 0-3. This subscription includes 3 board books in each box. It is always exciting getting your hands on new books to read with your little one. My daughter loves all of her books.
Book Box
Simply enter the age of your child, and your child will be sent books to enjoy every month. We always love getting new books.
Cerebelly
The best thing about this brand is that they offer 16 key brain-supporting nutrients in their food. Cerebelly asks you to take a personality quiz, which helps them bundle food that is best for your baby and you of course. You also have the option to build your own bundle of food for your baby.
Serenity Kids
Ready for more Christmas gifts for 1 year old not toys? Serenity Kids is another great brand. What I love most about this brand is the reason behind why the creators started this company. They were negatively impacted by sugary and processed food so it is their mission to provide wholesome healthy food for little ones.
Little Spoon
If you are looking for another good food option, Little Spoon is great. They offer plates for your new toddler to eat up.
(RELATED POST: 11 Healthy Baby Food Subscription Options That Are Totally Worth It)
Jumbo Knob Wooden Puzzle
This Melissa & Doug wooden puzzle is a great activity for your 1-year-old. Puzzles will always be my daughter's favorite gifts. We always keep a few puzzles handy in our living room.
Fridge Magnets
These magnets are the best. I have learned to always keep something entertaining in the kitchen while I am cooking. This helps keep her busy while I am preparing food. It is always nice to find a gift that helps you and your baby.
Art Supplies & Creative Gifts
Next on this best Christmas gifts for 1 year old not toys gift guide are creative ideas. Nurturing creativity from a young age is so important. It fosters imagination, fine motor skills, as well as self-expression. Let your little one channel their inner artist with these gifts!
Beeswax Crayons
These crayons are made of beeswax. They are the perfect natural non-toxic art supply. Spend some quality time coloring with these awesome and unique crayons this holiday season.
Finger Paint
These non-toxic finger paints are made from organic veggies and are actually edible! I love finding unique gifts.
Art Table
Little people need an art table. This table can go in your kids' room, playroom, or wherever you want.
Art Easel
Surprise your one-year-old with this beautiful easel on Christmas morning. They can use all their favorite colors to create a masterpiece.
Keep reading for even more Christmas gifts for 1 year old not toys.
Play Tent
This play tent is great for pretend play. Plus, it is a pop up tent!
Dress Up Clothes
Having dress up clothes around the house is a must. Kids love dressing up and playing pretend.
Play Kitchen
I just think play kitchens are so cute. Let your toddler whip you up something great in their new play kitchen.
Harmonica
A harmonica is fun for little kids and big kids. Your babe will have a blast with this one.
Water Table
Water tables are the best. Introduce your baby to a water table at a young age to expose them to sensory play. So what are other Christmas gifts for 1 year old not toys?
Musical Instruments
Gift your one-year-old with this musical instrument set. My daughter loves anything that is musical!
Outdoor & Active Gifts
Now that your one-year-old is on the move, you are going to want some gifts that are going to nurture their physical development. Here are more Christmas gifts for 1 year old not toys.
Balance Bike
This bike is perfect for a one-year-old. This is designed to help your toddler learn how to balance and walk.
Climber
Your active babe will love monkeying around on this climber. Let's get into some more Christmas gifts for 1 year old not toys.
Parachute
A parachute is a childhood staple. You and your toddler will have a blast with this parachute. If you have older children, they will also enjoy this gift.
Wagon
Here is another oldie but goodie for the Christmas gifts for 1 year old not toys list. A wagon is a wonderful way to bring a smile to your little darling's precious face. Wagons are great for motor skill development as well as imaginative play.
Let's dive into more Christmas gifts for 1 year old not toys.
Crawl, Climb, Dive, Slide
This is great for the backyard. Now that your toddler is all over the place, they need this jungle gym for littles. It is made and manufactured in the United States and it will definitely keep your tot happy.
Fidget Popper
This fidget popper is great for sensory play.
So what are some more Christmas gifts for 1 year olds not toys?
Waterfall Discovery
Your baby will have a blast playing with and watching this waterfall.
Final Thoughts
Hopefully, this list makes Christmas shopping super easy for you this year! This comprehensive list includes items that are practical, experience-based, personalized, subscription boxes, creative, and active. I am sure you were able to find a handful of gifts that your toddler will gravitate to. What are your favorite non-toy ideas and experiences for 1 year olds?
This post was all about Christmas gifts for 1 year old not toys.
Other Posts You May Like:
Where To Find The Best Montessori Toys For 1 Year Old Toddlers | An Honest Experience
25 Baby's First Christmas Gift Ideas That Your Child Will Fa La In Love With