This post may contain affiliate links. Meaning I receive a commission for purchases made through those links, at no cost to you. As an Amazon Associate I earn from qualifying purchases. Please read full disclosure here.
Literacy activities for toddlers are a great way to set your young children up for success!
With ALL the suggested literacy activities for toddlers, which ones are the best? Of course, you want your toddler to grow to be strong, kind, AND intelligent. I am with you, mama.
As a former educator with an M.Ed in Reading, I am FULLY aware of how crucial it is to expose children to literacy as early as possible. That is why I am sharing with you the BEST literacy activities for toddlers. Activities you will DEFINITELY want to introduce sooner rather than later. Since we are talking about activities you want to grab ASAP… the HOMER app is INCREDIBLE. It is affordable and FILLED with educational games for your kids to engage with. GRAB YOUR FREE 30 DAY TRIAL HERE AND SEE WHAT I AM TALKING ABOUT. My daughter gives these activities the stamp of approval.

These activities will help teach your child early literacy skills in a fun way. (BONUS! A few of these activities ALSO help build fine motor skills). Some of these activities are classics, while others may be new to you. Don't worry. This blog post will help you build your little brainiac's strong foundation of literacy in no time. No matter what your child's interests are, they will LOVE these activities.
This post is all about literacy activities for toddlers.
RELATED: 68 Brilliant Activities For 19 Month Old Toddlers
RELATED: 27 Toddler Must Haves We Love
RELATED: Where To Find The Best Montessori Toys For Toddlers | An Honest Experience
The Greatest Literacy Activities For Toddlers
1. Read Aloud
Reading aloud is first on the list of literacy activities for toddlers because it is SO beneficial. A great way to build a strong reader is to read to your child daily. Not only does this have a direct impact on your child's reading ability, but it also helps your child's vocabulary tremendously.
I COULD GO ON AND ON, BUT AS A TEACHER, I KNOW THAT READING ALOUD TO KIDS WILL ALWAYS BENEFIT CHILDREN. Kids NEED to hear us read aloud. One of our very favorite toddler books right now is Goodnight Moon. Talk about a great way to target your child's language development. Your toddler will LOVE verbalizing all the items they spy on each page. Now for more literacy activities for toddlers!
2. Find the Letter
You can make this one fun in different ways. You can put letter magnets on a cookie sheet. Show your toddler a letter, say the name of the letter, and make the sound. Then ask your toddler to find the letter on the cookie sheet. This is a really quick and easy one.
Try to introduce a few new letters each day. Then let your toddler have some fun playing with all the different letters. Your toddler will LOVE playing and learning with magnetic letters. If you don't already have magnets on your fridge or dishwasher, you really NEED to. They will keep your toddler busy while you get some things done in the kitchen. So are you ready for more literacy activities for toddlers?
3. Letter Tracing
This printable is another one of many excellent literacy activities for toddlers. Don't you just love anything with your child's name on it? To enhance letter recognition skills, give your baby one of these sheets and have him or her trace the letters. What toddler doesn't love playing with colors? As your toddler is tracing letters, encourage them to recite the name as well as the sound. This is the perfect way to learn the letters of the alphabet. More literacy activities for toddlers, please!
4. Name Tracing
Instead of tracing single letters, have your toddler practice tracing their name. Not only is this chalkboard super adorable, but your toddler will absolutely ADORE this. Your child probably learned their own name early on, but the first time they learn how to spell it will be SO much fun! Of course, this will take time. Now for more literacy activities for toddlers.
5. Magnetic Words
The BEST thing about magnetic letters is that there are so many different ways to make learning fun. You should really grab your toddler a set. These are the perfect tool for literacy activities for toddlers. When you are busy in the kitchen encourage your toddler to have a little fun with their magnetic letters. Before learning to read and write, your child NEEDS to become familiar with each letter of the alphabet.
6. Letter Bowling
Are you looking for some fun and EASY literacy games to play at home with your toddler? For this one, you are going to need party cups and a ball (which I bet you already have). If not, these are the cups we use and this is the ball we use.
Write a letter on each cup. Stand back, just as you would at a bowling alley, and ask your child to bowl and try to knock over a specific letter. If my daughter knocks over more than one cup I will ask her to say what each letter is. If you would like to throw in a challenge, you can even ask your little one to say the letter sounds.
(RELATED POST: 53 Superb Ideas For A Toddler Summer Bucket List)
7. Picture Books
Picture books are SO amazing. Hi, book nerd here! If you are looking for a wonderful story to enjoy with your toddler, I can promise your toddler will LOVE this book as much as we do. There are very few words, but boy do the pictures tell a great story.
Exposing your children to wordless books is a great opportunity to encourage their oral language ability. Take this opportunity to talk about what you notice happening on each page. Some of my daughter's favorite books are wordless ones. She loves taking charge and sharing with me what is going on in the story. Try it and watch your toddler's language skills grow. Ready for more excellent literacy activities for toddlers?
8. Talk!
This is a really simple one that is SUPER important. Talking to your child often will help your child's language skills as well as their vocabulary. So if you want to implement vocabulary building activities, talk to your toddler. Don't just talk TO them, but encourage them to talk back and forth with you.
A study was published in Psychological Science, that showed that children and parents who engage in back and forth during conversations showed more activity in the language area of the brain. Pretty amazing right?! What's next on the literacy activities for toddlers list?
9. Kinetic Sand Letter Writing
This activity will improve your child's fine motor skills and help them learn their letter shapes. This will become one of your baby's favorite literacy activities for toddlers. You'll need a tray (to contain the mess) and kinetic sand. Pour the kinetic sand on the tray and begin writing letters of the alphabet. Write large letters and small letters and encourage your toddler to identify the letters they see.
You could even write a few different letters and ask your child to spot specific letters. Maybe you write k, a, b, c, and ask your child to point to the letter b. Kinetic sand has many perks. Besides using it to support early childhood education, it is also WONDERFUL for your child's imagination.
10. Nursery Rhymes
Nursery rhymes are a staple during those early years. Did you know that nursery rhymes help your child learn common word patterns? They also help your child's brain identify syllables within words. Nursery rhymes are one of the best ways to support language and speech. Learning rhymes is one of the skills of phonological awareness. Therefore, learning and singing nursery rhymes is one of the BEST literacy activities for toddlers.
11. Balloon Letters
I recently discovered how OBSESSED with balloons my daughter is. This is an emergent literacy activity kids in the classroom LOVED. Surely toddlers will love this too! So I thought to myself… why not use balloons to help teach letter identification? I think your toddler will also appreciate that these can ALSO be used for good old-fashioned punch balloons.
Write different letters all over the balloon. Pass the balloon back and forth with your little one. When they catch the balloon, have them look at the letter one of their thumbs is touching (or close to). Ask them to identify the letter and pass the balloon back to you. Keep going back and forth. Ready for more literacy activities for toddlers?
12. Shaving Cream Letter Play
Here is another one of many literacy activities for toddlers your kid will have SO.MUCH.FUN with! You can pretty much differentiate this activity based on what your toddler needs. You can use your everyday items for this one.
I like to either write a letter on a piece of paper or show my daughter a letter magnet and then ask her to make the letter on the tray sprayed with shaving cream. (I LIKE TO USE UNSCENTED FRAGRANCE-FREE EVERYTHING SINCE MY DAUGHTER HAS ECZEMA).
Have fun with this one. If your toddler needs some support, you can also write the letter a few times, modeling for them how it's done. This beats using a letter card to learn the alphabet! Take this opportunity to write uppercase letters and lowercase letters. Learning takes repetition, repetition, repetition.
13. HOMER Educational App
I am one of those mamas who tries to limit screen time. However, I am realistic. There are certain times when screens really come in handy. If my daughter is going to pick up a screen, I want it to be educational.
The HOMER app is totally worth it. It is 60 dollars for the whole year and it has ENDLESS educational games that will actually teach your child foundational skills. You can't beat that! It helps teach young kids letters, sight words, and even math skills too.
If you want to give it a try, you can get a free 30 day trial. Get your free trial, while it is still available. If you want to get your hands on literacy activities for toddlers, THIS app is a must-have.
14. Animal Flash Cards
Is your toddler LOVING animals right now? Mine is. I love many things about these animal flash cards. For one, it is a digital download. I LOVE anything that I can get instantly. These are also great for preschool students. This set includes a picture as well as the word label. Not only will this set help introduce possible new words to your toddler (because it includes 22 animal cards), but it will also help them learn what the animal name LOOKS like.
If your toddler is like mine, they can probably spot MANY animals. Learning the letters that spell the animal's name is a whole different skill. Trust me, these animal cards are such a good idea.
15. Craft Sticks Alphabet Set
If you are looking for fun literacy activities, THIS is it! Give your toddler a head start by having them practice learning the alphabet with these fun and colorful craft sticks. The set includes craft sticks of different sizes, cards with each letter on them, and a bag or box for storage (for an added bonus).
Your child will learn letters in no time with this engaging activity. They will also develop problem-solving skills by determining what size stick goes where in order to make the matching letter. Learning the letters of the alphabet will give your child a great foundation. It is important to practice in a variety of different ways to keep things interesting. Ready for more literacy activities for toddlers?
16. Alphabet Chart
Now for some more literacy activities for toddlers! An alphabet chart! This is not your traditional alphabet chart. Your child's preschool teacher will appreciate you for this early introduction. This brilliant digital download includes 3 charts that will help your toddler or preschooler learn the initial sounds in each picture.
I HIGHLY recommend laminating the charts to keep them nice OR you can buy these sliders which you can write on with an expo marker and it will protect the paper just the same. Go ahead and buy yourself this set. You will quickly fall in love and use them all the time. Especially if you plan on doing a lot of literacy activities for toddlers or other learning activities.
17. Alphabet Read & Find
Teaching your toddler or preschooler essential skills for literacy is HUGE. An excellent way to teach letter recognition and letter sounds is with these Alphabet Read & Find cards. Each letter includes an uppercase and lowercase letter for your tot to trace, pictures in the background to spot, as well as a series of words.
Encourage your little one to observe all the pictures they see. Then read each word and ask your child to point to the matching picture for that word. Your kiddo will love this developmentally appropriate variation of a word search.
Building successful readers starts by presenting a variety of activities that will engage and help reinforce foundational skills. Encouraging a love of reading is so powerful and quite honestly the ticket to success. So why not present your child with a variety of fun activities? Like this one.
18. Uppercase & Lowercase Alphabet Cards
So clearly I LOVE a great digital download. If you aren't already a big fan, after this list you will become one too! Let me preface by saying these cards should ABSOLUTELY be laminated. You will use them constantly, so make them as durable as possible. You can use these in a few different ways.
You could show your toddler a letter and encourage them to say the letter's name out loud. You could show them a letter and then have them write the letter themselves. Another option is to have a letter hunt around your house with these cards. You could hide a few and ask your toddler to locate the missing letters. Finally, you could stick these letters on objects that begin with that letter. For instance, you could stick the D on the door, and the B on a book. You get the idea. This will become one of your toddler's favorite early literacy activities.
19. Make Words With Building Blocks
This is an activity that was ALWAYS a hit in the classroom. It can also be EASILY differentiated depending on your child's ability, making this one of the greatest literacy activities for toddlers. These building blocks are perfect for this activity. These expo markers are also necessary. On the larger block, you can write a word. For instance, you might write "cat." On the smaller blocks, you will write the individual letters that make up the word. Then have your toddler match the smaller blocks to the larger block to spell the word.
AS A TEACHER, I HIGHLY RECOMMEND DOING THIS ACTIVITY USING SIGHT WORDS. This will help give your child an advantage when it comes time for school. More literacy activities for toddlers, please!
20. Alphabet Beginning Sounds Busy Board
Next on the literacy activities for toddlers list is this alphabet beginning sounds busy board. Not only is this digital download SUPER PRECIOUS, but it is SO helpful! Soon enough your toddler will be pointing out all the letters in his or her favorite books.
If you need to teach your little one about individual sounds, like beginning sounds, this activity is perfect. Your child will love matching each picture with its corresponding beginning sound. Let's discover more literacy activities for toddlers.
21. Alphabet Song
Here is another one of the best literacy activities for toddlers. The alphabet song! Such a classic. We are all familiar with this catchy song. Sing the alphabet song to or with your child to help build their literacy development. Sometimes I like to stop singing randomly and let my daughter fill in the missing letter. Younger children love songs. Actually, I am pretty sure we ALL love songs. Want more literacy activities for toddlers?
22. Letter Matching Activity Set
Getting your child familiar with the alphabet is so important. Letter recognition is KEY to reading. Your toddler will LOVE this literacy learning activity. If you are in search of great reading games for your toddler, this is a must-have! This set includes uppercase & lowercase cards as well as small letters for matching. Making this one of the greatest literacy activities for toddlers.
I would start by modeling finding the uppercase A and placing it on the corresponding card. Point to the lowercase a and ask your toddler to find the letter a. Once they do, have them place it in the right spot. Celebrate their victories. I like to pick a few different letters to practice each day. This way, it does not feel so overwhelming and drawn out. Add this new way of learning letters to your routine.
23. Name Play
This new activity is simple to introduce to your toddler. You can do this activity in the tub, kiddie pool, or even a water sensory table. All you will need is some water and these foam letters. Throw the letters that make up your child's name in the water. Show your child how to spell their name. Take some time to mention each letter name that makes up his or her name.
(RELATED POST: 20 Totally Awesome Water Toys For Toddlers)
24. Picture Walk
A picture walk is great for younger and older children. Kids of any age should do this. This is something we did in the classroom to activate prior knowledge. In other words, before reading a story I would ask my students to take a minute to look at all the pictures in the book and tell me what is happening. This is a good choice BEFORE reading books because it helps familiarize them with the story prior to reading the story. Pictures help to excite your child.
The beauty of picture walks is that they can be done with any picture book. Looking for a great new read aloud your toddler will love? Try taking a picture walk with this lovely book! It won't disappoint you! Especially if your toddler is a HUGE fan of animals, shapes, and counting (like mine is right now). Your toddler will love spotting all the animals and counting ALL the hearts found in this terrific animal book. Now for more awesome literacy activities for toddlers!
25. Name Puzzle
Name activities are so meaningful. Didn't you just love the excitement and joy on your little one's face when they saw their name for the first time? SO PRECIOUS! This name puzzle is beautiful, quality made, AND it will help your child learn. Not only will it help your toddler learn their name, but it will help them learn numbers and shapes too. Keep reading for more literacy activities for toddlers.
26. 200+ Toddler Practice Pages
This is SUCH a deal. You instantly get 200 plus ENGAGING worksheets to help your toddler learn. These literacy activities for toddlers are excellent for teaching your baby LOTS of different foundational skills. Besides literacy skills, these activities promote writing skills, math skills, and more. PLUS THERE ARE EVEN FREE COLORING PAGES INCLUDED.
27. Alphabet Flashcards
These fun alphabet flashcards will be LOVED by your toddler (and you too). It includes uppercase letters, lowercase letters, written words, and name pictures. You can even display these in your learning space. Flashcards are a classic, which makes these one of the best literacy activities for toddlers.
28. Puppet Show
Watch all the positive facial expressions on your toddler's face with these puppets. After reading the classic story The Very Hungry Caterpillar, introduce these puppets to your toddler for a little reenactment! This activity is a playful way to help your toddler comprehend the events within the story AND this experience will help promote a love of books. Puppets are one of my daughter's FAVORITE literacy activities for toddlers, and I am confident you'll toddler will feel the same way.
29. Letter Fishing
Are you shopping for great literacy games? This will without a doubt peak your child's interest! Your toddler will go fishing for letters FOREVER with this fun magnetic fishing set. Don't you just love literacy activities for toddlers that are also so much fun?! This set also includes the numbers 1-10.
30. Finger Painting
Preschool classrooms and elementary classrooms frequently incorporate painting. Painting just makes everything brighter and frankly…much more fun. This edible finger paint that is made of veggies will make for the PERFECT sensory experience. Get messy with your toddler and have some fun writing letters.
31. Alphabet Hunt
Next on the list of literacy activities for toddlers is an alphabet hunt. Hide these foam letters around your house for an alphabet hunt. You could make it like a treasure hunt and offer a special treat if your toddler finds a certain amount of letters. Or if they are able to identify a certain amount of letters. This activity can be easily scaffolded, depending on your child's ability level. You may decide to hide a few letters together that makeup sight words.
32. Brown Bear Set
Have you read Brown Bear, Brown Bear, What Do You See? Don't miss out on this EXCELLENT read aloud! Okay, so after you read the story to your little one you HAVE to buy this printable learning binder. It is filled with BRILLIANT literacy activities that go along with Brown Bear. If you are like me, and you're a sucker for learning activities that go along with a great story, then this is a MUST-HAVE!
33. Dry Erase Letter Tracing Board
Now for one of the greatest literacy activities for toddlers that helps develop hand-eye coordination. Writing! This letter tracing board is incredible. Simply give your little one an expo marker to use to trace. No need for a pencil grip on this one. You decide. Your toddler can trace numbers, their name, different shapes, or the letters of the alphabet. Love, love, LOVE the literacy activities for toddlers that involve tools that can be reused.
34. Picture Walk Retell
This activity is similar to the picture walk mentioned earlier. But it is a slight variation. Instead of having your toddler take a picture walk BEFORE reading, ask your toddler to scan the book after reading. While they are doing this, encourage them to retell what is going on in the story.
This is an activity we often did in the classroom with older kids to measure their comprehension. The beautiful thing about this activity is that you can do it at ANY age and with ANY book. Looking for another excellent read aloud to add to your toddler's book collection? THIS IS A GREAT ONE THAT WILL HELP YOUR CHILD LEARN TO READ.
35. Alphabet Scoop
This is a great summer activity. Fill a kiddie pool or a water table (which by the way, make the best sensory bins ever!) with water and these foam letters. Hand your toddler a fishing net and have them go fishing for letters. Ask them to say each letter they catch. Here are even more literacy activities for toddlers that your kids will love.
36. Letter Stamps
Have fun with this one. You can do so many things with these wooden stamps. You can use stamps to write messages for your toddler to read. Personally, I like to pick a letter of the day to learn and practice within a variety of activities. This looks like introducing the letter with a flashcard, making the sound, tracing the letter, finding it in a book, and more. You could also practice letters by stamping them into kinetic sand.
37. Busy Book
If you are looking for a comprehensive book that will help teach your little one, this is what you want! This busy book includes 15 pages of activities that help reinforce all the basics! Your little darling will definitely be engaged while learning with this book. This book includes some of the greatest literacy activities for toddlers. Check it out for yourself.
38. Story Board
As a teacher, retelling stories is a skill that is KEY to learning comprehension. I have seen many children struggle to retell the main events within the story AND in sequential order. So start teaching this skill in a fun way with your toddler. Plus, this will help build communication skills.
This storytelling board is AH-MAZ-ING. It can be easily used as an easel and also be folded up and stored away when you're not using it. It includes 4 storytelling sets for you and your babe to have so much fun with. Let's jump into more literacy activities for toddlers.
39. Very Hungry Caterpillar Sequencing
Now for some more of my personal favorite literacy activities for toddlers. I am SURE they will become your toddler's favorite too. Right now my daughter is OBSESSED with the Very Hungry Caterpillar. She is fascinated looking at all the different food the caterpillar chows down on.
We like to use these interactive felt pieces to retell the story. Your toddler will love sticking these on their felt storytelling board. Something I loved doing as a teacher was celebrating a book all day. That looks like reading the story, engaging in activities relating to the story, and yes we also oftentimes dressed up. I do the same with my toddler. From personal experience, these always make for perfect literacy activities for toddlers. Kids eat this stuff up!
Another good idea is to have a Very Hungry Caterpillar day. Maybe you buy some of the food the caterpillar eats in the story. I definitely wouldn't buy all the food, but the healthy ones mentioned in the story!
40. Neighborhood Letter Hunt
This is a SIMPLE and FREE activity. Take a walk around your neighborhood with your toddler and be on the lookout for letters. If you study a letter of the day with your toddler, maybe you go for a walk while looking for that particular letter. Point to the stop signs, street signs, yard signs, and anything you notice with letters on it. Now for the last few literacy activities for toddlers that are totally worth knowing about.
41. Songs
Songs are so powerful. Sing the alphabet song with your toddler to get them familiar with the letters. Rhyming songs are great too! Don't be shy, throw some musical instruments into your jam sessions. Your toddler will love a good excuse to play the piano, harmonica, drums, guitar, you name it! Songs are excellent literacy activities for toddlers.
42. Dot Your Name
Use Do A Dot Markers to practice writing your toddler's name!
43. Story Stones
Story stones are a great way to practice storytelling. I recommend using these stones to model telling a story, so your toddler can have exposure to the sounds of language and see how these are used. Then you can have your toddler use these story stones to practice telling you a story. In order to become great writers, storytelling and using the imagination is essential.
This post was all about literacy activities for toddlers.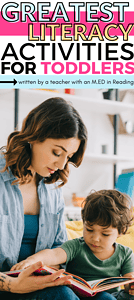 Other Posts You May Like:
65 Best Toddler Stocking Stuffer Ideas For 2023
Where To Find The Best Montessori Toys For Toddlers | An Honest Experience