This post may contain affiliate links. Meaning I receive a commission for purchases made through those links, at no cost to you. As an Amazon Associate I earn from qualifying purchases. Please read full disclosure here.
Are you looking to buy a Christmas tree gate for toddlers?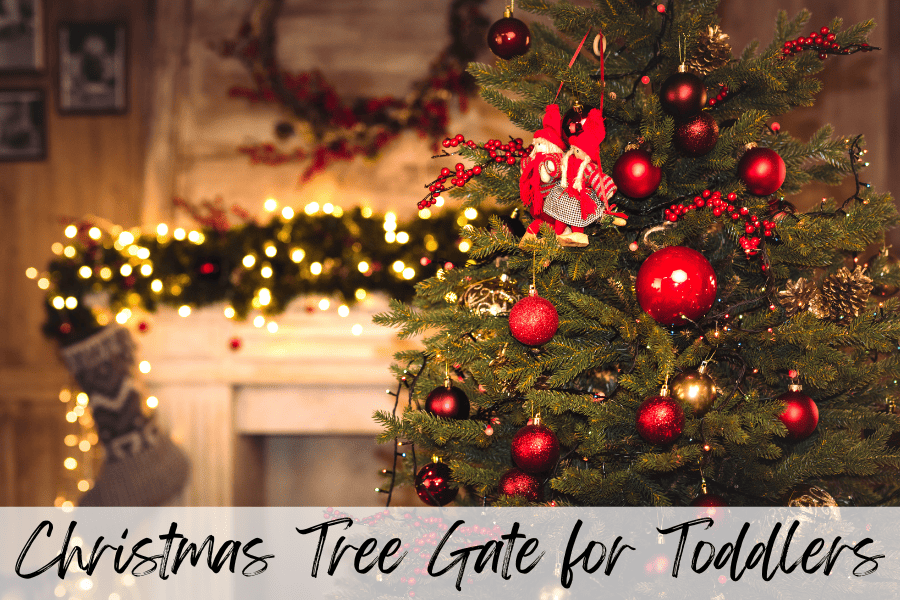 Having a Christmas tree gate for toddlers is one of the best baby proof hacks. It will definitely prevent your wild thing from getting into mischief around the house this Holiday season. The Christmas tree is a beautiful holiday staple. It also comes with potential dangers if you have little ones running around.
Let's be honest- toddlers get into everything. They are always getting their hands on household items they should not be playing with. They are also crazy fast. As you already know, baby-proofing is an absolute must. That big beautiful tree decorated with Christmas lights, shiny ornaments, ornament hooks, a tree skirt, and candy canes is insanely tempting to your curious toddler. There is no better way to baby proof your tree than with a Christmas tree gate for toddlers.
In this post, you will learn all there is to know about a toddler gate for your tree and which Christmas tree baby gates are the best options so you can have yourself a Merry Christmas.
This post is all about Christmas tree gate for toddlers.
Finding The Best Christmas Tree Gate For Toddlers
Understanding The Christmas Tree Gate
If you have small children, you know just how important it is to baby proof your house. This includes baby-proofing your Christmas tree. Regardless of if it is a fresh tree or a fake tree, a Christmas tree gate is a baby safety gate that goes around your tree. It serves as a Christmas tree guard that protects young children from potential hazards. 
PRO TIP: Buy a Christmas tree gate for toddlers that you can use all year round. It is totally worth it.
Why do you need one for toddlers? As I mentioned before, the Christmas tree is very tempting for toddlers. Of course, they will want to reach for all the magical Christmas decorations, pine needles, and Christmas tree lights. A Christmas tree gate is the best way to baby proof during the Holidays. Having one will definitely give you peace of mind that your toddler will stay safe. I like to sit near the Christmas tree and admire its beauty, not chase my toddler around trying to keep her from grabbing hold of it. Are you with me?
Types of Christmas Tree Gates
When shopping for the best Christmas tree gate for toddlers, you have a few options to choose from. There are freestanding gates, expandable, or wall mounted gates. Let's dive into some important considerations to keep in mind while shopping.
(RELATED POST: 71 Best Christmas Gifts For 1 Year Old Not Toys)
Factors To Consider
When deciding on the best Christmas tree gate for toddlers, you want to look at the safety features. How will these features deter those curious little hands? How does it lock? You will also want to pay attention to the height and stability of the gate. Be sure that the gate's height is just right for your active toddler. What is the material of the gate? Is it easy to install? Finally, does it look nice? I am a sucker for aesthetics and decor. Ya know?
Now that you know about the types of gates and important considerations, let's get to the best Christmas tree gate for toddlers!
25 Best Christmas Tree Gate For Toddlers
1. MCEAST
This picket fence gate is especially great if you have decorations around the bottom of the tree. This gate comes with 24 pieces that are easy to assemble. The fence is also made of non-toxic safe material. The MCEAST Christmas tree gate is a great option for a toddler gate.
2. Regalo
This makes for a wonderful baby gate for everyday use. It also serves as an excellent Christmas tree gate for toddlers. It always feels good to buy a product that can serve multiple purposes. I always feel like I am getting more bang for my buck that way. A baby gate is the easiest way to ensure your little one is not getting into mischief around the Christmas tree. It can be an extra wide gate in your home as well as a play yard. You call the shots. The Regalo is a great Christmas tree baby gate.
(RELATED POST: 25 Baby's First Christmas Gift Ideas That Your Child Will Fa La In Love With)
3. Toddleroo
This baby gate is similar to the Regalo. It can be used as an extra wide gate and can also be used as a playpen. Of course, it can also be set up around your Christmas tree giving new moms and seasoned moms some peace of mind this Holiday season. Don't you just love baby gates that can be used in different ways? This Made in USA baby gate is a wonderful choice.
4. Evenflo
Having an indoor outdoor baby gate is a good idea for active toddlers. This gate has non-scratch floor pads, which you'll appreciate if you have hardwood floors. Here is another benefit. You do not need tools for assembly. Music to my ears.
5. Bonnlo Safety Fence
This panel gate offers you choices! You can purchase a 1 panel, 3 panel, 5 panel or 8 panel. Whether you have a smaller tree or a larger tree, this gate is just the ticket!
6. Hrpa Fench
This is a perfect gate for baby's first Christmas. You can create any shape you would like to with this small picket fence. It is 30 cm high, so keep your child's age and height in mind while deciding which baby gate is the best choice.
7. Costzon
This baby gate is another easy way to protect your toddler from Christmas tree shenanigans. It can also be easily adjusted. Pick the shape that works best for your space. Like around your Christmas tree!
8. Petmaker
This pet gate will keep your little ones and your pets away from your Christmas tree. This freestanding gate can easily be set up without needing to drill holes. It also folds up nicely, making storage really simple. It seems like between my toddler and the dogs, someone is always trying to reach for the glass ornaments, Christmas tree needles, or the wrapping paper on the presents beneath the tree. Having a gate around the tree is the best idea.
9. AUXSOUL
Here is another Christmas tree gate for toddlers. This multipurpose gate is perfect for your Christmas tree. No need to worry about potential choking hazards, Christmas tree stand drama, lower branches of your tree being pulled on, the temptation of bright lights, or holiday decorations with this baby gate. The great feature of this baby gate is that you can shape it however you'd like!
10. ZJSF
Still searching for the best Christmas tree gate for toddlers? This freestanding foldable gate will do the job. It will keep your toddler from pulling at the lower branches of your tree (mine LOVES to do this). Simply order the size gate that complements your space and Christmas tree. Oh, and the plastic feet at the bottom will help protect your floors.
11. Bonnlo Fireplace Guard
Whether you have an artificial Christmas tree, real tree, or fireplace, this gate is a great choice. This is such a versatile gate. Having the ability to shape it to fit your space is insanely helpful. This gate will make it easy for you to have a great time this Christmas KNOWING that your child will be kept safe from Christmas tree hazards. It makes all the difference.
12. WELLAND
You do not want to worry about large boxes under the tree getting ripped open early, the threat of electric shock, or your toddler getting their hands on small pieces on or near your tree. As a new parent, I did not think about the need for a Christmas tree gate for toddlers until the holiday season arrived. It was too late. This freestanding pet gate will also protect your baby during their toddler years. This can easily be used throughout the rest of the year. Yes, please!
13. COMOMY
This gate includes extra safety features. It has a double lock system and can be mounted to straight or angled walls. The auto-close feature is also AMAZING. Forgetting to lock the gate is a possibility. I've done this plenty of times. Don't stress with this baby gate. This gate will certainly keep your tree safe and most importantly, your child safe.
14. YOUYOULE
If a picket fence is your jam, this gate is a great choice. You will get good use out of this fence during Christmas time. It is a great new addition to your holiday decor while keeping your busy toddler away. This fence is portable and foldable, which is a huge plus.
(RELATED POST: 27 Toddler Must Haves We Love)
15. FLYHAWK
This fence looks beautiful around the Christmas tree. It is both aesthetically pleasing AND a good deterrent to your toddler. When you are done using this simply pack it up with your fake Christmas tree and/or other holiday decorations and use it again next year. This festive fence can be purchased as a set of 24, 30, or 36 pieces.
16. HOYOFO
The first step to babyproofing during the holiday season is to add a Christmas tree gate for toddlers to your dining room, living room, or wherever you place your tree! This gate comes in two sizes. One is 35.8-125.98 inches and the second is 35.8-78.74 inches. It can also be used around the fireplace if you have one. Which Christmas tree gate for toddlers do you have your eye on?
17. EPIKOIB
Next on the list of great ideas is the EPIKOIB baby gate. This gate comes in 6 panels or 8 panels and is made of alloy steel. A benefit to this baby gate is that you can simply pack it up and take it with you on the go. A gate that makes life a little bit easier, is a great one if you ask me.
18. Kfvigoho
This durable gate will keep your toddler safe and help you and your family have a magical time this year, next year, and for years to come. No need to worry about your toddler getting ahold of your real or artificial tree. This gate has an auto-close feature and the bars on this gate are smooth. You won't have to worry about the edges or corners around your little one. What is next on the Christmas tree gate for toddlers list?
19. ABOIL
This gate comes in 2 sizes so you are sure to find one that will work around your tree. Get into the Christmas spirit and get your hands on the perfect Christmas tree gate for toddlers. I love a baby gate that allows you to shape it yourself.
20. Little Chicks
Here is another baby gate that can be shaped by you. It can also be easily packed up and brought along with you for family vacations! You definitely want to have a baby gate that you can easily travel with.
21. Oleksil
This baby gate will help ensure that your Christmas tree stays a natural beauty and that your little one stays safe. It is made of wood and wire mesh. It can adjust and the side panels keep it from tipping over.
22. SOSPIRO
This baby gate comes in 5 panels or 8 panels. It is 118 inches wide. It also comes in one piece, making installation super simple. Another great benefit is that it will keep your animals out of Christmas tree mischief too! Ready for another Christmas tree gate for toddlers?
23. LEMKA
This 190-inch gate is the perfect guard for the Christmas tree. It is freestanding and can be shaped however you like. It is also lead-free and non-toxic. So no need to worry about it around your littles. Keep reading for another Christmas tree gate for toddlers.
23. Qdos
If you are looking to construct your own gate, this is the one for you. It meets the US and Canadian Safety Standards, which is wonderful.
25. Internet's Best
If you are looking for a gate to cover 24 inches or 36 inches, this folding gate has you covered. It is made of MDF with an expresso finish. Although this gate is intended for pets, this will also serve as a great shield in front of your Christmas tree. So which Christmas tree gate for toddlers are you going to go with?
Final Thoughts
Hopefully, you found the best Christmas tree gate for toddlers. I hope this list helped you make a final decision on which one will work best for you and your family this year. Be sure to take your tree's size into consideration when purchasing your gate. Material and style are also important considerations. You also can't forget safety features!
If you decide not to buy a gate, there are other ways to baby proof your Christmas tree. Here are some great tips to help you out this year. You can buy shatterproof ornaments, non-breakable ornaments, and wooden ornaments. Make sure there are no small parts, small ornaments, or hooks easily accessible to your toddler. The last thing you want is a choking hazard or anything that could pose a danger. You can decorate the top of the tree with large Christmas ornaments or fragile ornaments that are out of your little one's reach.
You may also decide to decorate a felt Christmas tree with your toddler instead. Personally, we love our festive tree and Christmas tree gate for toddlers.
This post was all about the best Christmas tree gate for toddlers.
Other Posts You May Like:
71 Best Christmas Gifts For 1 Year Olds Not Toys
25 Baby's First Christmas Gift Ideas That Your Child Will Fa La In Love With
Where To Find The Best Montessori Toys For 1 Year Old Toddlers | An Honest Experience